Who's online
We have 283 visitors online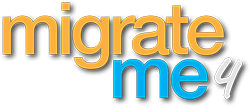 BRAND NEW AND JUST RELEASED!!
Get the fastest, best, latest version of Joomla right away with zero downtime, zero stress, zero headaches and the ultimate foolproof, fully supported upgrade method for Joomla! 4
MigrateMe 4 allows you to migrate from Joomla! 3 to Joomla! 4 in seconds.
You can now upgrade directly to Joomla 4 with just a single click.
This is an all-in-one solution that will install a fresh version of Joomla 4, *migrate* all your extensions, documents, articles, settings, users, passwords - EVERYTHING...
And give you a temporary development space to test the upgrade, without any risk to your live site.
Once you are happy with the new system, and you've checked for any issues, you can make the migrated environment Live.
The upgrade will completely update your filesystem and database to the latest versions of Joomla.
Your images, articles, data and files will all be perfectly maintained, and your google page rank will be completely unaffected.
As part of the upgrade, Migrate Me PLUS will take a full backup of your database and filesystem. This means you can test out the new version of Joomla, and then if you decide you don't want it, you can simply rollback your system to your old configuration.
Get Joomla 4 in 90 seconds
A standard Joomla 3.x system takes around 90 seconds to completely migrate to Joomla 4.
And in that time, MigrateMe 4 will copy all your existing files, duplicate your database, install Joomla 3, update your Admin area, save all your articles and data and switch you to the new Joomla 4 Admin interface.
Watch the tutorial to see just how easy the upgrade is!
Installation and usage instructions
Install MigrateMe 4 to your Joomla! 3.x system
Click the Upgrade button.
Wait for the process to complete.
Log into Joomla 4 and update 3rd party extensions.
If everything is working well, click Go Live.
Enjoy Joomla!

Buy it today
All purchases come with upgrades, support, and a satisfaction guarantee.
---
Screenshots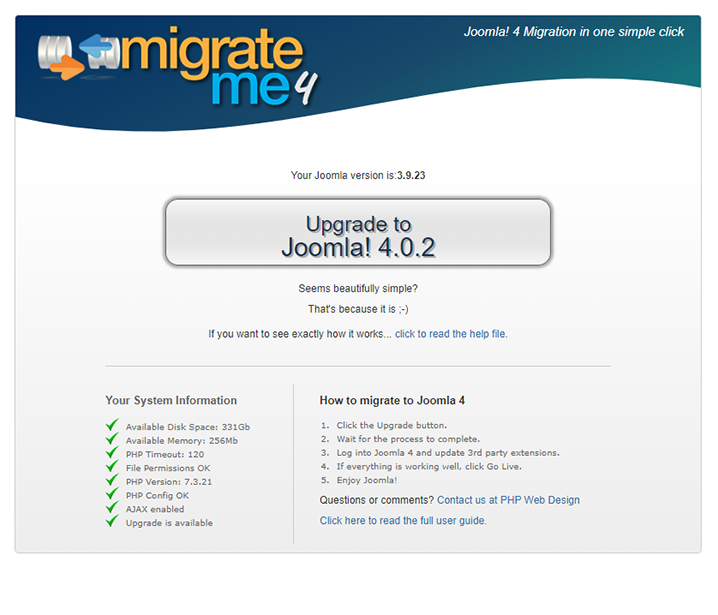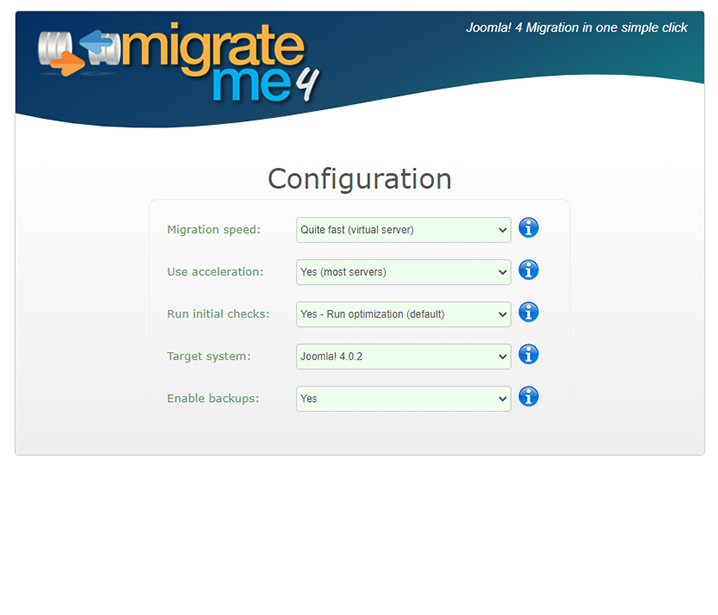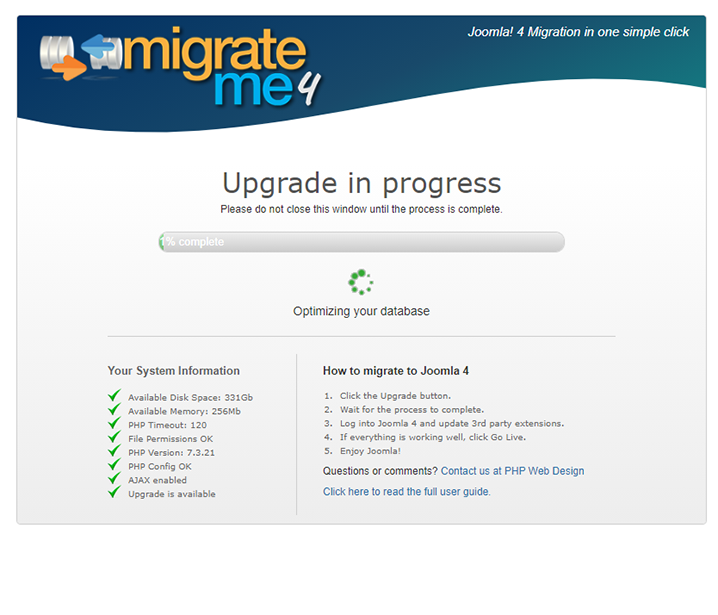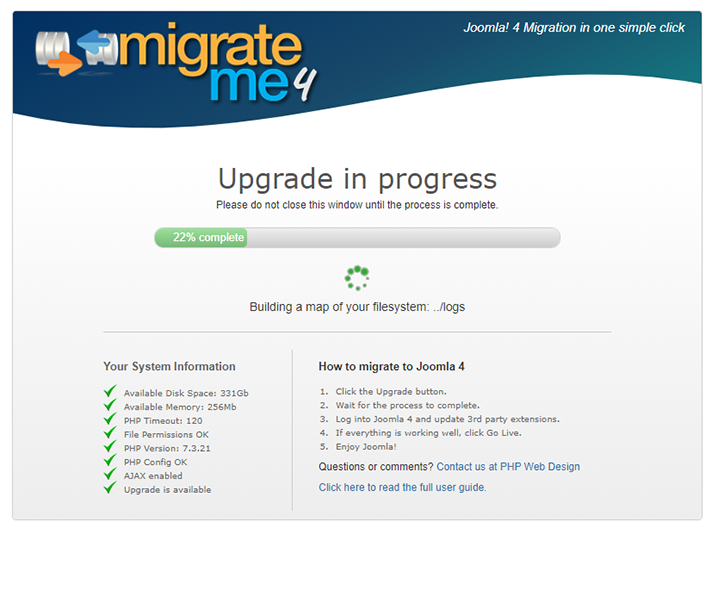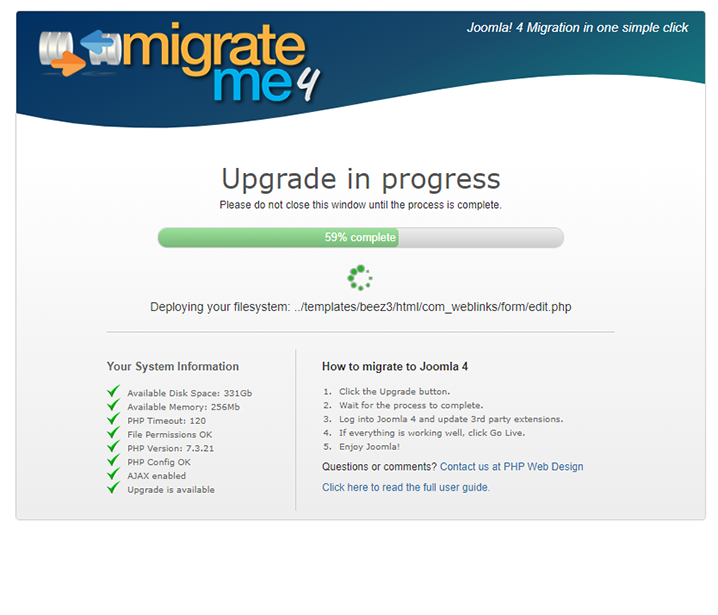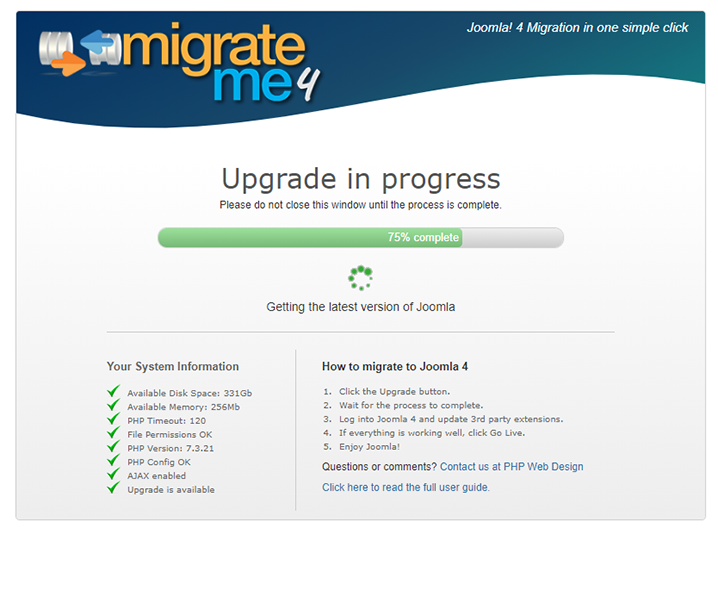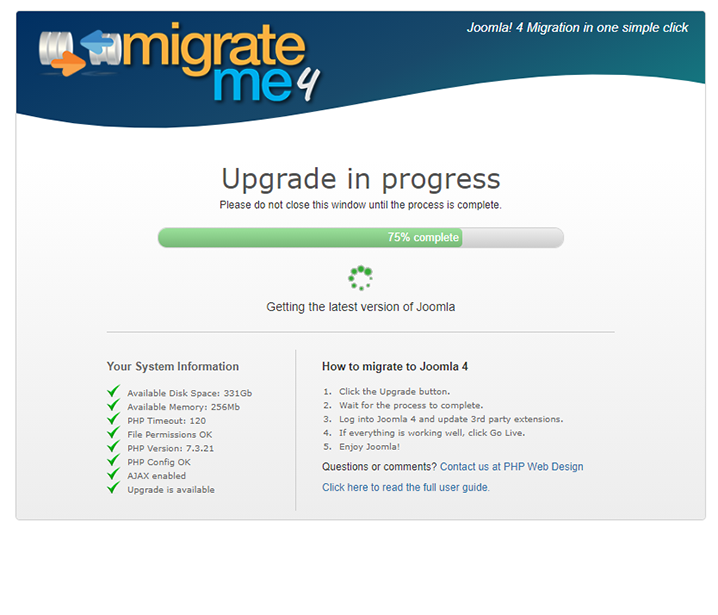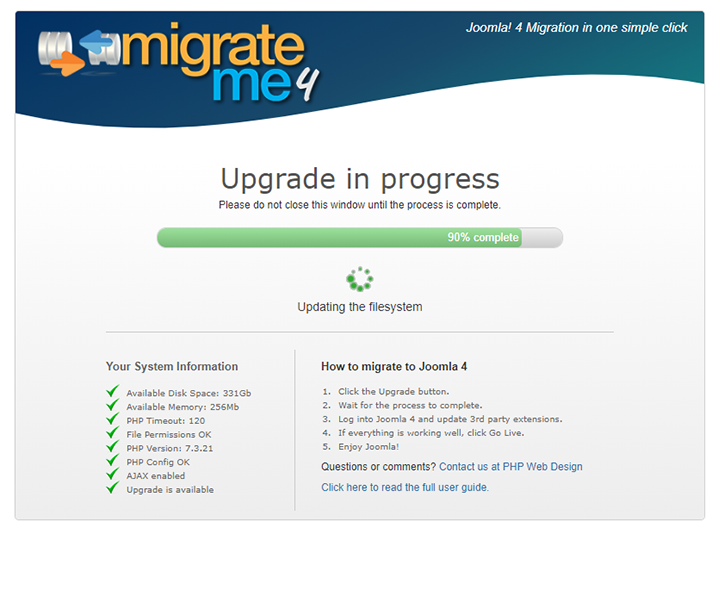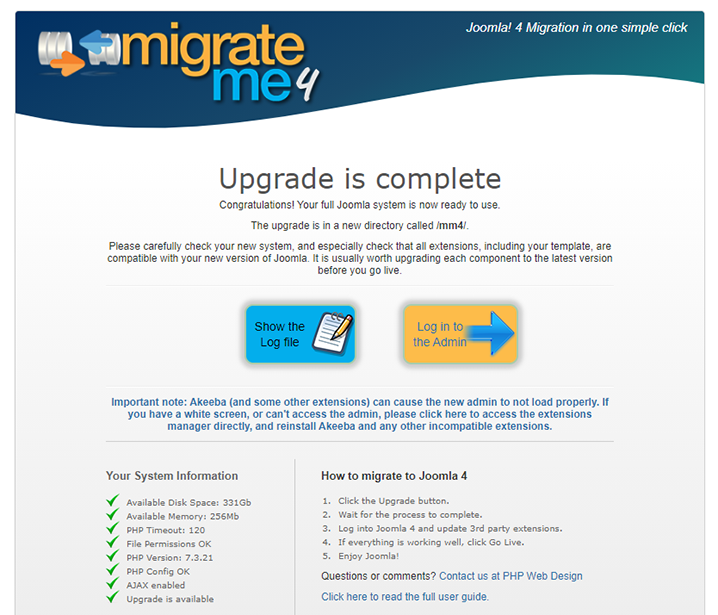 ---
Your comments
There are 8 comments
Barnaby:
I have your MMP- Gold installed on my J3 Live and StageIt sites. Do I need to uninstall these before I install MM4 on my Live site? Maybe MM4 will overlay the MMP- Gold install.
Hi James,
If you're migrating Joomla 3 > 4 you won't need MigrateMe Plus, so you can safely remove it prior to running MigrateMe 4...
However, if you really want to keep both in place, you can - MigrateMe 4 creates a different environment to MigrateMe Plus, so they won't conflict - obviously though, once you've run MigrateMe 4, you can't then run MigrateMe Plus.
Best regards
Hello,
I have MigrateMe Plus - GOLD Edition.
I would like to know please if you any promo or renew promo for MigrateMe 4 ?
Best regards,
K L
Hello
This is a different software package, so there's no further discount if you already have MMP sorry about that!
Barnaby Dixon
not found....
Fatal error: Call to a member function getString() on null in /home/...plugins/system/arimagnificpopup/arimagnificpopup.php on line 31
Hello,
Please install the latest version of your plugin, and ensure it is Joomla 4 compatible.
Alternatively, rerun MigrateMe 4, but first - in configuration - set Safe Mode: Yes, and run the migration. This will detect and disable any potential problem plugins and extensions, so you have a working Joomla 4 environment.
Barnaby
Hello, this was so good! I couldn't use the normal Joomla upgrade from 3 to 4, kept getting a white screen, but it all worked well with your tool. Must be magic! Thanks :-)
Hi Rachel,
Thanks for your lovely comment!
Best wishes - Barnaby
Leave a Comment
1