Who's online
We have 51 visitors online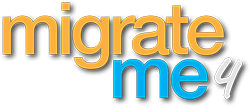 Migrate your Joomla 3.x system to Joomla 4.x
Ready to switch to Joomla 4 ? You want to try the latest and greatest features, but don't want to risk any crashes, downtime, or "white screen of death" ?
Welcome to MigrateMe 4.
This extension will create an exact version of your Joomla 3.x site ... but with a Joomla 4.x core, in a separate development environment.
This means you can test the new Joomla 4 system, confirm it *actually* works well, and check how nicely (or not) it plays with your third party extensions, custom template, plugins and so forth.
It's a one-click solution that will:
Check your existing system, and ensure you're at a good starting point (must be Joomla 3.x or later)
Apply any missing J3 updates, to ensure your database structure and filesystem are fully up to date
Optimise and repair any database issues
Create a standalone development environment - so you can safely test the new system
Migrate your old data, files, folders, third party extensions
Flawlessly set up your new J4 system with the correct users and access
Allows 'safe mode' which provides a working Joomla 4 environment - even if your third party extensions normally cause a J4 crash
Allow you to fully test the new environment, so you can safely apply any third party updates without any risk to your live system
Allow you to deploy the new environment to the live - this also backs up your old system so you can roll back if needed

What this solution *won't* do:
MigrateMe 4 is great, but it can't update your third party extensions for you. After migration, you'll need to download the latest Joomla 4 version for each extension from the Joomla Extensions Database, and install on the new J4 environment.
MigrateMe 4 also can't automatically update any third party templates, or custom code - you'll need to update, or ask your developer / distributor for the latest Joomla 4 versions
Get Joomla 4 in 90 seconds
A standard Joomla 3.x system takes around 90 seconds to completely migrate to Joomla 4.
And in that time, MigrateMe 4 will copy all your existing files, duplicate your database, install Joomla 3, update your Admin area, save all your articles and data and switch you to the new Joomla 4 Admin interface.
Watch the tutorial to see just how easy the upgrade is!
Installation and usage instructions
Install MigrateMe 4 to your Joomla! 3.x system
Click the Upgrade button.
Wait for the process to complete.
Log into Joomla 4 and update 3rd party extensions.
If everything is working well, click Go Live.
Enjoy Joomla!

Buy it today
All purchases come with upgrades, support, and a satisfaction guarantee.
---
Screenshots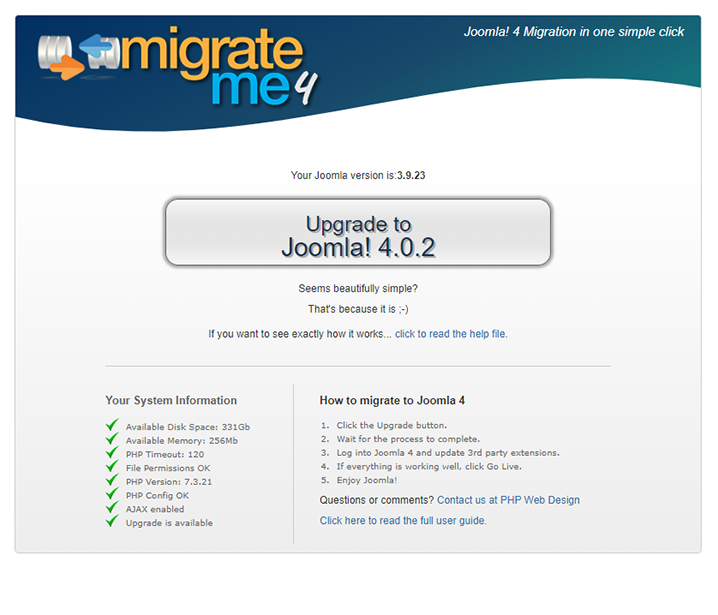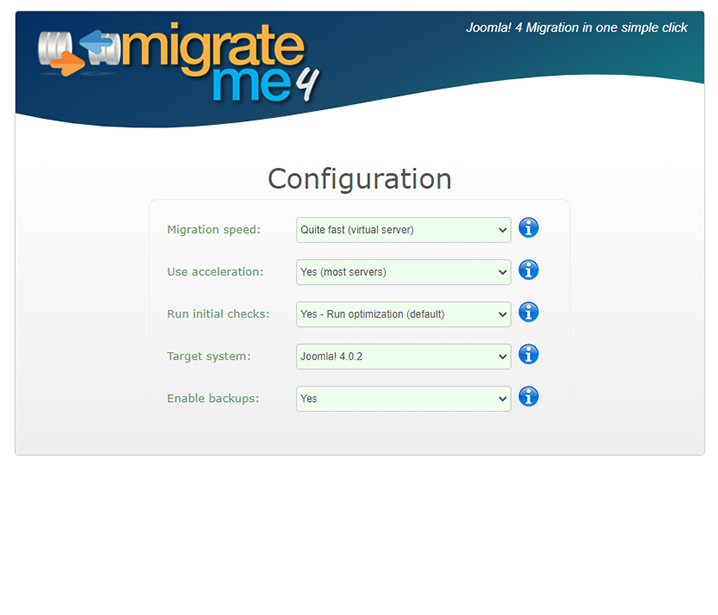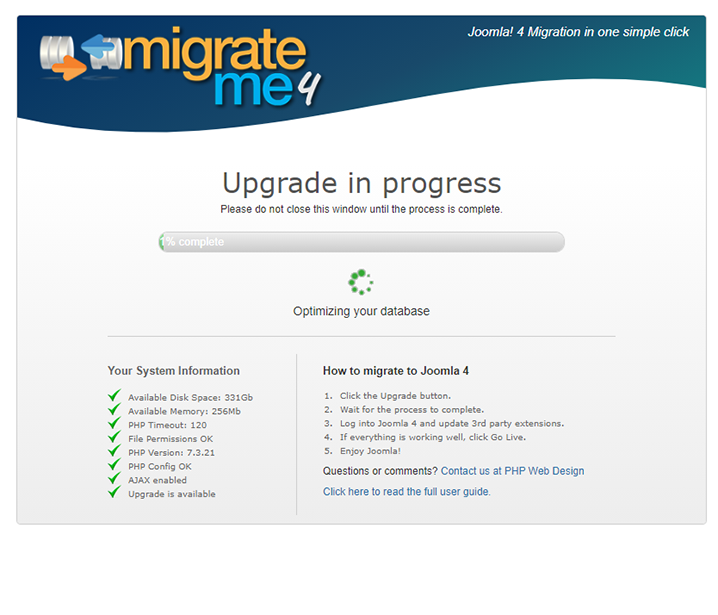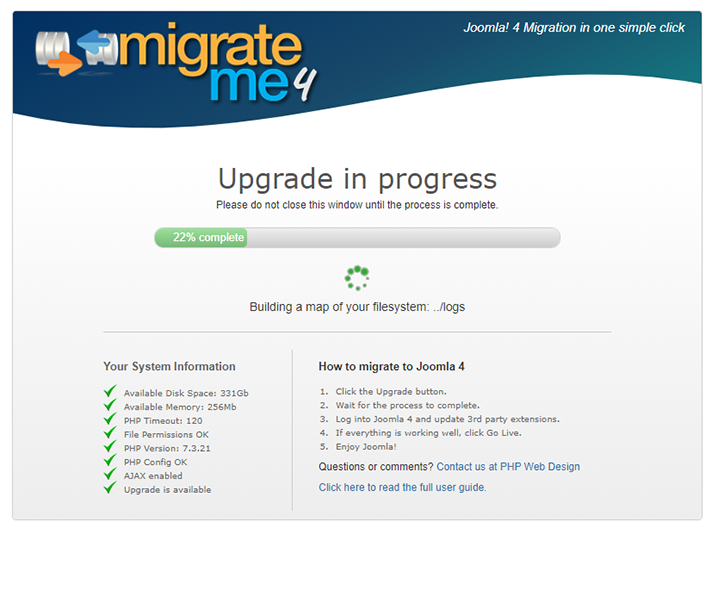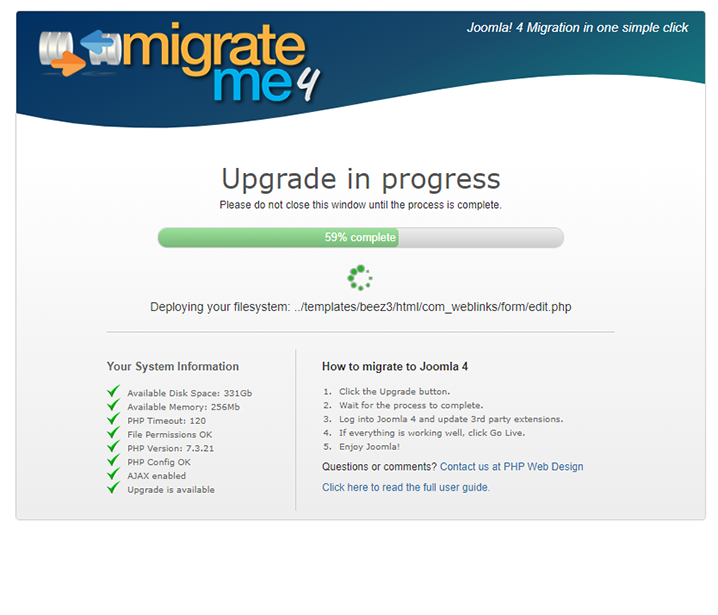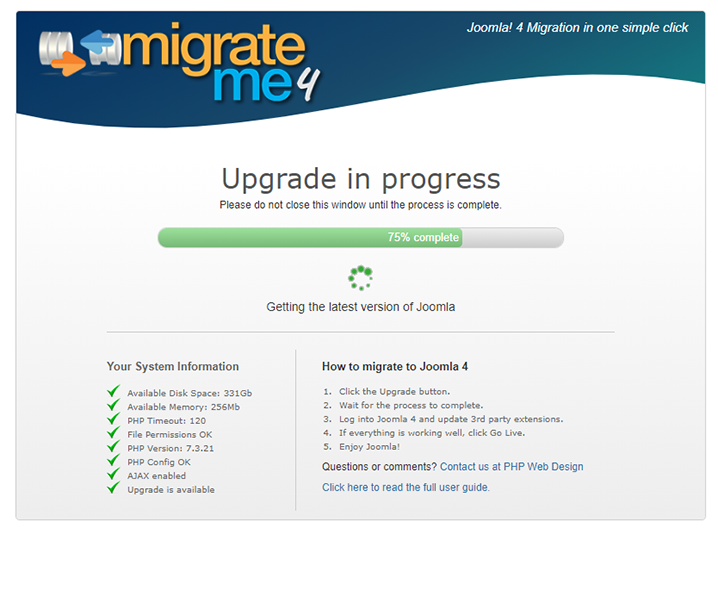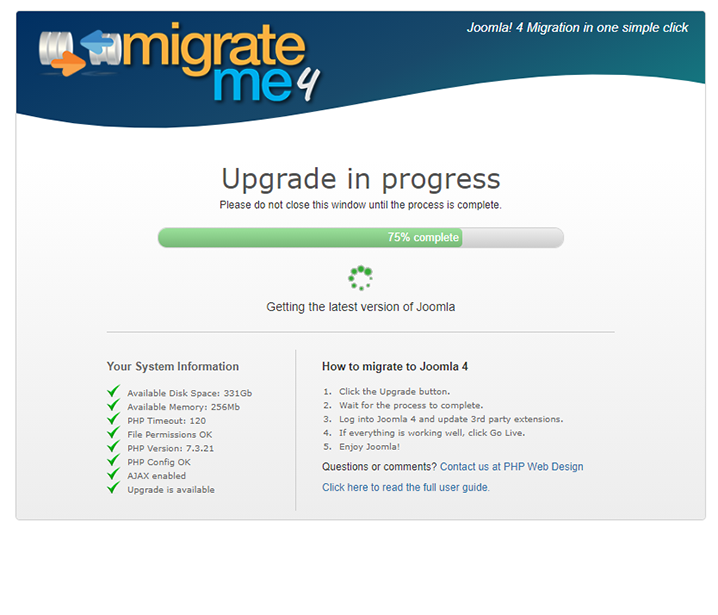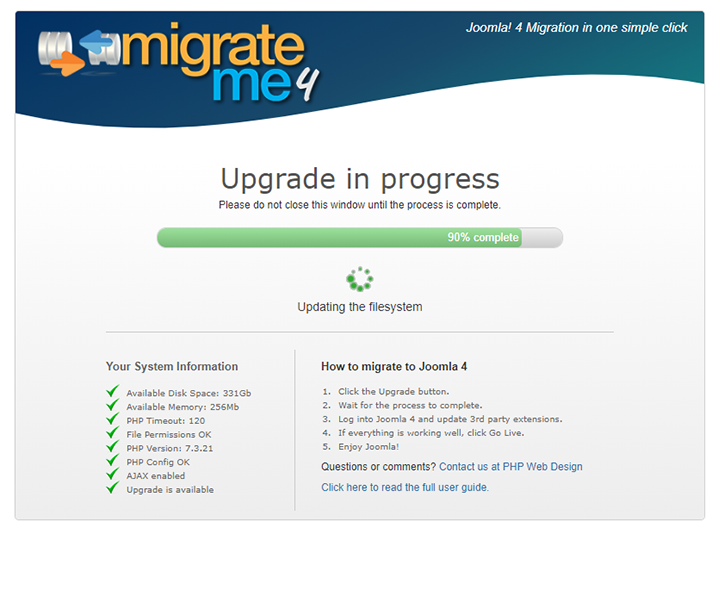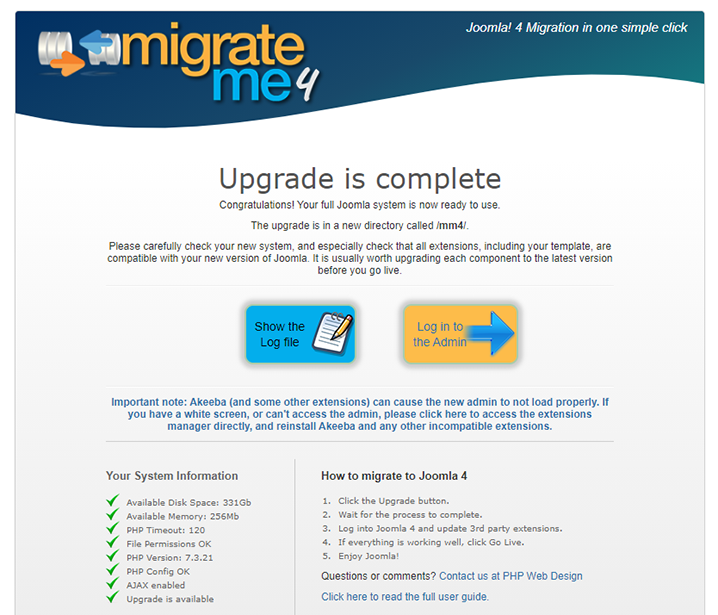 ---
Your comments
There are 26 comments
Does your plugin support migration of virtuemart and membership pro as well?
Hello Ashish,
MM4 makes a copy of every table in your Joomla 3 install, so yes, your Virtuemart and Membership Pro extensions will be present in Joomla 4 testing area that MM4 creates.
Remember, updating those (and other) extensions to the latest J4 compatible version is something you do before or after the migration test (depending on the requirement of each extension.)
If you have an further questions, remember we are here to help! - [email protected]
Does migrateme 4 also migrate the website files and mysql databases?
How does it handle a website that was built using the Protostar template which is no longer supported in Joomla 4??
Hi Robb,
MM4 creates a staging area for a regular Joomla 4 Migration of your Joomla 3 site to take place in. So it doesn't change what happens when the migration happens - it creates a staging site with one click where you can test the migration and fix anything you would have had to fix anyway with a normal, core migration. With MM4, however, once you have your J4 ready to go live you can do so with one click, replacing your old Joomla 3 site. And of course if you discover something in your J4 migration that you wish you had done differently in your Joomla 3 site before migrating, you can abandon the J4 migration, do what you wish you had done and run the migration again.
So in answer to your question, the files and database of your Joomla 3 site are all migrated. When the Joomla 3 site is using the J3 default Protostar site, the Joomla 4 migration then switches to use the Joomla 4 default Cassiopeia template.
I hope that info helps. Just ask if you have any more questions!
Tim
Hi Barnaby,
Installed MM4 after uninstalling Akeeba
I changed PHP in Siteground cPanel to PHP 7.4 before creating dev site from Akeeba backup file from a live Joomla 3.10.2 PHP 8 site to a dev PHP 7.4 site.
I get this error in MM4 site
Call to undefined method Joomla\CMS\Application\AdministratorApplication::isSite()
Please assist?
Thank you
Hi Derek,
Thanks for your message!
The isSite() function is specific to Joomla 3, so it means one or more of your extensions hasn't yet been updated to Joomla 4.x.
After running the migration, please ensure the latest Joomla 4 version of each extension - including the template - is installed, and all will then work well.
Best wishes - Barnaby
I installed MM4 first then as per instructions I should upgrade 3rd party etensions. Of course I cant upgrade any extension at this point because I have a fatl error
0 Call to undefined method Joomla\CMS\Application\AdministratorApplication::isSite()
So your installation instructions dont work in that sequence
4."Log into Joomla 4 and update 3rd party extensions."
The only way I can see this working is to update all extensions first then install MM4?
Please clarify and or elaborate?
Thank you
Hi Derek,
We have seen this before when even after using safemode in MM4 (which disables all non-core extensions) an error prevents you form logging into the admin. In once instance the admin module for a very popular shopping cart system had been updated to its latest version in Joomla 3, but it still had had deprecated code that broke Joomla 4 admin area.
Here is a video from the Joomla.org YouTube channel which shows the steps to work around that error so you can login and continue the migration work - https://www.youtube.com/watch?v=ZO9nmdsLlFw
However, if you would like further help with that please email me at [email protected] and I will be glad to get you going.
We're also interested in knowing what file the error was in so we can add that to our experience so we can help others who run into the same issue migrating their site with or without MM4.
Tim
Hi Barnaby,
First of all, thank you for you great work! Your component works really well and it saved me days of work. I migrated already 26 websites from our schools to Joomla4 and it works! Really happy with it. If people just deïnstall the components/plugins that doesn't work with Joomla4 and reïnstall after again, everything works fine.
Can you only tell me, how I can get the update when the component is updated?
Hi Michael,
Thanks for the update! Really happy everything went so smoothly :-)
You can download updates from https://www.php-web-design.com/downloads/ with your email address.
Have a great day
What about my own extensions which are not Joomla 4.x compliant? Will they also be converted to the new structure of J4 ?
Hi Johnny,
You'll need to update your extensions separately
How do I get back to the started migration? I ran out of time and had to abandon the process.
I have two components that aren't quite ready for Joomla 4, and I am waiting on those updates.
Hi Sue,
It'll be in /mm4/administrator/
Have a great day!
I am going to be migrating my site in the next few days. I have access to cPanel and I also have a staging development site built. Should (or can) I use that to test the migration first or would it just be easier and simpler to remove the staging site and run your component directly on my live site? I make daily backups so I can restore everything if something goes wrong. Thanks for your insight!
Hi Mark
Just use MigrateMe 4 - it creates a development area for you :-)
Best wishes
Barnaby:
First question:
Will Migrate Me 4 work in a "localhost" environment?
I'd like to convert from J-3.10.10 to J 4.x on my localhost to work through getting all of my extensions and my template ready for J 4.x. I'm running XAMPP for the localhost and and Joomla is installed in its' htdocs folder.
Second question:
Does MM4 create a sub-directory of public_html like your stageit product does so that I could run J 4 from that sub-directory until I am ready to go live?
Hi James
Yes you can run all my software in a localhost environment on XAMPP / MAMP / WAMP etc.
Just make sure your environment is correctly configured, i.e. all PHP extensions are installed etc., and it'll work best on PHP7.x rather than 8.x since 8.x isn't fully supported by Joomla 3.x.
Yes MM4 is similar to StageIt, and runs in /mm4/. Ideally you'd use the inbuilt Go Live function to make the new environment live - this backs up and removes the old environment, and copies the mm4 environment to the live folder.
Best wishes
Barnaby:
I have your MMP- Gold installed on my J3 Live and StageIt sites. Do I need to uninstall these before I install MM4 on my Live site? Maybe MM4 will overlay the MMP- Gold install.
Hi James,
If you're migrating Joomla 3 > 4 you won't need MigrateMe Plus, so you can safely remove it prior to running MigrateMe 4...
However, if you really want to keep both in place, you can - MigrateMe 4 creates a different environment to MigrateMe Plus, so they won't conflict - obviously though, once you've run MigrateMe 4, you can't then run MigrateMe Plus.
Best regards
Hello,
I have MigrateMe Plus - GOLD Edition.
I would like to know please if you any promo or renew promo for MigrateMe 4 ?
Best regards,
K L
Hello
This is a different software package, so there's no further discount if you already have MMP sorry about that!
Barnaby Dixon
not found....
Fatal error: Call to a member function getString() on null in /home/...plugins/system/arimagnificpopup/arimagnificpopup.php on line 31
Hello,
Please install the latest version of your plugin, and ensure it is Joomla 4 compatible.
Alternatively, rerun MigrateMe 4, but first - in configuration - set Safe Mode: Yes, and run the migration. This will detect and disable any potential problem plugins and extensions, so you have a working Joomla 4 environment.
Barnaby
Hello, this was so good! I couldn't use the normal Joomla upgrade from 3 to 4, kept getting a white screen, but it all worked well with your tool. Must be magic! Thanks :-)
Hi Rachel,
Thanks for your lovely comment!
Best wishes - Barnaby
Leave a Comment
1