Who's online
We have 49 visitors online
Written by Barnaby Dixon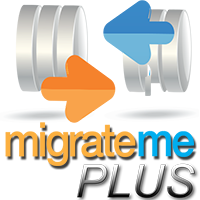 Brand new and just released: Migrate Me PLUS!
This is MigrateMe, completely rebuilt for Joomla! versions 1.6, 1.7 and 2.5.
Migrate Me PLUS allows you to upgrade Joomla 1.6, 1.7 and 2.5 to the latest version of Joomla! in seconds.
You can now upgrade directly to Joomla 3 with just a single click.
The upgrade will completely update your filesystem and database to the latest versions of Joomla.
Your images, articles, data and files will all be perfectly maintained, and your google page rank will be completely unaffected.
As part of the upgrade, Migrate Me PLUS will take a full backup of your database and filesystem. This means you can test out the new version of Joomla, and then if you decide you don't want it, you can simply rollback your system to your old configuration.
Get Joomla 3 in 90 seconds
A standard Joomla 2.5 system takes around 90 seconds to completely migrate to Joomla 3.
And in that time, Migrate Me PLUS will copy all your existing files, duplicate your database, install Joomla 3, update your Admin area, save all your articles and data and switch you to the new Joomla 3 Admin interface.
Watch the tutorial to see just how easy the upgrade is!
Installation and usage instructions
1) Install MigrateMe PLUS to your Joomla! 1.6, 1.7 or 2.5 system
2) Click the button to upgrade
3) Allow MigrateMe PLUS time to complete
4) Enjoy your new version of Joomla!
Buy it today
All purchases come with upgrades, support, and a satisfaction guarantee.
---
Screenshots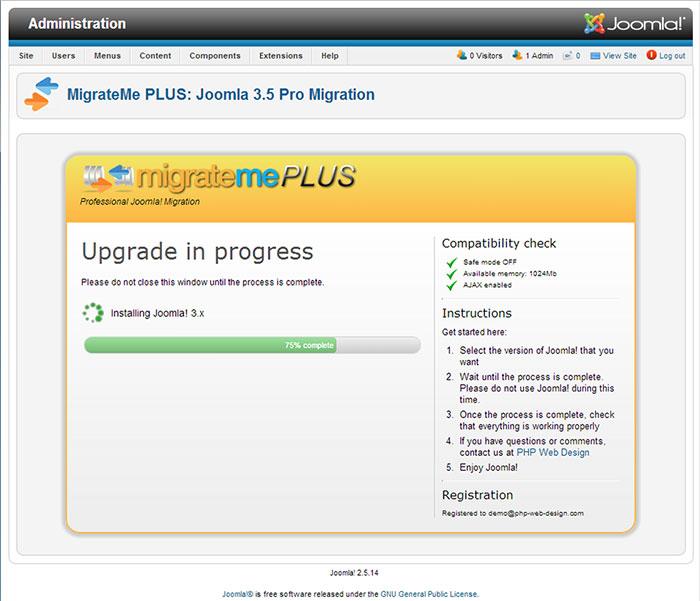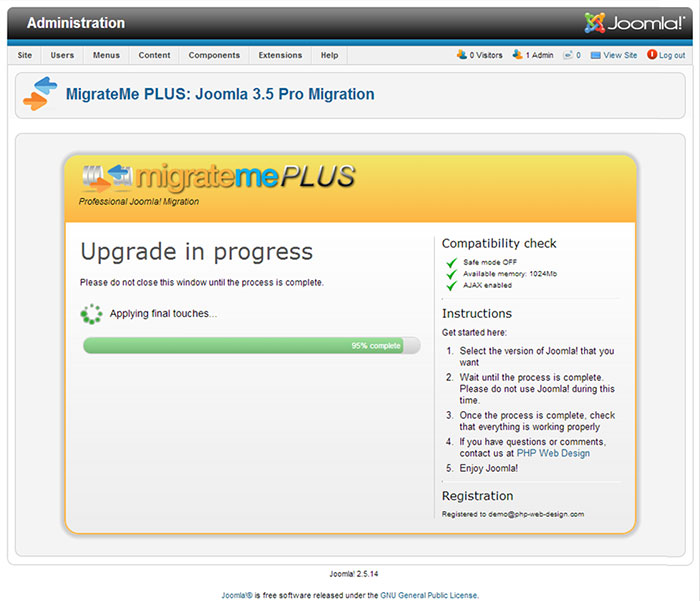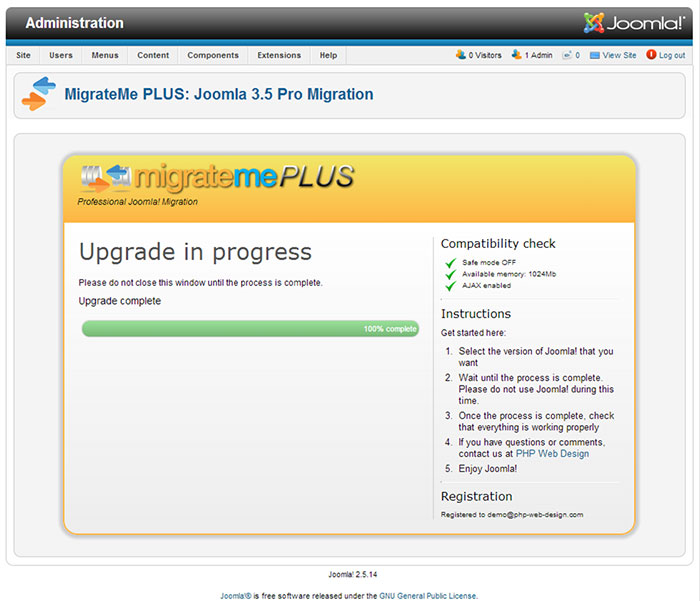 ---
Your comments
1-100 of 118 Comments
I've purchased a gold license for Migrate Me Plus and it runs generally spectacular. I've had problems with a third party component called Event Registration Pro which I suspect is more to do with migrating versions of the application than the process. If anyone has any ideas in a direction to look that'd be great!
Hi Peter,
Thanks for getting in touch. I'm not aware of any issues with the Event Registration Pro migration - in theory it should work perfectly. What sorts of issues did you hit?
In general you should be able to migrate your system, then install the latest version of the extension and it should be updated as required - but if I can help out at all please do let me know; or you might like to get in touch with the Events Registration Pro team if their extension is not entirely Joomla 3.3.4 compliant.
All the best, Barnaby Dixon
Hello,
I just buyed the composant from you and now when I try to install at my website I have the following message:
Erreur : Impossible de trouver un fichier XML Joomla! d'installation dans ce pack!
It seems that is not compatible with joomla 1.5.26.
Can you help me please?
Hi there,
Thank you for your comment.
Please install Migrate Me on Joomla 2.5 or 3. You need to first set up Joomla 2.5 or 3, and then install Migrate Me, and then follow the instructions to migrate your Joomla 1.5 system to the new one.
I hope that helps!
Please let me know if you have any more questions.
All the best, Barnaby Dixon
Hi,
After completing the migration including upgrading extensions, etc. I have an issue with the administrator console. When I log in it redirects to a blank page. I can still access everything in the admin section except for the "control panel". There are no error messages and the front end appears fine. Any suggestions?
Hi Vaughn,
Thank you for getting in touch.
If this happens on the Control Panel but nowhere else, this will likely be a CPanel module. If you don't have an error message, I'm afraid a bit of experimentation is required to find out which module is causing the problem. Go to Extensions > Manage and find the modules in the CPanel position, and disable each one in turn. When your Control Panel works, you have found the problem.
From memory though, the key culprits tend to be Akeeba (to fix, simply reinstall Akeeba Backup), K2 modules (again, reinstall K2) and a few of the shop extensions.
Hope that helps!
All the best, Barnaby Dixon
Resolved: It was lib_fof which I missed when uninstalling Akeeba.
Thanks for the update Vaughn!
Have a great one :-)
Barnaby Dixon
Barnaby,
Migrate Me is an excellent module and really does make upgrading from Joomla 2.5 to 3.3 both simpler and, more importantly, safer.
I am very impressed and, at the same time grateful to have found your site. Your support backup is also second to none.
Thank you Stephen for your very kind words!
Barnaby
Hi David,
the component worked fine, but afterwards there were in the database virtuemart plugins and modules noted, that could not be uninstalled because the files never existed. Is there a simple way to handle this?
What I would do is: export the database, search for virtuemart entries, remove them and import the database again.
Hi Katja,
Thank you for getting in touch.
This is unfortunately something in the Joomla system - it does not uninstall if one or more files are missing.
You can manually fix this by going to the __extensions data table, and find your virtuemart entries, and remove each one.
This will be faster than exporting and re-importing the database.
All the best, Barnaby Dixon
Hi there,
I have a problem with installing the component. I have installed it but can not find it so I can not press the upgrade button.
Hope you can help me with this.
Hi there Nancy,
Thank you for your question.
Sometimes Joomla has a wierd bug where it installs an extension, but fails without any error message, and doesn't create the menu item. It happens occasionally, but I don't know what the cause is.
Please reinstall the extension as normal, and it should create the menu item for you. If not, please send me a login and I'll see what I can do.
All the best, Barnaby Dixon
I have a prepurchase question. I am looking to upgrade my site to 3.0 from 2.5. Two questions 1.) my template is 2.5 will it still work? 2.) Will program help if I want to switch templates and do not want to lose any content?
Sorry in advance...I am a newbie...
Hi Efrain,
Thank you for your question.
Yes - Migrate Me Plus will still work even if your template is for Joomla 2.5. I cannot guarantee that your template will work correctly in Joomla 3, it depends how complex it is, and how it has been coded.
If you want to switch templates, and not lose any content, Migrate Me Plus will be perfect for you. It migrates all data, and allows you to keep your old template if you want it (and it is compatible with Joomla 3), and sets up a brand new development area for you to try out new templates, update your extensions, and so on.
All the best - Barnaby Dixon
Will this work upgrading from a 1.5.x site?
Hi Mike,
Thank you for your question.
To upgrade Joomla 1.5 you'll need the original Migrate Me. Migrate Me Plus is only compatible with Joomla 1.6+
All the best, Barnaby Dixon
Hi Barnaby:
Would it be possible for you to email me a documentation so I can read before purchase it? I'm new to Joomla, learned everything on my own, just want to better prepare myself and gain the needed confidence.
Thanks!
Hi there,
Thank you for your question.
Yes of course - you can download the current documentation from http://www.php-web-design.com/docs/migratemeplus.pdf
All the best,
Barnaby Dixon
Hi Barnaby,
firstly thanks for your excellent product, we had a few dramas, but your service and assistance was outstanding. We were able to keep our old site live while upgrading various software, tweaking the template and components and testing the same. An excellent product which I recommend to anyone considering the product.
Ron
I appreciate Barnaby's quick responses, friendly service, and overall great commitment to running a sound web dev business! Would definitely do business with again. Also, the plugin felt very well developed / seamless, and well documented!
Hi Barnaby, I have a 2.5.22 site and trying to upgrade to 3.3.x. with MigrateMe Plus. I am getting about 30% through the process and get this error "Unable to clone date from otqu7_mt_cats. Aborting migration." this table is the Mosets Tree Categories table. It wrote 23 rows of data out of 211 rows in this table.We have 256mb of memory and a 300 sec timeout. Any ideas?
Hi Grace,
Thank you for your email.
Please send me your log directly, which you will find at /administrator/components/com_migratemeplus/log.txt
Thanks!
Hi Barnaby, I seem to be having a few issues, the first is no menu items are working. The Template is not finished, but I want to get all functions working prior to finishing it. URL is here http://sleephealthfoundation.org.au/mmp_upgrade/
Everything seemed to go smoothly till now
Thanks Ron
Hi there Ron,
Thank you for your email.
The reason that menu items are not working is that you have SEO urls turned on in your configuration, but you do not have an active .htaccess file. The .htaccess is disabled by default in the new Joomla 3.3 system, and it must be renamed from htaccess.txt to .htaccess for it to be active.
After this, your urls should work correctly.
All the best, Barnaby Dixon
First off let me say this tool is freaking amazing in a way that is hard to describe it does what it says it does… and does it very well….
The only thing holding this back from being beyond amazing would be the addition of the following feature I don't know how difficult it would be but I think the number of fans you would get would sky rocket..
Because the upgrade path to a lot of addon's is to update the in the live site then push then migrate to the new joomla if we could do the following
Clone the original site with the original site so that now you have 2 live copies of original un upgraded site…
Then from the "cloned site" run the upgrade scripts and then and the upgraded version of joomla so that you can remove and upgrade live stuff to see if it works etc etc and then once that was good to go push it from that to upgrade the live site… that would put me over the freaking moon !!!! just a thought..
if there is a way to do that please let me and again thanks for making such an amazing migration tool
Hi there Mark,
Thank you for your comment. The great news is... that is how Migrate Me Plus already works!
It creates a cloned version of your 'live' site and allows you to upgrade everything, test new modules, update a template, and make all kinds of changes, without impacting the live system. Then, when you're ready to put the new upgraded system 'live' it'll do that for you too - back up the old system, remove it, and then replace it with the updated system.
Barnaby
I am sorry i was not clear.
The issue i am having is that the site i am upgrading has several modules on it that require me to upgrade them before I upgrade the joomla and because i am not willing to upgrade the modules on the live site what I want to do is clone a non upgraded version of the site
then from that non upgraded clone of the site we run the upgrade on the modules and etc... then from that cloned version of the live site that has been upgraded we then run the joomla upgrade once we test from there we then push it to the primary live site.
I am sorry if i was not clear before.
I installed and ran Migrate Me Plus and get a few error messages when I try to access the admin area of the upgraded site. I get a Notice, Warning and a Fatal Error. The admin login page loaded as normal but when I tried to log in I got the error messages which are on a plain white screen.
Hi there Ryan,
Thank you for getting in touch. The error codes and white screen are to do with extensions that are not compatible with Joomla 3.3.
The best way forward is to go directly to your new Extension Manager at /mmp_upgrade/administrator/index.php?option=com_installer.
This should allow you to disable or upgrade extensions so they are compatible with Joomla 3.3.
I hope that helps. All the best,
Barnaby Dixon
Thanks for the quick reply. I'm slowly making progress on my upgrade. Great component for dummies like me. Once I get all of my components and plugins updated I should be good to go. Thanks for making an easy to use component!!
We started to migrate our fairly large and complex site from Joomla 2.5 to Joomla 3.3 and immediately came to an impasse. We have been very satisfied users of Barnaby's HTML2Articles extension and when I was investigating the 3.x upgrade for that extension, I read about MigrateMePlus. Despite the positive reviews, it wasn't immediately clear how MigrateMePlus was going to do a better job than the native tool, so I queried Barnaby and immediately received the following response:
" Migrate Me Plus is a very carefully coded program with literally thousands of processes and calculations - it took around 4 months of development and tweaking - while the native process seems to be somewhat thrown together unfortunately. I actually developed it because clients told me it was something that was desperately needed since the 'official' solution didn't work as it should.
Other than the upgrade part of things, Migrate Me Plus also implements a development area, which allows you to experiment with Joomla 3.3 without impacting your live site. It also creates a full backup of your original system so that when you do 'Go Live' you have full redundancy as needed.
I think you're right about T3 though: unfortunately Migrate Me Plus won't solve your T3 woes, which would have their root in the T3 framework, rather than the Joomla core or the database. But - I do use T3 on one of my Joomla 3.3 systems, and it works very well; I implemented it about a week ago, so it's possible that an update to the T3 framework has been issued in the last few weeks.
I hope that helps! Migrate Me Plus is an easy to use one-click solution, but as always I'm here to help if you have any questions or need support while using it."
Based on this response we purchased MigrateMePlus and within half an hour we were able to get our site upgraded with most functionality working. We then updated extensions as needed. Because we have switched to a new version of the T3 framework we will need to redo quite a bit of styling, but that is another matter. We also need to upgrade some of our own custom extensions.
Besides moving us from "stuck" to "progressing", MigrateMePlus seems to have done a very job of migrating the code and database in a sanitary manner.
Thanks very much for this help, and as we have experienced before, Barnaby's responsiveness is impressive.
I just have a question i was looking at product and frankly it looks amazing but here is what i am wondering. The site i am looking to migrate has a bunch of extensions that I know are not going to be compatable and so what i want to do is the following
copy the site upgrade it the upgrade the extensions then make that site live.. will that work or are there some additional steps i need to go through first ?? please let me know thanks in advanced
Also i forgot to mention i want to go from joomla 1.7 to joomla 3.3 or what ever the latest version is
Hi there Mark,
Thank you for your question. Migrate Me Plus is what you'll need to update from 1.7, and it'll take you to Joomla 3.3.
Migrate Me Plus does everything for you - creates the development area, copies your current system, maintains the extensions and so forth.
What you'll need to do is update all extensions after migration so that they're compatible with Joomla 3.3. If you have any that you know are not going to be compatible, I'd recommend that you uninstall them before upgrade, to avoid conflicts in the Joomla 3.3 environment.
Other than that... it's just a one-click migration, followed by a compatibility check and extension upgrade, followed by 'go live' (just one more click.
Hope that helps!
Barnaby Dixon
Hello! I need to migrate a site that currently runs on J 1.5.23. In the description it shows that upgrades can be made on 1.6 and 1.7 versions. Please let me know if I can migrate 1.5 with this tool or not. Thank you in advance!
Hi there,
Thank you for your question. You need Migrate Me, available from http://www.php-web-design.com/Joomla-Components/migrate-me-professional-joomla-3-0-migration.html
All the best, Barnaby Dixon
Thanks for the quick reply. I've purchased the product, it worked like a charm. I've also migrated my VirtueMart 1.1.8 tables on my new install, which has VM2, after the migration I've used the migrate option form the new VM2 and the magic happened. I had everything VM related from my old site on my new install. Thank you for this tool! It saved me a lot of time and nerves! Best Regards!
Great! I'm glad it was useful for you.
hi there Barnaby
im on 2.5 now, and want to go to 3.3
but its so new, many extensions dont work yet.
would you recommend going to 3.2 first... and is that an option at all, in your extension?
thanx for your work !!
Hi Jasper,
Yes absolutely - if you need to upgrade to a specific version of Joomla (e.g. 3.2) just send me an email after purchase and I'll send you a custom version of Migrate Me Plus.
All the best, Barnaby Dixon
I had a site in Joomla 2.5.20 with some 3rd party extensions which caused some trouble at first, but Barnaby was always ready to help.
Now, my site is fully working with Joomla 3.3
Chapeau!
Hi,
I had my J2.5 site hacked and also had some gzip compression problems and site was not showing at all. Also default joomla update option in backend is not working properly.
So would like to migrate it to fresh J3.3., saw great reviews of your component, and before i buy it I just have some short questions (sorry if you answered it already before):
- Migrated J3 installation with all contact/components/modules/.. stays in the same folder as J2.5 installation?
- can you choose specific destination (folder) of migrated J3 installation?
- migrated J3 installation uses the same database or must be database exported or something like that?
Thanks,
Hi Gregor,
Thank you for your questions.
The new Joomla 3.3 system is created in a subfolder called mmp_upgrade/ Your live site will not be affected until you are ready to put the new sytem 'live'.
You cannot choose the subfolder name, it will always be created in mmp_upgrade
The same database is used with new mmp_ tables, which are temporary. You can remove the mmp_ tables when migration is complete and you have put the new system 'live'.
All the best, Barnaby Dixon
We have successfully used your plugin to upgrade our site located at /h to a site located at /h/mmp_upgrade.
What is the best practice to move the upgraded site into production? Should we delete everything in the root of /h except for mmp_upgrade, copy all of its files into the root of /h, then reconnect that database?
or
Should we leave everything where it is, delete everything in /h except for mmp_upgrade, then delete all the database tables that do not start with mmp?
Hi there Frank,
Thank you for your question.
Once you have completed the migration and tested the new system, all you need to do is go to the Migrate Me Plus extension on the Joomla 3 system.
You'll have a new button called 'Go Live'. Click this and it will backup your old system, remove it, and then replace it with the upgrade.
All the best, Barnaby Dixon
Thank you Barnaby. Migrate Me Plus is installed on my Joomla 3.2 instance but it is not listed in my Components drop down. Where can I find it so I can use the Go Live Button?
Hi again Frank,
Strange - it sounds like it isn't correctly installed.
Please download the very latest version from the downloads link on this site, and then reinstall it on your new Joomla 3 system. The link should then appear.
All the best, Barnaby Dixon
Barnaby,
My hosting service has some questions about Migrate Me Plus:
I tested the Migrate Me Plus component again and after a long waiting for the database backup part to be completed, the process failed with a 504 Gateway Timeout error. The current value of the Apache timeout is 600 seconds, which is way more than the average values and it is not recommended to keep such a high value due to possible performance issues. Other values of PHP (max_execution time, memory_limit), MySQL (wait_timout, max_allowed_packet) were increased too, but the problem persists. I advise you to contact the support team of the company developing the Migrate Me Plus extension and obtain information regarding the recommended memory and timeout settings for the Apache, PHP and MySQL services.
Hi Frank,
Please:
- download and install the latest version of Migrate Me Plus
- reduce the processing speed in Migrate Me Plus > Configuration to 'Slower'
This will reduce the strain on the server, and allow processes to complete.
Barnaby,
I downloaded the latest version and set the configuration to the slowest (1) and it still fails. Do you have the manual steps recommended to go live or another work around?
Hi Frank,
It has built in controls to ensure that it won't time out, unless there is something severely wrong.
Please send me a login and I'll work out what's happening.
Thanks!
My 2.5.18 site has been attacked. I have noticed that all the /template/index.php files are now write only and that there is a file in the root directory called dot.php which only has a single php line (no 'heading' information) which is preg_replace and is massively long.
My question is - does Migrate Me Plus put all the old files into a directory that I can delete, thus removing the problem files?
Hi there Lawrence,
Thank you for your question.
Migrate Me Plus will set up a brand new Joomla 3 environment, which will allow you to set up the new system. As a by-product of this, it will replace all core Joomla files, and therefore rid you of this virus. The one thing it doesn't remove and replace is the old template files, so you will likely want to do this manually.
The new system will be in a subfolder until you're ready to 'Go Live' at which point the old system will be completely removed to a backups folder, and the new system will take its place.
I hope that helps!
All the best, Barnaby Dixon
Me again!
Can I read the documentation before purchasing?
I am trying to decide if I go this route or pay someone to migrate for me - depending on how hard it is. I have a lot of extensions and will need a new template. I've watched the video, but I'm a bit confused about how the test site becomes live, and how to upgrade extensions to their J3 version while the site is still J2.5 Sorry if I'm being thick. Is there a link to the documentation?
Hi again,
Actually I recommend now to update extensions AFTER migration, since it makes much more sense and is much easier.
Once you're ready to go live, it's a simple one-click from Migrate Me Plus to do that. Your old system will be backed up and removed, and the new Joomla 3 system will be moved to the live folder automatically.
All the best, Barnaby Dixon
P.S. I've emailed you a copy of the documentation
A great migration tool. Considering I spent at least 2 or 3 hours the past two weeks trying to migrate from 2.5.19 to 3.2.3, purchasing & installing Migrate Me Plus took 5 minutes, and 15 minutes later I was testing the migration. 30 minutes after that, I was restoring the migrated site to my live server.
The only issue I had was that it missed a /LIBRARY sub- directory used by DOCMan called "koowa". Easily fixed by copying it from the original site.
That was 2 or 3 hours a night the past two weeks .. :)
my database is bigger than 64Mb. What can i do? migrateme brings error for me.
Hi there Sandro,
Thank you for your question.
There are a few ways to resolve this. The first way is to check if there are any stats data or cache data that is bloating the database. In general stats and cache will add 99% of the database size if it is enabled. If you can send me the database for analysis (or a link to download it) I would be happy to analyse it to check for any bloat data that can be omitted from the migration.
Secondly, you can increase your server's maximum upload size. There are some instructions on how to do this in the user guide included with Migrate Me.
All the best, Barnaby Dixon
I have a problem with a site, an earlier update (possibly 2.5.6 ) apparently went wrong and jautoupdate was not installed into the menu although it wass installed as component. As a result it look as though a number of updates were not installed properly. I have used the Joomla recommended method of inserting into the menu to get autoupdate into the components menu and that now works, unfortunately the upgrade to 3.2.X fails each time. (I have had indications of plug in problems - removed those, latest was an error 0)
My question is will Migrate Me Plus have the same problems
Regards
Mike Wyatt
Hi Mike
Thanks for getting in touch. Yes - Migrate Me Plus is guaranteed to work as expected, and it has several safeguards built in to ensure that the upgrade works correctly.
All you'll need to do after migration is install the latest version of your components to make sure they're completely up to date and compatible with Joomla 3.2.
I hope that helps.
All the best, Barnaby Dixon
Hi there,
Could I migrate Joomla 1.5 to 3.5 in another server in the same 4 steps?
1) Install MigrateMe PLUS to your Joomla! 1.6, 1.7 or 2.5 system
2) Click the button to upgrade
3) Allow MigrateMe PLUS time to complete
4) Enjoy your new version of Joomla!
Thanks
Hi there,
Please note Migrate Me Plus is for Joomla 1.6 onwards only. To migrate Joomla 1.5 you will need Migrate Me.
To build your new system, you will need the database. You can install the new version of Joomla on your new system, and migrate the database (on the new server) with Migrate Me
All the best, Barnaby Dixon
Barnaby:
Great work!
I wonder if you could provide a changelog so we can keep on top of updates.
Thank you!
-Alan
Hi Alan
I don't have a formal changelog - generally any changes are fixes for very small bugs, and will affect only a very small number of installations. If there is a major upgrade, or a security update, I will send an email to all registered users to ensure they know about the latest version.
If you want to know which is the latest version available, please just check the Joomla extensions database, where the version number will be updated as new versions are issued.
All the best, Barnaby Dixon
A component which is aesthetically pleasing to use, like running your hand over polished marble. And an immediate response with a revised version to meet the specific needs of my site when I hit a snag. Totally unexpected, despite all the reviews saying this is how it is. Brilliant. Thanks.
Migrate article k2?
Thanks
Hi Sapo
Yes it does.
All the best - Barnaby Dixon
Hi, the upgade doesn't start. My site is joomla 2.5.15. All the Compatibility check were OK.
When I click on the Upgrade button, It stay in the "Initialising awesomeness" and nothing happen.
Hi there
Thank you for your email. Migrate Me Plus is being interrupted by a 3rd party extension. Usually it is JoomFish. Please disable the JoomFish core and framework extensions and it should help.
If you do not have JoomFish installed, or this does not help, please send me a login and I'll be happy to try and work out which extension is preventing Migrate Me Plus from running.
Thanks & all the best, Barnaby Dixon
Does this tool handle multilanguage sites using Joomfish?
Yes absolutely - please just ensure that you have the latest version of JoomFish installed.
All the best - Barnaby Dixon
Hi Barnaby,
Hey Ive got a huge DB, its 30mb. I noticed that the compatibility check says: Maximum import size: 8Mb...
Can you make a suggestion?
Hi there Tim
Thank you for your question. I am guessing you are using Migrate Me?
Please click the big question mark in the Migrate Me interface to get to the user guide. You will find the instructions to increase your import size under the troubleshooting section.
All the best - Barnaby Dixon
We are trying to upgrade from 1.6 to 2.5, will this do that or will it ONLY migrate to 3.0
Thank you for your question.
After purchase, please contact me directly for a custom version of Migrate Me Plus.
All the best - Barnaby Dixon
I didn't buy it yet because I have a question.
Does it also upgrade the templates I made with Artisteer?
Hi Jacob
Thank you for your question.
I am sorry, Migrate Me converts your data, and installs Joomla 3.2, but is unable to also convert your template to Joomla 3.2. You will need to ensure that your template is compatible with the latest version of Joomla for it to work correctly.
All the best, Barnaby Dixon
If using Artisteer, simply get the latest version, load your 'old' J 1.5.x or J 1.16/17 into Artisteer, than simply safe it in new version ;) also you can select if you want to use old 'left', 'right'... or the new 'position-1' ...
All Artisteer 4.x up can do this, safe/export 1.5.x or 2.5/3.x
Don't forget to make a backup before ;) this help don't crying
Barnaby,
Quick question: I need to purchase MigrateMe, then purchase MigrateMe Plus for going from 1.5 to current correct?
From what I've read, Migrate Me to go from 1.5 to 1.6, then Migrate Me Plus for going to 3.0
Thanks for the clarification in advance.
tm
Hi again Tim
Thanks for your question. No, just to clarify: you can use Migrate Me to go directly from Joomla 1.5 to the latest version. You do not also need Migrate Me Plus.
All the best,
Barnaby Dixon
hi brother
If i use the megrate plus to migrate my web from 2.5 to 3.32 latest version, how about the component configuration ?
In wy web i used come component : joomshopping and jtagmember directory
Tq
Hi there
Thanks for your question. All your original data will be maintained, including your component configurations.
All the best, Barnaby Dixon
Great extension and great support!
Thank you Barnaby
I want to use this module to test the migration process in the site I have installed in my laptop before doing this on the live version. So, can I buy a single license version? Will this be valid for the live version?
Thanks in advance
Hi there Dimitris,
Yes absolutely. It will allow you to run a test on your local system before migrating on the live version.
All the best,
Barnaby Dixon
Does this version work for joomla 1.5 ?
Hi there,
No, for Joomla 1.5 you'll need Migrate Me (not Plus).
Thanks for your question!
Barnaby Dixon
I currently have a quick start version of Joom;a 3 running to accommodate all the features of a specific Joomla template we purchased. With your extension is it possible to import the article content only from an older (2.5 site) Thats all I need just to be moving the articles in without disrupting the layout, them settings, etc. of the site.
THanks
Chris Hutcheson
Sorry, my email address in my post was incorrect. This one has the right one.
Hi there Chris
Thanks for your question. Unfortunately it's currently not possible to migrate just the content. Migrate Me Plus is built to be an all-in-one migration tool that simultaneously upgrades the content, filesystem, database and so forth.
But thanks for raising this question. Let me think how this could be best designed for a future release! I'll try and get back to you with a solution in the future.
Cheers & have a great Christmas - Barnaby Dixon
I would buy your software, but I got 64 Mb on my php and I can't change it; it's enough or how much is minimum needed? Thanks
Hi there Mario,
You will need 128Mb of memory, otherwise you will hit problems with timeouts and server errors. Please note, 128Mb of memory is also recommended for Joomla 3, since it requires more server resources than Joomla 2.5.
Please ask your server admins to increase the memory available, 128Mb is usually the minimum you can get from any server. If they can't increase it, I'm sorry but you will need a new server.
All the best, Barnaby Dixon
I bought Migrateme Plus multi site license. I had issues before I used Migrateme and found myself lost with trying to work out my problem. I am a novice when it comes to websites. I emailed Barnaby on a Sunday and he immediately got back with me. We exchanged multiple emails throughout the day and he worked out my problem. I never expected this level of service and support for the small amount I paid for the extension. Barnaby ROCKS! Migrateme Plus worked fine. Thank You Barnaby for giving me so much of your time on a Sunday.
Ronnie Holt
Leave a Comment
1