Who's online
We have 42 visitors online
Written by Barnaby Dixon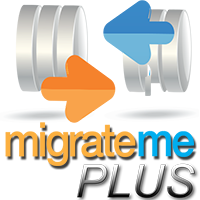 Brand new and just released: Migrate Me PLUS!
This is MigrateMe, completely rebuilt for Joomla! versions 1.6, 1.7 and 2.5.
Migrate Me PLUS allows you to upgrade Joomla 1.6, 1.7 and 2.5 to the latest version of Joomla! in seconds.
You can now upgrade directly to Joomla 3 with just a single click.
The upgrade will completely update your filesystem and database to the latest versions of Joomla.
Your images, articles, data and files will all be perfectly maintained, and your google page rank will be completely unaffected.
As part of the upgrade, Migrate Me PLUS will take a full backup of your database and filesystem. This means you can test out the new version of Joomla, and then if you decide you don't want it, you can simply rollback your system to your old configuration.
Get Joomla 3 in 90 seconds
A standard Joomla 2.5 system takes around 90 seconds to completely migrate to Joomla 3.
And in that time, Migrate Me PLUS will copy all your existing files, duplicate your database, install Joomla 3, update your Admin area, save all your articles and data and switch you to the new Joomla 3 Admin interface.
Watch the tutorial to see just how easy the upgrade is!
Installation and usage instructions
1) Install MigrateMe PLUS to your Joomla! 1.6, 1.7 or 2.5 system
2) Click the button to upgrade
3) Allow MigrateMe PLUS time to complete
4) Enjoy your new version of Joomla!
Buy it today
All purchases come with upgrades, support, and a satisfaction guarantee.
---
Screenshots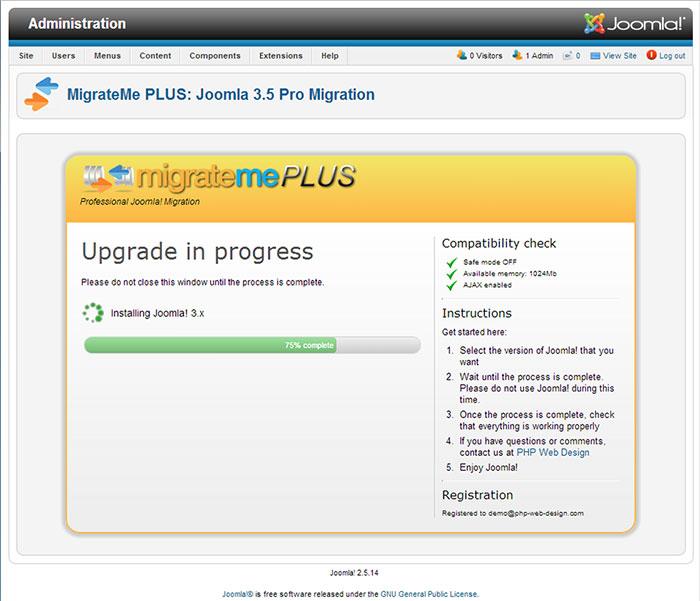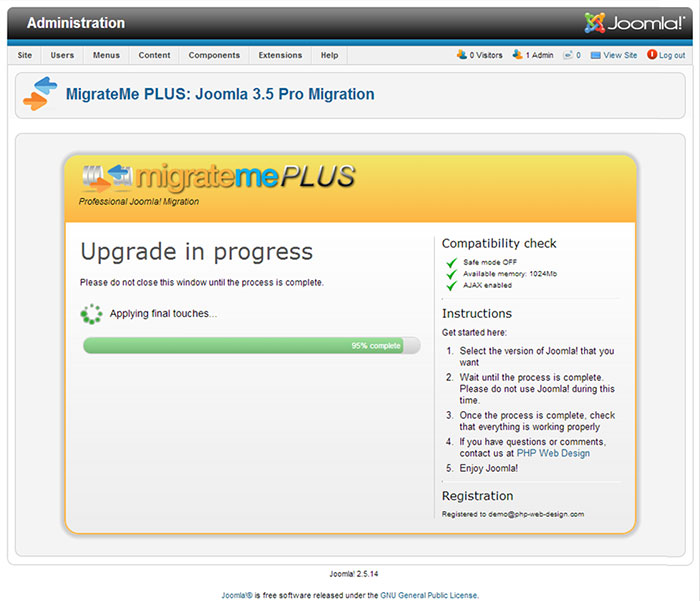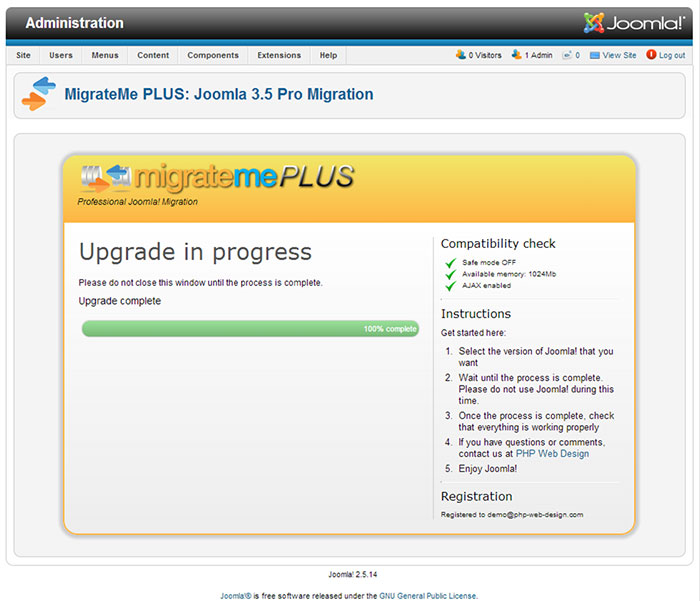 ---
Your comments
There are 55 comments
my database is bigger than 64Mb. What can i do? migrateme brings error for me.
Hi there Sandro,
Thank you for your question.
There are a few ways to resolve this. The first way is to check if there are any stats data or cache data that is bloating the database. In general stats and cache will add 99% of the database size if it is enabled. If you can send me the database for analysis (or a link to download it) I would be happy to analyse it to check for any bloat data that can be omitted from the migration.
Secondly, you can increase your server's maximum upload size. There are some instructions on how to do this in the user guide included with Migrate Me.
All the best, Barnaby Dixon
I have a problem with a site, an earlier update (possibly 2.5.6 ) apparently went wrong and jautoupdate was not installed into the menu although it wass installed as component. As a result it look as though a number of updates were not installed properly. I have used the Joomla recommended method of inserting into the menu to get autoupdate into the components menu and that now works, unfortunately the upgrade to 3.2.X fails each time. (I have had indications of plug in problems - removed those, latest was an error 0)
My question is will Migrate Me Plus have the same problems
Regards
Mike Wyatt
Hi Mike
Thanks for getting in touch. Yes - Migrate Me Plus is guaranteed to work as expected, and it has several safeguards built in to ensure that the upgrade works correctly.
All you'll need to do after migration is install the latest version of your components to make sure they're completely up to date and compatible with Joomla 3.2.
I hope that helps.
All the best, Barnaby Dixon
Hi there,
Could I migrate Joomla 1.5 to 3.5 in another server in the same 4 steps?
1) Install MigrateMe PLUS to your Joomla! 1.6, 1.7 or 2.5 system
2) Click the button to upgrade
3) Allow MigrateMe PLUS time to complete
4) Enjoy your new version of Joomla!
Thanks
Hi there,
Please note Migrate Me Plus is for Joomla 1.6 onwards only. To migrate Joomla 1.5 you will need Migrate Me.
To build your new system, you will need the database. You can install the new version of Joomla on your new system, and migrate the database (on the new server) with Migrate Me
All the best, Barnaby Dixon
Barnaby:
Great work!
I wonder if you could provide a changelog so we can keep on top of updates.
Thank you!
-Alan
Hi Alan
I don't have a formal changelog - generally any changes are fixes for very small bugs, and will affect only a very small number of installations. If there is a major upgrade, or a security update, I will send an email to all registered users to ensure they know about the latest version.
If you want to know which is the latest version available, please just check the Joomla extensions database, where the version number will be updated as new versions are issued.
All the best, Barnaby Dixon
A component which is aesthetically pleasing to use, like running your hand over polished marble. And an immediate response with a revised version to meet the specific needs of my site when I hit a snag. Totally unexpected, despite all the reviews saying this is how it is. Brilliant. Thanks.
Migrate article k2?
Thanks
Hi Sapo
Yes it does.
All the best - Barnaby Dixon
Hi, the upgade doesn't start. My site is joomla 2.5.15. All the Compatibility check were OK.
When I click on the Upgrade button, It stay in the "Initialising awesomeness" and nothing happen.
Hi there
Thank you for your email. Migrate Me Plus is being interrupted by a 3rd party extension. Usually it is JoomFish. Please disable the JoomFish core and framework extensions and it should help.
If you do not have JoomFish installed, or this does not help, please send me a login and I'll be happy to try and work out which extension is preventing Migrate Me Plus from running.
Thanks & all the best, Barnaby Dixon
Does this tool handle multilanguage sites using Joomfish?
Yes absolutely - please just ensure that you have the latest version of JoomFish installed.
All the best - Barnaby Dixon
Hi Barnaby,
Hey Ive got a huge DB, its 30mb. I noticed that the compatibility check says: Maximum import size: 8Mb...
Can you make a suggestion?
Hi there Tim
Thank you for your question. I am guessing you are using Migrate Me?
Please click the big question mark in the Migrate Me interface to get to the user guide. You will find the instructions to increase your import size under the troubleshooting section.
All the best - Barnaby Dixon
We are trying to upgrade from 1.6 to 2.5, will this do that or will it ONLY migrate to 3.0
Thank you for your question.
After purchase, please contact me directly for a custom version of Migrate Me Plus.
All the best - Barnaby Dixon
I didn't buy it yet because I have a question.
Does it also upgrade the templates I made with Artisteer?
Hi Jacob
Thank you for your question.
I am sorry, Migrate Me converts your data, and installs Joomla 3.2, but is unable to also convert your template to Joomla 3.2. You will need to ensure that your template is compatible with the latest version of Joomla for it to work correctly.
All the best, Barnaby Dixon
Barnaby,
Quick question: I need to purchase MigrateMe, then purchase MigrateMe Plus for going from 1.5 to current correct?
From what I've read, Migrate Me to go from 1.5 to 1.6, then Migrate Me Plus for going to 3.0
Thanks for the clarification in advance.
tm
Hi again Tim
Thanks for your question. No, just to clarify: you can use Migrate Me to go directly from Joomla 1.5 to the latest version. You do not also need Migrate Me Plus.
All the best,
Barnaby Dixon
hi brother
If i use the megrate plus to migrate my web from 2.5 to 3.32 latest version, how about the component configuration ?
In wy web i used come component : joomshopping and jtagmember directory
Tq
Hi there
Thanks for your question. All your original data will be maintained, including your component configurations.
All the best, Barnaby Dixon
Great extension and great support!
Thank you Barnaby
I want to use this module to test the migration process in the site I have installed in my laptop before doing this on the live version. So, can I buy a single license version? Will this be valid for the live version?
Thanks in advance
Hi there Dimitris,
Yes absolutely. It will allow you to run a test on your local system before migrating on the live version.
All the best,
Barnaby Dixon
Does this version work for joomla 1.5 ?
Hi there,
No, for Joomla 1.5 you'll need Migrate Me (not Plus).
Thanks for your question!
Barnaby Dixon
I currently have a quick start version of Joom;a 3 running to accommodate all the features of a specific Joomla template we purchased. With your extension is it possible to import the article content only from an older (2.5 site) Thats all I need just to be moving the articles in without disrupting the layout, them settings, etc. of the site.
THanks
Chris Hutcheson
Sorry, my email address in my post was incorrect. This one has the right one.
Hi there Chris
Thanks for your question. Unfortunately it's currently not possible to migrate just the content. Migrate Me Plus is built to be an all-in-one migration tool that simultaneously upgrades the content, filesystem, database and so forth.
But thanks for raising this question. Let me think how this could be best designed for a future release! I'll try and get back to you with a solution in the future.
Cheers & have a great Christmas - Barnaby Dixon
I would buy your software, but I got 64 Mb on my php and I can't change it; it's enough or how much is minimum needed? Thanks
Hi there Mario,
You will need 128Mb of memory, otherwise you will hit problems with timeouts and server errors. Please note, 128Mb of memory is also recommended for Joomla 3, since it requires more server resources than Joomla 2.5.
Please ask your server admins to increase the memory available, 128Mb is usually the minimum you can get from any server. If they can't increase it, I'm sorry but you will need a new server.
All the best, Barnaby Dixon
I bought Migrateme Plus multi site license. I had issues before I used Migrateme and found myself lost with trying to work out my problem. I am a novice when it comes to websites. I emailed Barnaby on a Sunday and he immediately got back with me. We exchanged multiple emails throughout the day and he worked out my problem. I never expected this level of service and support for the small amount I paid for the extension. Barnaby ROCKS! Migrateme Plus worked fine. Thank You Barnaby for giving me so much of your time on a Sunday.
Ronnie Holt
I was in upgrade hell before I found this product. Migrate Me PLUS upgraded my site from 1.7 to 3 flawlessly.
I did have a few configuration issues after I installed the extension, but Barnaby's excellent support got them all ironed out quickly.
Thanks for a great product!
SyntaxError: Unexpected token <
Error details:
Status:200
Error response:
Fatal error: Allowed memory size of 268435456 bytes exhausted (tried to allocate 927212703 bytes) in /xxxxxxxxx/sub/askoy/administrator/components/com_migratemeplus/ajax/copyfiles.php on line 103
The database is converted, this out of memory message come up when copying files and folders (56%). I've deleted all images and documents but the same error occur.
Hi Knut
Thank you for letting me know about this issue. Please try the latest version available from the 'Your Downloads' area, which should have this problem fixed.
Thanks & all the best, Barnaby Dixon
what happens if I have a custom template in Joomla 1.5 and I update it to Joomla 3.x?
Hi Martin,
Thank you for your question. A template converted to Joomla 3.x compatible should work just fine with no issues.
All the best, Barnaby Dixon
I get the following error at the first click.
SyntaxErrors: unexpected token I
Error Details:
Status:200
Error response: Insuficient memory. please increase your memory limit to 128mb or above in your php.ini
how do i get this fix? it doesn't let me migrate. Thanks
Hi, i took care of the memory issue but right after that step there's another error.
Error details:
Status:200
Error response: Call to undefined method JDatabaseMySQLi::quotename() in /home/public_html/mywebsite/administrator/components/com_migratemeplus/ajax/optimize.php on line 24
Hi there David
Thank you for getting in touch.
The quoteName function is a core part of Joomla, and should work correctly from Joomla 1.6 onwards. Please let me know which version of Joomla you currently have installed?
Thanks & all the best - Barnaby Dixon
Hi, I've sent you an email with special admin access so that you can check it out. Please get back to me. Thanks.
Hi there David
Thanks - you may have missed my email. I actually received the access and installed a revised version on your system, tested it and it ran beautifully. You now have Joomla 3 installed and active.
I will resend my email with full details.
Sincerely, Barnaby Dixon
Installed MigrateMe Plus successfully on Joomla 2.5.14. When attempting to begin migration, I get an error message: Bad token. Please refresh your browser...
I refreshed, checked Internet options, and still it will not process the migration. I am at a point where I am about to manually copy/paste files over. Can you help?
Hi there
The 'token' message is inbuilt security - the token regenerates every time that you access the Migrate Me PLUS component. It's saved to the database and checked for every AJAX request.
It's unusual, but it's possible that a cache (e.g. your Joomla cache, set in Global settings > Server) is active, which is causing this problem. Please disable any caches you have temporarily while running Migrate Me PLUS.
The one other thing that can cause this is if you have two windows active with Migrate Me PLUS; so please just have one window open if this is happening.
If this continues to be a problem please set me up with temporary admin access so I can work out what's going on.
Thank you and all the best - Barnaby Dixon
Quem é o representante de vcs no Brasil? Qual o custo em reais?
Olá,
Nós não temos nenhum representante no Brasil, mas o serviço é mundial :-)
39 GBP é em torno de 136 reais
Atenciosamente, Barnaby Dixon
What happens to extensions you have on the older site?
Hi there
Where possible they are maintained and migrated automatically into your new system. Sometimes however, the extensions on the older site are not compatible with Joomla 3; so it's recommended to upgrade them separately prior to migration where possible.
All the best - Barnaby Dixon
Leave a Comment
1