Who's online
We have 37 visitors online
Written by Barnaby Dixon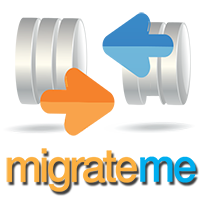 Would you like to upgrade to Joomla 2.5 - or even go straight to Joomla 3.3?
A few months ago, I was still using Joomla 1.5.
After several hack attempts, I was worried that my site would be compromised, or that my extensions would no longer be supported.
So I decided to upgrade to Joomla 2.5.
Well, I tried.
I tried out all the different migration extensions. None of them did the job. Either they missed out data, or they lost the arrangement of items, or they used the wrong article IDs.
And none of them saved the data properly to the new Joomla asset table. This meant I had trouble rearranging, deleting and editing items after the migration.
And so I developed Migrate Me.
Here's how it works
I designed Migrate Me to be really easy to use. Watch the video here, and follow these instructions:
Step 1: Install a new Joomla 2.5 (or Joomla 3) environment on your system
Step 2: Install Migrate Me
Step 3 (optional): Install the components you want to keep on your new system. This allows Migrate Me to upgrade the data during migration.
Step 4: Download a copy of your database. You can either use PHPMyAdmin or DataSafe Pro.
Step 5: Open Migrate Me, and find your backup.
Step 6: Select the data to migrate, and click 'Begin Migration'
Step 7: Migration is complete! Check the log and admin, and update your template. Job done!
Just look at all the benefits you get:
| | | | |
| --- | --- | --- | --- |
| | Articles migrated! | | Categories migrated! |
| | Menus migrated! | | Custom HTML modules migrated! |
| | Users migrated! | | Kunena data migrated! |
| | Weblinks migrated! | | K2 data migrated! |
| | Extensions data migrated! | | Asset table built and integrated! |
| | Links perfectly maintained! | | Article & Category IDs maintained! |
Buy it today
Pick up Migrate Me today and experience it for yourself! In just a few moments you could be enjoying your new Joomla system, complete with all your data intact.
All purchases come with upgrades, support, and a satisfaction guarantee.
Please note: this component will only migrate Joomla! 1.5. To migrate Joomla! 1.6, 1.7 or 2.5 please use MigrateMe PLUS
---
Screenshots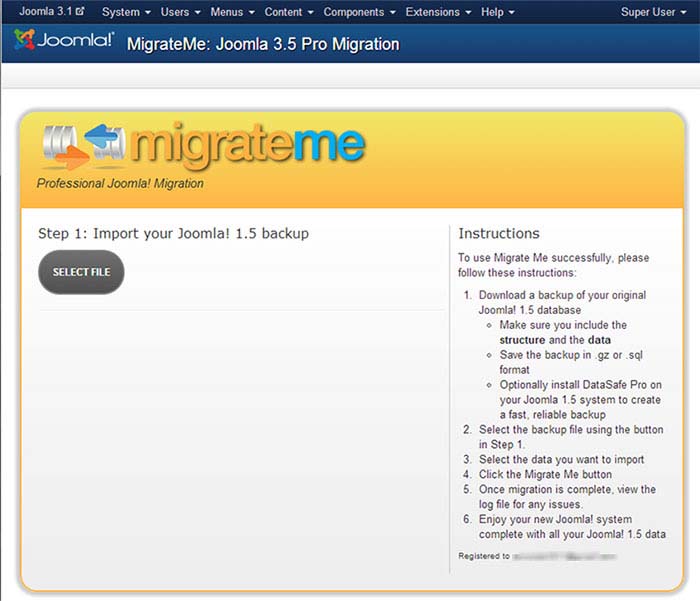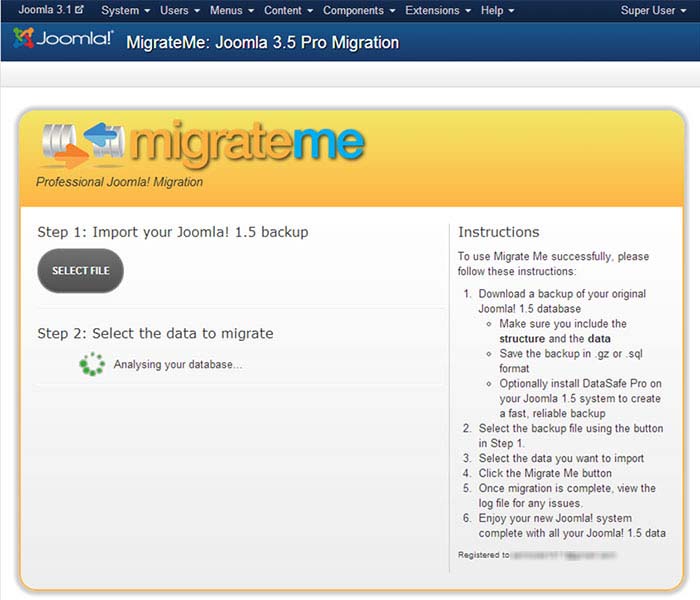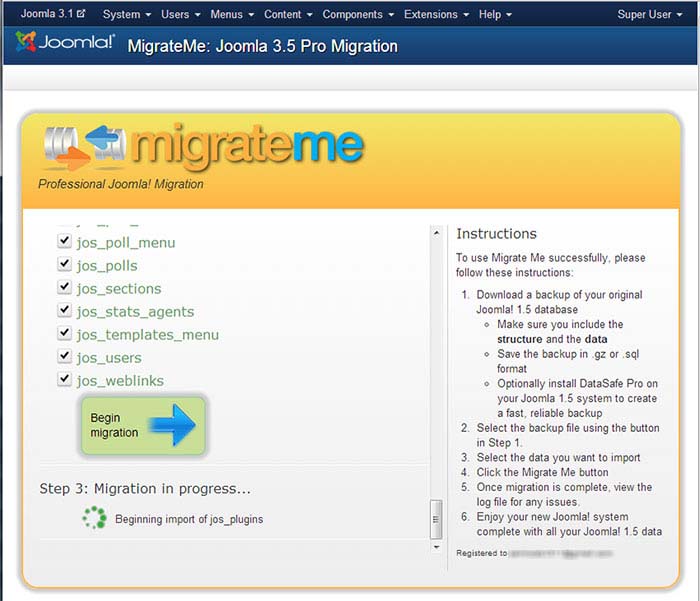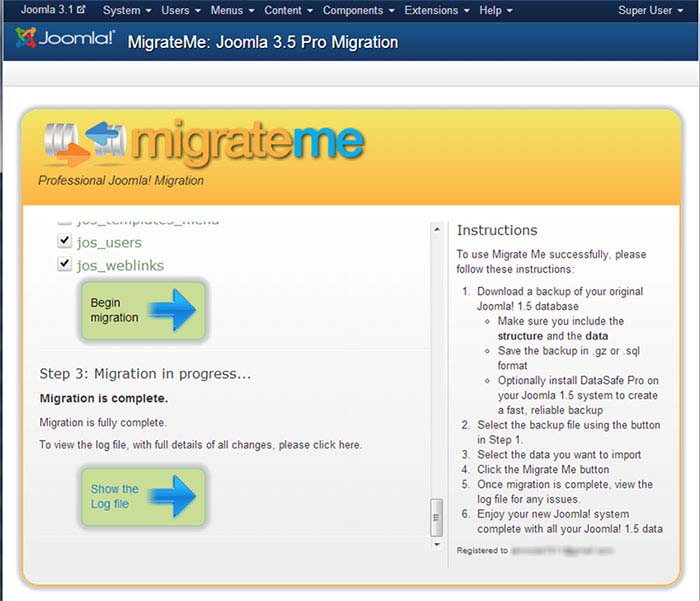 ---
Your comments
1-100 of 202 Comments
I am trying this out on a test server moving from 1.5 to 3.3.
I installed Joomla 3.3 in subdirectory, installed the MigrateMePlus component on 3.3 version and ran it. It opened to:
"Your Joomla version is:3.3.3
Congratulations! Migration is complete."
It did not ask for the backup sql file or anything. No upgrade button is visible.
Also I think I might have the wrong version. I purchased the MigrateMePlus. I have both a 2.5 site and a 1.5 site to upgrade. Which version covers both these versions of Joomla?
Adam
I see now the process is slightly different for MigrateMe and MigrateMePlus.
Is there a version that will do both 1.5 and 2.5?
Hi there Adam,
Thank you for getting in touch.
The technology behind Joomla 1.5 is very different to 2.5, which is why it was necessary to have two different migration solutions, which work in a fundamentally different way.
To upgrade Joomla 2.5, please install Migrate Me Plus on your Joomla 2.5 system. This will automatically create a new Joomla 3 environment, and migrate your data, settings, and so forth.
To upgrade Joomla 1.5, you will need Migrate Me. You then need to first set up the 'target' system to receive the Joomla 1.5 data. In this case, you would use your new Joomla 3 environment as you have done - and then install Migrate Me into the Joomla 3 system, and follow the instructions that follow.
I hope that helps!
All the best, Barnaby Dixon
While trying to run the upgrade I got a warning in the compatibilty check panel that the maximum import size is 128mb.
I missed that warning. Anyway, the result is that my site is not working and I don`t have a clue.
Anyone?
Hi there,
Thank you for getting in touch.
How large is the database that you are migrating?
The migration shouldn't ever 'break' your site - all it does is populate your existing database with the original Joomla 1.5 data.
If you could show me what's going on (perhaps in an email) I'll be happy to work out what's happening for you.
Thanks & all the best, Barnaby Dixon
Just a short note to say thanks for an excellent product. I don't normally write reviews but this one worked straight out of the box - carefully checking/repairing the database, backing up and duplicating the data.
I did have to check and upgrade each extension specifically, and yes the site did break immediately after upgrade (due to a minor issue in the template index file), but would thoroughly recommend this piece of well engineered software.
Just don't expect any migration to be completely trouble free - there are limits to what any sensible package can achieve.
Thank you for the prompt response on another question.
I've been spending hours trying to figure out how and why, but a particular template my client has mandates the jos_ prefix. Since that's the same prefix of the 1.5 database from which to import, every time I import even "just" the jos_content table, it overwrites 100% of what is already in that table.
I don't want to overwrite the existing content. It's part of the default template that the client wants.
So how can I import only the content without overwriting the existing content (articles)?
Since I could not wait, I decided to do whatever necessary in order to get both the template and it's default sample data as well as the imported data all into the list of articles. That was not a simple job.
I actually had to reinstall Joomla manually, install MigrateMe and import the 1,200 articles, change the prefix on the template database dump file, then upload that file via PhpMyAdmin in order that all of the articles 'and' the default template data could coincide in the articles.
Of course, I didn't figure that out until after my 10th or 12th attempt to install Joomla and the template...and MigrateMe.
It would seem to me that MigrateMe could be adjusted so that it will "add" to the articles as opposed to importing from Joomla 1.5 and dropping all data in the _content table first. Both the template "and" MigrateMe wanted that control over the content, and both were dropping all data in order to import their own data.
Any thoughts?
Hi there Thomas,
Thank you for your great comment there - and sorry for my slow response.
It is not technically possible to have both demo data and 'actual' data in the same Joomla system without some major data rewrites. There will be countless conflicts, not least with the article IDs.
The only way that it's possible to do this is to remove all IDs from your demo data, but this will mean that none of the data matches up - the demo articles will be in the wrong categories, the menu items won't link in and so forth.
The best (and recommended) way forward is to set up a secondary system using just the demo data, so you can easily see how it's set up. Then, make changes to your primary system using your 'actual' data, copying the styling and content from the demo system.
The other option, which is sometimes but not always provided by template vendors, is to manually set up your modules and other settings using the template guide.
And a final option is to go to Migrate Me > Configuration and set 'overwrite content' to 'No'. This will migrate your data, but it will automatically remove all IDs to avoid conflicts. Your data will be migrated, but it will usually end up with incorrect categories, article aliases and menu links.
I hope that helps!
All the best - Barnaby Dixon
Hi Barnaby,
In the interest of others I thought it would be nice to provide them with some options in case they have a similar situation.
You pointed out a few options, but I think it depends on how the user has set up their Joomla site before importing the old data.
However, clearly the new templates created for Joomla are FAR too complicated. Personally, I use Artisteer and create my own. Doing that allows me the freedom to create whatever I want, but the template doesn't control the data in the site - only the design. It's possible to click a button to import sample data just for the template - which will NOT overwrite the content.
The template I used for this client was extremely complicated. To "copy" the settings, modules, etc., from a "test" site into the working site would have taken days.
As I'm considering other options now, I realize that if I'd just created Joomla, installed MigrateMe, imported the data, installed the template, that would leave me with everything necessary for the new template to work except the content.
At that point, I could have created the articles and associated them with the appropriate categories, etc. That would have been several hours, but better than days.
In the end, "my" method that I actually used, once I figured it out, was only 20 minutes work.
Part of that was to import the template sql file into a local text database. Then I exported that data making sure to "un-check" the error notification during export. That allows the data to "import" into another database, retains the id's for everything, but won't stop importing because there is an already existing primary key...which is what stops the import in the first place.
I'm just saying that, perhaps, it would be possible to update MigrateMe to allow for import without overwriting current content data.
The reason I continue this discussion is because more and more people are using the complicated templates that are created from companies like TemplateMonster which are "so" complicated that there is no way the average user or developer will be able to install that template "and" use MigrateMe. It can be done, but only if you go through a process as I have outlined.
Thank you for listening. I hope you can come up with a resolve. I'm certain you know more about database and migration techniques than I.
Interesting - your solution sounds like a good one, although how are you doing with ID conflicts?
You're absolutely right, newer templates are way too complex, and need to allow for pre-existing data. If the templates were programmed well, it could be done, but I think the creators are often lazy and don't create demo content that can work around existing content.
Migrate Me does allow you to migrate data without overwriting existing content - under Migrate Me > Configuration. However, as I mentioned before, this by definition will mean that some things don't work as expected, for example, categories will often not be associated correctly with articles, and menu items will be incorrect. However, if you just want your articles imported, it's a viable option.
You can also migrate JUST the categories, content and menu items, leaving you with a very usable system, but leaving the demo template modules and plugins in place.
Anyway great work on your solution, and best of luck with the rest.
Barnaby
After migrating a couple of sites I'm impressed. I have to ask, though. After the migration is completed, is there any reason to leave "MigrateMe" installed?
Hi Thomas,
Thank you for your great question! If you leave MigrateMe installed, it means you can re-run the migration in the future if you need to, but if you're happy with the migrated data there's no need to leave it installed.
All the best, Barnaby Dixon
Just a note for those who are just thinking about migration – take this extension and do it! This is a great extension and support is excellent!
Frankly speaking I am rather "blond" in "computer stuff", but Barnaby help me in every step of the migration process and now it's completed successfully.
Thank you once more, Barnaby!
Hi There,
I have purchased the plugin but I have a couple of questions... Where should I send these questions?
I have sent an email on Contact Us page and posted a comment here but haven't heard back yet.
Cheers,
Hi Ramtin!
It's really strange… The first question I also wrote on Contact Us page (http://www.php-web-design.com/Barnaby-Dixon.html) and the answer got after a couple of hours. The further correspondence was faster and the help I got even in evenings and during the holidays.
And what's more – when I got the first answer I understood that I have specified an incorrect e-mail address on Contact Us page, but Barnaby somehow had found a right one (probably through the social networks) and answered me. I think that it's an indicator of true care about clients.
I just guess that maybe it is vocation time…? Or maybe check your spam folder?
Hi Ramtin,
Very sorry! We migrated servers last week, and somehow I missed your last comment. I have replied now. Please let me know if you have any further questions.
You can download the user guide if needed from http://www.php-web-design.com/docs/migrateme.pdf
Cheers!
Barnaby Dixon
Hi,
I have purchased your plugin and I am in the process of migrating our Joomla 1.5 to 2.5.
Does your plugin support data transfer for the major extensions Community Builder as well as Joomla Quiz that we have too?
Do we need to consider anything before the migration. These are the most important plugins that we have and we need to make sure that we cover the migration accurately for the data related to these 2 extensions.
Thank you and look forward to hearing from you.
Cheers,
Ramtin
Hi there Ramtin,
Thank you for your question.
Yes, Migrate Me Plus supports community builder. I am not sure about Joomla Quiz, since I haven't used it myself, but I have not had any reports that the migration hasn't worked; and of course, if you need any assistance during migration please just let me know.
All the best,
Barnaby Dixon
I think this probably the best solution for migrating 1.5 sites to the latest versions. If only there was one option -if possible of course- to keep existing content if any.
The reason I am asking this is because it more than usual to install Joomla 2.5 or 3.3 from a quickstart file of a purchased template that installs a lot of sample data. Once the Migrate Me does its magic, all of the sample data is lost. That means that one is a blind as to how to achieve the original template's functionality and look'n'feel, the way it was in the demo of the template.
Hi Manos,
This would also be true if you installed the template with demo data on your 'live' site. It would override your existing articles and modules. Unfortunately, it is not possible to have both your 'normal' and your demo data on the same system.
I would recommend you set up a template demo site alongside your regular site if you want to see how the template is set up. Also, you can usually check your template documentation to see how to configure it for a pre-existing site.
All the best, Barnaby Dixon
HI there.. so before I get started I need to take a 1.5 template with a 1.5 datebase and make them both 2.5. I just bought this component, but Im thinking this may just migrate the database. Forgive my ignorance..but do I install a fresh 2.5 joomla installation ( no demo data). Install your component and then upload the 1.5 database. But my question is what about my 1.5 template? They dont make a 2.5 template? I have a lot of sites to migrate. Can you spell it out for me?
Thanks!
Hi there Anna,
You are right - Migrate Me will migrate your data, but not your template. You will need a Joomla 2.5 template, and yes you should install it without the demo data.
In general your original template creator will have an update for Joomla 2.5, but if not, I'd recommend updating to a different template, to take advantage of the new functionality provided by Joomla 2.5
All the best, Barnaby Dixon
Hi Barnaby,
Thanks for the great extension! The import of the data went fine (although not all the internal links are working due to the change in menu item id's but thats not a biggy)
I do have one bigger problem and that is the editor (JCE nor Tiny MCE) is not appearing in the back end (articles, modules etc). The editors are installed and I can choose either in the main configuration screen.
I did a fresh install locally of the latest Joomla version 3.3.1 and Im running it on Mamp.
Any ideas?
Hi Steven,
If you have the latest version of JCE and TinyMCE, my guess would be the settings associated with each user.
Please go to User Manager > [Select user] > Basic Settings, and set Editor to 'Use Default' for your main Super Admin user.
Then log in as that user, and see if the editor works.
If not, it'll likely be the editor 'access' permissions. Check the editor is enabled in the Plugins Manager, and also that the Access is correctly set (usually it's Public). Then save and ... hopefully it'll work!
Hope that helps, let me know if it doesn't kick in for you (and also disable your cache so that the settings actually take effect).
All the best - Barnaby Dixon
Hi Barnaby
I have 14 Joomla sites to update from 1.5. I was wondering if there was any way of testing this on one of them to ensure it does everything we need for our clients then go ahead and but the licence for each site and do the upgrades.
Please could you contact me to discuss?
thanks
Angela
Hi there Angela,
Thank you for your email. You'll be fine to just purchase once and use on all 14 systems :-)
I don't have a test version, but all purchases do come with a full money back guarantee.
All the best, Barnaby Dixon
Have already uploaded Joomla 2.5 (migrating from 1.5). Do we install the new template design BEFORE or AFTER the site data is migrated?
Hi Carol,
Personally I would install it after migration, but it won't affect the migration - feel free to install it when you like.
All the best, Barnaby Dixon
Just tried to perform migration from J1.5.15 to J3.3.1
Component says it did the migration and log show all success. Still when checking the site, NONE of the old content has migrated. I can only see what's part from the newly installed J3.3 site.
What's happened, and how can I move on from here?
/Bjarne
Hi there,
Thank you for your question. Please send me the log for analysis - but also please ensure that your Joomla cache is turned off so that any changes to the system are reflected in the live site.
Thanks & all the best, Barnaby Dixon
I will reply to my own post, and at the very same time say a thousand thanks to Barnaby Dixon for finding the error and solving the issue for me! :-)
Yo guys can disregard my "bad" rating eralier, as the fault was on my side with using double prefix (j15_jos_) instead of the single I should have used, following the standard (jos_).
Yet again, thank you Barnaby for an excellent product!
Sincererely
/Bjarne Dahlin - happy customer!
Hi
did it work for migrating J1.5/kunena2 to J3.3/kunena3?
Thank you!
Yes - it does work correctly. You just need to update Kunena to version 2.0.4 BEFORE migration, so that the data is correctly updated.
All the best, Barnaby Dixon
Hi,
Tried to upgrade joomla 2.5, at 60% got pupup window "Unable to access Joomla remotely with CURL! Aborting upgrade". What's the problem?
Regards,
Hi Gregor,
Thank you for your email. This is a message you'll get if the server can't download the remote Joomla upgrade package, due to a CURL failure (which is a PHP extension).
It's possible that the remote package was temporarily unavailable, for example, the remote site was down. I have checked and it's definitely up now, so I'd recommend that you simply try again.
If you get this message again, it means there is a problem with the CURL extension on your server - if so, please email me and I will send you a custom version of Migrate Me Plus that allows you to save the Joomla 3.3 package to the system manually.
All the best, Barnaby Dixon
Hello,
I can't find any link o to download Migrate Me extension on the top menu, how can I download it?
Hi Daniel,
Thank you for your question. Please first purchase Migrate Me, and then you can download it from the 'Downloads' link.
All the best, Barnaby Dixon
I had to migrate a joomla install from 1.5 to 3.2. Including users, groups, etc. pp., and by using a third party component (attachments), the article ids had to stay the same.
So MigrateMe has done the most of the work for me and also was kind of intelligent by re-mapping things to the new concept (in joomla 1.5 you had sections, and in 3.x no sections anymore, but nested categories, worked well).
Very good extensions, very simple usage, and for sure it is worth the money!!!
Just a quick note to say thank you, MigrateMe worked flawlessly for me. Had been trying for 2-3 days to get redMigrator to move my data... kept failing, data didn't transfer, would hang, etc. MigrateMe worked the first time and all data came over.
Hi
I have a pre-sale question. What about all the components and purchased extensions I have? I purchased them all for joomla 2.5. Will they be upgraded also by this migration tool? Any extension I have already installed? Or do I need to migrate to joomla 3.2. with your migration extension first and then buy all the extensions again to be compatible with 3.x that don't work because purchased with compatability 2.5.?
Sorry for the stupid question but I am unsure about this problem (even unsure if this is a real problem or just a lack of understanding the joomla system by myself...)
Thanks
Frank
Hi Frank,
Thanks for your question. Your data will be maintained by the migration tool, but quite often the extensions themselves will need to be updated. If the distributor is good they are often happy to send you the update for Joomla 3.3, it's worth asking :-)
You can just install the updates as needed after migration is complete.
All the best, Barnaby Dixon
I've got a reasonably large site to upgrade from 1.5 and not having a deal of success with another tool. Will this allow me to set up the new site in the same database instance (and the same server) with a different table name prefix? (I hope that makes sense?)
Hi there David,
Thank you for your question. And yes - you can set up the new site using the same database, this will not be a problem at all.
Migrate Me can be successfully used to migrate databases up to 2Gb - the largest I've run myself was 1.5Gb so it can be done! Just let me know if you hit any trouble - with larger migrations sometimes you need to tweak some server settings. There are also some detailed instructions in the included user guide to show how to run the full migration with a large site.
All the best, Barnaby Dixon
Pleae, I need your urgent help. After I upload my J1.5 database (SELECT FILE button) I can't go further. I get just a notification from browser, with no text, only "Notification from your site" and an "Accept" button. And after that... NOTHING, no selection of data to migrate, no Begin Migration button, nothing at all, only the "SELECT FILE" staying there... I did my installation on J2.5 and I have the last version, of course. The database gets uploaded without problems and has a size of only 2Mb. Thanks in advance!
Hi there Juan,
Thank you for your email.
The problem is that the database size is larger than your server's upload limit.
There are two basic routes you can follow to resolve the issue.
You can either increase the server upload limit - or else you can also upload the file using FTP.
Please check the troubleshooting area of the user guide for full instructions on each method.
I hope that helps, please let me know if you need any more assistance.
All the best, Barnaby Dixon
Thanks for your prompt answer, Barnaby, but that's not the problem. I can indeed upload the file without problems, I see the upload bar progressing and at the end I get an "Upload completed" message, but then nothing more happens! The progress bar disappears and the only thing I can see is the "select file button", as before.
I've tried every single method in the troubleshooting section, I have Safe mode OFF, Available memory: 256Mb, AJAX enabled, Maximum import size: 64Mb... PHP version is 5.3, I've tried with the last versions of both Google Chrome and Firefox... but nothing changes :-( I still stay stuck in step 1
Something that I've observed is that in the source code I can read some things that I can't see on the component page:
Resume your last migration?
An incomplete migration has been detected. Would you like to resume your last migration?
No
Yes
Step 1: Import your Joomla! 1.5 backup
Sorry! This is extension is built in HTML5.You'll need to use a modern browser such as Google Chrome.
Step 2: Select the data to migrate
Analysing your database...
Select All
Begin migration
Any hint?
Hi Juan,
The code that you've sent me is what you can use if you manually upload the file using FTP. You will find instructions on how to do this in the Migrate Me user guide.
My guess is that the file is not correctly uploading, or else cannot be read after it is uploaded, so you will likely have more success with the FTP upload method.
Please let me know how it goes. If it still doesn't work, please send me an admin login and I'll work out what the issue is.
Thanks & all the best, Barnaby Dixon
Still doesn't work with the manual upload. No tables options appear in the component. I've sent you the access data to the admin panel through the contact form. Thanks for your help!
Hi Juan,
I have tried many times to contact you via email so that I can help but I think you're not getting my emails.
Please call me directly on +44 785 646 3357.
Thanks
Hi Juan,
I have tried many times to contact you via email so that I can help but I think you're not getting my emails.
Please call me directly on +44 785 646 3357.
Thanks
Excellent component. Looking for a long time to this kind of migration tool.
But missing an option. Don't know if it is possible. I'm creating a new website but with other settings, but the old website stays online for a while. So new content is still added to the old site.
If i do a migration today of the content, and i restart a new migration in a few weeks when te new site is finished, it wil overwrite the already existing content. Is it possible to add only the newest articles?
Hi Hans,
Great question there. The easiest way to update with the latest content is to re-run the migration, and select 'Content', 'Categories' and 'Menus'. This should be enough to update your system with the new contente.
All the best,
Barnaby Dixon
Excellent extension. Fully worth its money.
Barnaby provided fast and competent help on a few issues.
I could restore a web infected with the Eval(base64_decode) hack by upgrading to Joomla 2.5.19 without touching the old installation but for transferring documents, graphics and images.
GR
Thanks Gerard! I'm glad your system is saved :-)
I gave a rating of "OK" only because "jury is still out" was not an option.
I have tried several different ways to export and then upload my (admittedly large) web site database. The closet I come is using your datasafe pro to make a back up copy (excellent program by the way) and then uplaoding via FTP after de-compressing the file so it is an sql file. But when Migrateme starts to analyze the database it returns a "Unable to retrieve any valid table names from this file" error message. I have gotten the same result on multiple attempts. What do you suggest?
Hi Michael,
A fair rating :-)
The error you got means that there has been a problem reading or saving the sql file as temporary tables. Unfortunately this could be for a wide range of reasons for example: your database user might not have 'create' permissions. The most common reason, however, is that there is an issue with encoding.
I recommend that you upload the gzip compressed version of the datasafe backup, which will automatically make sure that the encoding is perfectly accurate, and will avoid any issues with non-ASCII characters. Please just upload the file as insert.sql.gz and it should be recognised by Migrate Me, and you should be able to continue... but if not please send me the database to support AT php-web-design.com and I will check if there are any errors or issues with it.
Thanks & all the best, Barnaby Dixon
I need to upgrade my previous rating to 6 stars out of 5. Its really that good. My web site has a very large and complicated data base; had some difficulty getting a clean backup loaded. But thanks to some very excellent support it got done. From there the migration process was very simple. Saved me TONS of time. This product is worth every penny and then some, especially considering the top notch support.
Thanks for your great rating Michael!
i guess I'm confused still about the process from a hosting provider point of view.
my production site is at /public_html/
your directions state i need to create a new 3.0 site, like /public_html/upgradedsite, and the perform my joomla upgrade. I guess my question goes back to, how do i get /public_html/upgradedsite to be the new root?
my hosting provider (hostgator) is telling me to trash the old /public_html/ and take a backup of /public_html/upgradedsite and its database and re-upload all that too /public_html/
do you know of a process for a n00b like me?
Hi Kendrick
Thanks for your excellent question.
The process is actually relatively simple. You set up the new Joomla system in a subfolder (e.g. /upgrade/) so that it can be tested and set up independently of the live site.
Then, once you're ready to go live, create a new folder in the root called /backup/. Then, using FTP, move everything from the root folder to the backup folder - and that way you have a backup if you need it for any reason. Then move everything from your /upgrade/ subfolder to the root, and it'll be 'live'.
The full moving process using FTP usually will take only a few moments, so your live site should only be down for say 5 minutes.
I hope that helps! All the best, Barnaby Dixon
Does your software work with components like Joomsocial and AEC Subscription Component?
Kind Regards
Hi there Alan
Thank you for your great question.
Basically Migrate Me will migrate the data for ANY third party extension, but it's also worth checking if the extension distributor has their own migration method, as it will be more accurate.
But that said, generally you will be able to migrate third party extensions as follows:
- Create your new Joomla 2.5 or 3.2 system
- Install Migrate Me
- Migrate your data
- Install the latest Joomla 3.2 compatible version of each extension
And your system should correctly have migrated all data and updated it to the latest data schematics where necessary.
I hope that helps. All the best,
Barnaby Dixon
On the instructions at the top it says, firstly install the new extensions and then migrate data. Here barnaby replies to firstly migrate data and then install the newest extensions. I'm confused, which process is the right one?
Hi Chris
Great question, and I'm sorry that I raised confusion with my last answer
The answer is that is it usually better to install the required components on the system prior to migration. This ensures that the menu, in particular, knows 'which' component each link is trying to point to, and updates them as required.
However, if you're also upgrading individual components, say from version 1 to version 2, this can mean the add-on data schematics aren't correct. So in this case, it's better to first migrate your data, but then to install the upgraded version of the component to ensure your data schematics are correctly upgraded.
I hope that makes sense - please let me know if you need more detail for a specific migration or third party extension upgrades.
All the best, Barnaby Dixon
Thanks for the quick answer. So if i understand correctly, for me that i have joomla 1.5 and want to upgrade to version 3, i will have to migrate data first and then install the new components, right?
Hi Chris
If you're upgrading the components you should install the upgrade AFTER migration; however if you're using the same version number of each component you should install BEFORE migration :-)
All the best
Hi. Is it possible to migrate from a joomla 3 to another joomla 3.2?
Hi there
For this you should just use the inbuilt Joomla update functionality.
Migrate Me and Migrate Me Plus are used for major upgrades, not minor.
All the best - Barnaby Dixon
Does Migrate Me also migrate a 1.5 template to 2.5?
After further consideration, maybe I should move to 3.x? I didn't realize 2.5 only has 9 months of development support left. Can Migrate Me take a site from 1.5 to 3.x?
Hi Doug
Yes, Migrate Me will migrate you to Joomla 3.2
It does not update a template, you will need to find a Joomla 3.2 version of your template, or else choose a new compatible template
All the best, Barnaby Dixon
Hi,
I'm very interested in your program. So far nothing I have tried has worked, so I'm a little skeptical on spending the money. I actually have 3 sites that I need to migrate. If I purchase the product once, can I use it for all 3 sites?
Looking forward to your reply!
Hi there
Thank you for your question. Migrate Me is the #1 rated migration component, and is backed with a full money back guarantee, along with full support and a great user guide. It'll work :-)
And yes you can purchase just once and use the extension as many times as you like.
All the best, Barnaby Dixon
Thank you Barnaby for the quick reply. I look forward to trying it out!!
I'm already rating you excellent for the feedback you give Barnaby, so I'm hoping I can also rate the software on the same basis
I've tried many times in the last month to import my Joomla 1.5 K2 articles into any upgrade (my old joomla keep on getting infected with malicious scripts) and your software has got me the closest in an upgrade to 2.5
However, it imports everything BUT the items - categories, tags, users, comments, but none of the 150 files visible in my database.
I'm happy to share the database with you - or give you access to my both my joomla and joomla25 directories on wwww.peterjukes.com
But at the moment all I've got left is a CSV export with little of the original formatting or data
It is making me despair of joomla. I've spent probably three hundred pounds on various promised export mechanisms in the last three weeks. I'm hoping this can finally work
More in despair than hope
Peter
Hi Peter,
Thank you for your question. I suspect that the problem will be a problem with the initial data export, or perhaps a data schematic difference if the version of k2 is different.
Very happy to take a look and run the process for you if you like.
All the best, Barnaby Dixon
Barnaby (for some reason this blog will only let me reply to my own comment)
Well, I was right in my excellent estimation of your software, not only because of the speedy reply. I ran the process in Joomla 3 and every imported perfectly: all my ratings, hits, etc. The image attachments are the only thing that seem to have gone missing. Any quick fix for that?
Hiya Peter,
Great! Yes all you'll need to do is copy your original images folder into the new Joomla 2.5 system folder, and it'll work perfectly for you.
All the best, Barnaby Dixon
Barnaby
I'm still having problems viewing the imported k2 items at the front end of joomla 3.0. All the items are there in the k2 list and set to public viewing. Images and titles appear at the front end, but no item when you click through. I hear the permission system changed in 2.5 plus. Is there a simple database query I can run on K2 which might solve this? Or a setting in migrate me I've missed.
I also can't see any image fields in the listing, and though I've imported all the images to the image folder, that field also seems to get stripped out
Best
Peter
Hi Peter,
Please send me a link to the upgraded site (via support AT php-web-design.com) and I'll have a quick check to see if I can spot what the issue is. I suspect it'll be an SEO extension needs to be flushed or something like that.
Cheers! Barnaby
Barnaby
Once again your prompt response completely confirming the value of your software and service
The site - still in very early days of development - is in the subfolder peterjukes.com/joomla3
Best
Peter
Hi again Peter
Thank you for showing me the site. As far as I can tell it's an SEO component or similar that needs to have its cache purged, or its list of URL redirects refreshed.
I'm not sure which one you use - is it the standard Joomla SEO extension? If so you might like to go to Admin > System > Clear Cache, select everything and clear it. Or if it's SEOSh404Sef you will need to go to the list of urls and click the 'purge URLs' button.
If neither of those help please send me an admin login (please reply privately instead of on the comments) and I'd be happy to work it out for you.
All the best, Barnaby Dixon
Hi Barnaby,
Almost everything imported great on a migration I just did today to 3.2. The only things that didn't come over were the Kunena Forum posts, categories, etc. I had installed the latest Kunena prior to running MigrateMe. Did I miss something? Thanks.
Wilson
Hi Wilson
Thank you for your question - it sounds like you did the migration just perfectly. Have you also installed the latest version of Kunena on your new system? And you exported your data for migration after updating Kunena on the old system?
All the best - Barnaby Dixon
I did not upgrade Kunena on the old Joolma prior to the migration. If I do that and then export the database again, would I be able to rerun MigrateMe for only the Kunena tables and just bring that data in?
Thanks for the speedy reply!
Wilson
Hi Wilson
Yes exactly, you'll just need the kunena data, and you can just avoid all the data that's correctly migrated.
All the best - Barnaby
Hi Barnaby,
The Kunena database was able to migrate after I had upgraded Kunena on the 1.5 installation. Thanks for you help with that. There was only one issue after the Kunena migration. In the user database the banned date was set to all zeroes instead of . This had the effect of banning every user from the forum until I can set that field back to . Do you know if there is an easy tool that will allow me to get to this data and change that entire column's data at once (Every record for that field)? If not, it looks like I may be doing the individual un-banning inside Kunena's interface which means 1 click per user times 1700 users. Thanks again for all of your help. MigrateMe saved me a least a week of migration woes!
Hi Wilson
Thanks for the update. That's strange - there's nothing in Migrate Me that would have affected the user banned field. But yes, you can 'bulk update' your fields. In PHPMyAdmin, enter the query
"UPDATE `jos_kunena_users` SET `banned` = NULL"
You will need to change jos_ to your relevant joomla prefix.
All the best - Barnaby Dixon
That worked perfectly. Thanks much for all your help. We're successfully migrated. Great job on this software! Wilson
Hi, our new Joomla3 site with k2 is just about built, no problems, but a component upgrade revealed a k2 plugin warnings. The reply from the component maker was this:
"These warnings are caused because the item plugins field in the database should contain JSON data. Probably the upgrade extension you used didn't updated the field as it should. In Joomla! 1.5 the same field was holding the data in INI format. So the extension you used for the upgrade should have converted this field properly"
Will we have future problems with other components? tks
Hi Philip
Thank you for your comment, and thank you so much for notifying me about this issue. It has been corrected in the latest version.
The same issue is mitigated as far as possible for other components, you shouldn't hit this problem again, but if you do please let me know.
All the best, Barnaby Dixon
tks for the reply, eventually isolated the error, it was an updated free plugin which others have have had problems with in Joomla 3; confusingly appeared as a component.
I get an internal server error 500 when the database is being analysed. Compatability check says Ajax is ok
Any help appreciated
Hi Michael
Thank you for your comment - the error is that your database backup is too large for your system to accept. I recommend that you upload the backup using FTP. Please see the troubleshooting part of the user guide for full details on where to upload it.
You can also increase the PHP upload limitation - you'll find instructions on this also in the user guide.
All the best - Barnaby Dixon
Hi, I need some help ... having the same issue like Michael. The SQL file is already uploaded via ftp, that´s not the problem. The 500 error appears during "analyzing" the SQL file. The file is quite big - about 300 MB unzipped. Compatibility Check says "Maximum import size: 200Mb" - does that refer to upload or uploaded size?
Thanks for advice!
Hi Peter,
I think that you are running out of memory, or possibly hitting a timeout, while the file is being analysed.
Please send me a link and login to the admin area where you are trying to use it and I will check out what is happening.
Thanks & all the best,
Barnaby Dixon
Can this work with a Joomla 1.0.xx to 2.5 or does it have to be Joomla 1.5 ?
Hi there Tom
I'm afraid it'll upgrade Joomla 1.5 data only. You'll need to first upgrade your Joomla 1.0 system to 1.5 - there are instructions online, for example here: http://docs.joomla.org/J1.5:Migrating_from_1.0.x_to_1.5_Stable
I hope that helps. All the best - Barnaby Dixon
I just want to export users and articles from my old database. I selected just the needed tables but i received this error message: unable to retrieve any valid table names from this table.
I am exporting an utf8 encoded gzip file from phpmyadmin (data and structured selected). I do not know what i am doing wrong...
Leave a Comment
1