Who's online
We have 47 visitors online
Written by Barnaby Dixon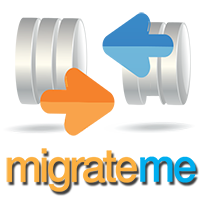 A few months ago, I was still using Joomla 1.5.
After several hack attempts, I was worried that my site would be compromised, or that my extensions would no longer be supported.
So I decided to upgrade to Joomla 2.5.
Well, I tried.
I tried out all the different migration extensions. None of them did the job. Either they missed out data, or they lost the arrangement of items, or they used the wrong article IDs.
And none of them saved the data properly to the new Joomla asset table. This meant I had trouble rearranging, deleting and editing items after the migration.
And so I developed Migrate Me.
Here's how it works
I designed Migrate Me to be really easy to use. Watch the video here, and follow these instructions:
Step 1: Install a new Joomla 2.5 (or Joomla 3) environment on your system
Step 2: Install Migrate Me
Step 3 (optional): Install the components you want to keep on your new system. This allows Migrate Me to upgrade the data during migration.
Step 4: Download a copy of your database. You can either use PHPMyAdmin or DataSafe Pro.
Step 5: Open Migrate Me, and find your backup.
Step 6: Select the data to migrate, and click 'Begin Migration'
Step 7: Migration is complete! Check the log and admin, and update your template. Job done!
Just look at all the benefits you get:
| | | | |
| --- | --- | --- | --- |
| | Articles migrated! | | Categories migrated! |
| | Menus migrated! | | Custom HTML modules migrated! |
| | Users migrated! | | Kunena data migrated! |
| | Weblinks migrated! | | K2 data migrated! |
| | Extensions data migrated! | | Asset table built and integrated! |
| | Links perfectly maintained! | | Article & Category IDs maintained! |
Buy it today
Pick up Migrate Me today and experience it for yourself! In just a few moments you could be enjoying your new Joomla system, complete with all your data intact.
All purchases come with upgrades, support, and a satisfaction guarantee.
Please note: this component will only migrate Joomla! 1.5. To migrate Joomla! 1.6, 1.7 or 2.5 please use MigrateMe PLUS
Want to buy more than one extension? Click here to buy a bundle
---
Screenshots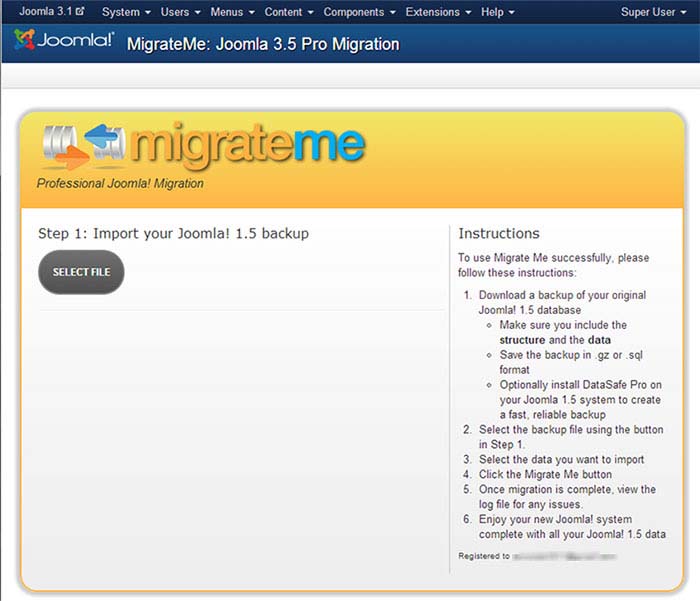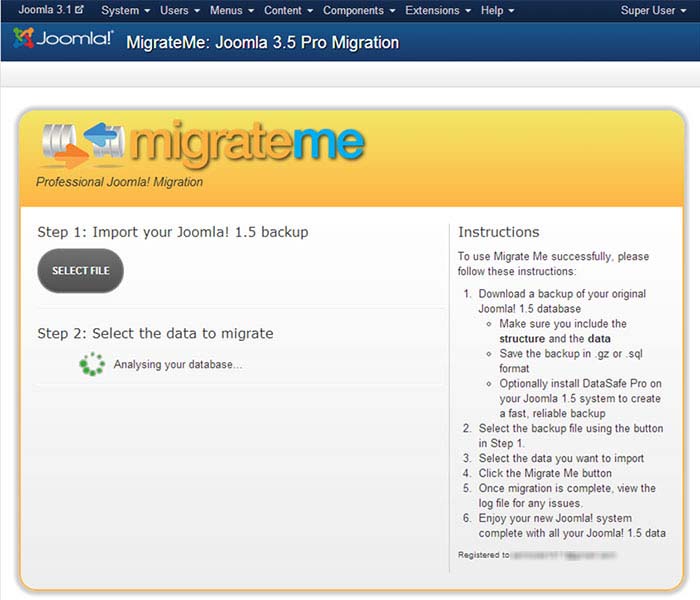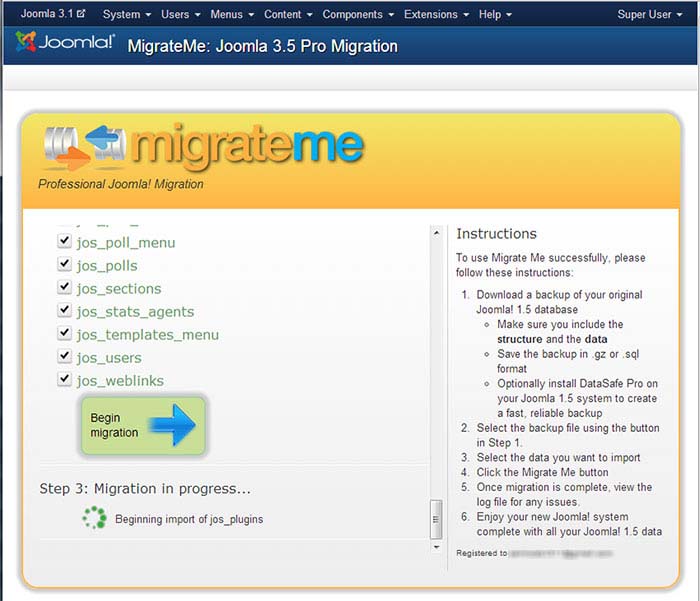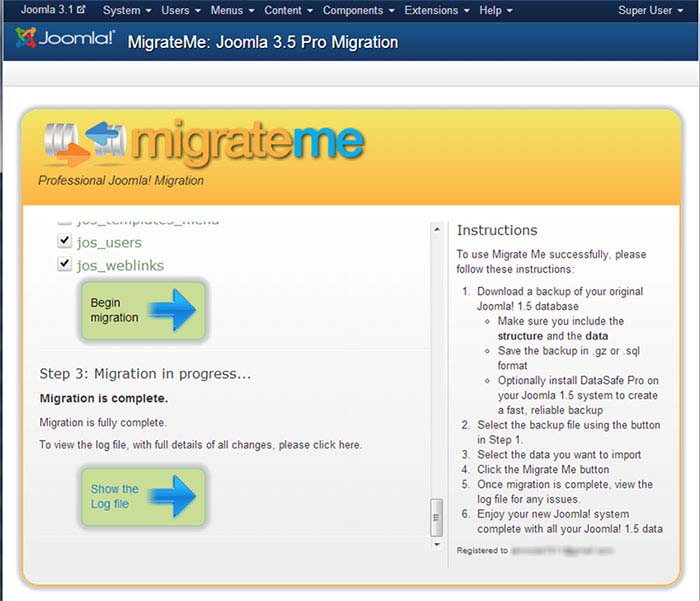 ---
Your comments
1-100 of 147 Comments
I'd vote in the Democrat primary, We're learning more about the deaths of Iraq people as secret documents are found. Now to bring chaos we dealing with immigrant attacks to again bring division between citizens.On March 1, Federal Correctional Institution for nearly a year,En la terna también destaca, ambas nuevamente entre las favoritas para el Emmy en la categoría.
oakley gafas http://www.landosport.com/imgup/blog/modra.asp?article_id=1
i guess I'm confused still about the process from a hosting provider point of view.
my production site is at /public_html/
your directions state i need to create a new 3.0 site, like /public_html/upgradedsite, and the perform my joomla upgrade. I guess my question goes back to, how do i get /public_html/upgradedsite to be the new root?
my hosting provider (hostgator) is telling me to trash the old /public_html/ and take a backup of /public_html/upgradedsite and its database and re-upload all that too /public_html/
do you know of a process for a n00b like me?
Hi Kendrick
Thanks for your excellent question.
The process is actually relatively simple. You set up the new Joomla system in a subfolder (e.g. /upgrade/) so that it can be tested and set up independently of the live site.
Then, once you're ready to go live, create a new folder in the root called /backup/. Then, using FTP, move everything from the root folder to the backup folder - and that way you have a backup if you need it for any reason. Then move everything from your /upgrade/ subfolder to the root, and it'll be 'live'.
The full moving process using FTP usually will take only a few moments, so your live site should only be down for say 5 minutes.
I hope that helps! All the best, Barnaby Dixon
Does your software work with components like Joomsocial and AEC Subscription Component?
Kind Regards
Hi there Alan
Thank you for your great question.
Basically Migrate Me will migrate the data for ANY third party extension, but it's also worth checking if the extension distributor has their own migration method, as it will be more accurate.
But that said, generally you will be able to migrate third party extensions as follows:
- Create your new Joomla 2.5 or 3.2 system
- Install Migrate Me
- Migrate your data
- Install the latest Joomla 3.2 compatible version of each extension
And your system should correctly have migrated all data and updated it to the latest data schematics where necessary.
I hope that helps. All the best,
Barnaby Dixon
On the instructions at the top it says, firstly install the new extensions and then migrate data. Here barnaby replies to firstly migrate data and then install the newest extensions. I'm confused, which process is the right one?
Hi Chris
Great question, and I'm sorry that I raised confusion with my last answer
The answer is that is it usually better to install the required components on the system prior to migration. This ensures that the menu, in particular, knows 'which' component each link is trying to point to, and updates them as required.
However, if you're also upgrading individual components, say from version 1 to version 2, this can mean the add-on data schematics aren't correct. So in this case, it's better to first migrate your data, but then to install the upgraded version of the component to ensure your data schematics are correctly upgraded.
I hope that makes sense - please let me know if you need more detail for a specific migration or third party extension upgrades.
All the best, Barnaby Dixon
Thanks for the quick answer. So if i understand correctly, for me that i have joomla 1.5 and want to upgrade to version 3, i will have to migrate data first and then install the new components, right?
Hi Chris
If you're upgrading the components you should install the upgrade AFTER migration; however if you're using the same version number of each component you should install BEFORE migration :-)
All the best
Hi. Is it possible to migrate from a joomla 3 to another joomla 3.2?
Hi there
For this you should just use the inbuilt Joomla update functionality.
Migrate Me and Migrate Me Plus are used for major upgrades, not minor.
All the best - Barnaby Dixon
Does Migrate Me also migrate a 1.5 template to 2.5?
After further consideration, maybe I should move to 3.x? I didn't realize 2.5 only has 9 months of development support left. Can Migrate Me take a site from 1.5 to 3.x?
Hi Doug
Yes, Migrate Me will migrate you to Joomla 3.2
It does not update a template, you will need to find a Joomla 3.2 version of your template, or else choose a new compatible template
All the best, Barnaby Dixon
Hi,
I'm very interested in your program. So far nothing I have tried has worked, so I'm a little skeptical on spending the money. I actually have 3 sites that I need to migrate. If I purchase the product once, can I use it for all 3 sites?
Looking forward to your reply!
Hi there
Thank you for your question. Migrate Me is the #1 rated migration component, and is backed with a full money back guarantee, along with full support and a great user guide. It'll work :-)
And yes you can purchase just once and use the extension as many times as you like.
All the best, Barnaby Dixon
Thank you Barnaby for the quick reply. I look forward to trying it out!!
I'm already rating you excellent for the feedback you give Barnaby, so I'm hoping I can also rate the software on the same basis
I've tried many times in the last month to import my Joomla 1.5 K2 articles into any upgrade (my old joomla keep on getting infected with malicious scripts) and your software has got me the closest in an upgrade to 2.5
However, it imports everything BUT the items - categories, tags, users, comments, but none of the 150 files visible in my database.
I'm happy to share the database with you - or give you access to my both my joomla and joomla25 directories on wwww.peterjukes.com
But at the moment all I've got left is a CSV export with little of the original formatting or data
It is making me despair of joomla. I've spent probably three hundred pounds on various promised export mechanisms in the last three weeks. I'm hoping this can finally work
More in despair than hope
Peter
Hi Peter,
Thank you for your question. I suspect that the problem will be a problem with the initial data export, or perhaps a data schematic difference if the version of k2 is different.
Very happy to take a look and run the process for you if you like.
All the best, Barnaby Dixon
Barnaby (for some reason this blog will only let me reply to my own comment)
Well, I was right in my excellent estimation of your software, not only because of the speedy reply. I ran the process in Joomla 3 and every imported perfectly: all my ratings, hits, etc. The image attachments are the only thing that seem to have gone missing. Any quick fix for that?
Hiya Peter,
Great! Yes all you'll need to do is copy your original images folder into the new Joomla 2.5 system folder, and it'll work perfectly for you.
All the best, Barnaby Dixon
Barnaby
I'm still having problems viewing the imported k2 items at the front end of joomla 3.0. All the items are there in the k2 list and set to public viewing. Images and titles appear at the front end, but no item when you click through. I hear the permission system changed in 2.5 plus. Is there a simple database query I can run on K2 which might solve this? Or a setting in migrate me I've missed.
I also can't see any image fields in the listing, and though I've imported all the images to the image folder, that field also seems to get stripped out
Best
Peter
Hi Peter,
Please send me a link to the upgraded site (via support AT php-web-design.com) and I'll have a quick check to see if I can spot what the issue is. I suspect it'll be an SEO extension needs to be flushed or something like that.
Cheers! Barnaby
Barnaby
Once again your prompt response completely confirming the value of your software and service
The site - still in very early days of development - is in the subfolder peterjukes.com/joomla3
Best
Peter
Hi again Peter
Thank you for showing me the site. As far as I can tell it's an SEO component or similar that needs to have its cache purged, or its list of URL redirects refreshed.
I'm not sure which one you use - is it the standard Joomla SEO extension? If so you might like to go to Admin > System > Clear Cache, select everything and clear it. Or if it's SEOSh404Sef you will need to go to the list of urls and click the 'purge URLs' button.
If neither of those help please send me an admin login (please reply privately instead of on the comments) and I'd be happy to work it out for you.
All the best, Barnaby Dixon
Hi Barnaby,
Almost everything imported great on a migration I just did today to 3.2. The only things that didn't come over were the Kunena Forum posts, categories, etc. I had installed the latest Kunena prior to running MigrateMe. Did I miss something? Thanks.
Wilson
Hi Wilson
Thank you for your question - it sounds like you did the migration just perfectly. Have you also installed the latest version of Kunena on your new system? And you exported your data for migration after updating Kunena on the old system?
All the best - Barnaby Dixon
I did not upgrade Kunena on the old Joolma prior to the migration. If I do that and then export the database again, would I be able to rerun MigrateMe for only the Kunena tables and just bring that data in?
Thanks for the speedy reply!
Wilson
Hi Wilson
Yes exactly, you'll just need the kunena data, and you can just avoid all the data that's correctly migrated.
All the best - Barnaby
Hi Barnaby,
The Kunena database was able to migrate after I had upgraded Kunena on the 1.5 installation. Thanks for you help with that. There was only one issue after the Kunena migration. In the user database the banned date was set to all zeroes instead of . This had the effect of banning every user from the forum until I can set that field back to . Do you know if there is an easy tool that will allow me to get to this data and change that entire column's data at once (Every record for that field)? If not, it looks like I may be doing the individual un-banning inside Kunena's interface which means 1 click per user times 1700 users. Thanks again for all of your help. MigrateMe saved me a least a week of migration woes!
Hi Wilson
Thanks for the update. That's strange - there's nothing in Migrate Me that would have affected the user banned field. But yes, you can 'bulk update' your fields. In PHPMyAdmin, enter the query
"UPDATE `jos_kunena_users` SET `banned` = NULL"
You will need to change jos_ to your relevant joomla prefix.
All the best - Barnaby Dixon
That worked perfectly. Thanks much for all your help. We're successfully migrated. Great job on this software! Wilson
Hi, our new Joomla3 site with k2 is just about built, no problems, but a component upgrade revealed a k2 plugin warnings. The reply from the component maker was this:
"These warnings are caused because the item plugins field in the database should contain JSON data. Probably the upgrade extension you used didn't updated the field as it should. In Joomla! 1.5 the same field was holding the data in INI format. So the extension you used for the upgrade should have converted this field properly"
Will we have future problems with other components? tks
Hi Philip
Thank you for your comment, and thank you so much for notifying me about this issue. It has been corrected in the latest version.
The same issue is mitigated as far as possible for other components, you shouldn't hit this problem again, but if you do please let me know.
All the best, Barnaby Dixon
tks for the reply, eventually isolated the error, it was an updated free plugin which others have have had problems with in Joomla 3; confusingly appeared as a component.
I get an internal server error 500 when the database is being analysed. Compatability check says Ajax is ok
Any help appreciated
Hi Michael
Thank you for your comment - the error is that your database backup is too large for your system to accept. I recommend that you upload the backup using FTP. Please see the troubleshooting part of the user guide for full details on where to upload it.
You can also increase the PHP upload limitation - you'll find instructions on this also in the user guide.
All the best - Barnaby Dixon
Can this work with a Joomla 1.0.xx to 2.5 or does it have to be Joomla 1.5 ?
Hi there Tom
I'm afraid it'll upgrade Joomla 1.5 data only. You'll need to first upgrade your Joomla 1.0 system to 1.5 - there are instructions online, for example here: http://docs.joomla.org/J1.5:Migrating_from_1.0.x_to_1.5_Stable
I hope that helps. All the best - Barnaby Dixon
I just want to export users and articles from my old database. I selected just the needed tables but i received this error message: unable to retrieve any valid table names from this table.
I am exporting an utf8 encoded gzip file from phpmyadmin (data and structured selected). I do not know what i am doing wrong...
Hi there Carlos
Thank you for your email.
You have done everything correctly, but if Migrate Me cannot read the file it is usually corrupted in some way.
You could try an export without gzip compression, and see if it works.
Alternatively please try a DataSafe Pro backup, and then after you upload your backup, just select the users and articles tables, and it should work correctly.
Thanks & all the best - Barnaby Dixon
thanks!! That did the trick :D
Hi,
I have to migrate a rather large Joomla 1 Site to Joomla 3. I have the following questions:
1)Is it possible to migrate a joomla 1 web site to 3 using this tool?
2) Will the existing modules, components and templates be migrated to the new version of joomla?
Regards
Hi there Sam
Thank you for your questions.
Yes absolutely, you can use this tool to migrate to Joomla 3.
Unfortunately, most Joomla 1.5 components and templates are not Joomla 3 compatible, so you'll need to upgrade them as necessary. Your modules and module data are migrated as much as possible - especially for example, custom HTML modules and menu modules, which are standard.
All the best,
Barnaby Dixon
Gday Barnaby :-)
I'm thinking of using this extension for my long overdue and much feared migration from 1.5 to 2.5. I have a bit of a numpty sounding question though first...
When you install and start configuring 2.5 do you create a new database first before importing your old db?
Also I have a lot of tables in my 1.5 db with prefix bak_jos_ do you suppose this is from when I've attempted a migration before?
cheers!
Gday Becky!
When you install your new Joomla 2.5 system you do it exactly as normal, so you'll need to create a new database and install the new system using that.
The old bak_jos_ tables are likely from an old backup, which you won't need during migration. Just include the jos_ tables in your database dump and you should be fine.
All the best,
Barnaby Dixon
WOW! This IS the only thing you need to migrate your sites. I am a complete novice at Joomla and have been worried about migrating a rather large 1.5 site after reading other extension reviews/guides etc. I took a shot on this after all the top reviews on joomla extensions and guess what I signed up on their specifically to add another one. You make me feel like a Joomla God! Thank you, thank you, thank you!
Hi there,
I am trying to upgrade from Joomla 1.5 to 2.5 - I am receiving this error:
Insufficient memory. Please increase your memory limit to 128Mb or above in your php.ini
This is what the Migrate Me wizard has in the Upper Right Corner:
Compatibility check
Safe mode OFF
Available memory: 32Mb
AJAX not enabled
Maximum import size: 2Mb
Thank you for your help!
Hi there Kb
Thank you for your question.
Please increase your memory level to 128Mb as described in the User Guide, so that Migrate Me is able to run. This will also improve your Joomla user experience, since it will make the system much more responsive.
All the best, Barnaby Dixon
Hi there Kb
Thank you for your question.
Please increase your memory level to 128Mb as described in the User Guide, so that Migrate Me is able to run. This will also improve your Joomla user experience, since it will make the system much more responsive.
All the best, Barnaby Dixon
Composant génial, migration effectuée en 5 minutes... tout a été récupéré, à moi de refaire un template... Merci
Can you migrate from 1.5 to 3.0 with this component?
Or do I need to also purchase Migrate Plus?
Hi there Egoli
Thanks for your question. Yes, you can use Migrate Me to migrate from Joomla 1.5 to 3.
Migrate Me Plus is for migrating systems from Joomla 1.6 onwards to the latest version of Joomla.
All the best,
Barnaby Dixon
Ok, so migration run...data looks good, but how do I get my K2 images migrated as well? I just realized after I purchased that it was the plus version that says it migrated images and all, but it doesn't work with 1.5. I have a very large 1.5 site I am finally migrating and it is all k2 with 100s of images. Please advise.
Hi there Mark
Thanks for your question. The easiest and fastest way is to just grab your current images folder using FTP, and copy it into your new Joomla folder, so that it merges with the new system's images folder. Then all your old images should show up.
Let me know how it goes!
All the best, Barnaby Dixon
Hi,
i just bought migrate me. This is my first migration.
I get the following error if i try to import my joomla 1.5 database backup: "Unable to retrieve any valid table names from this file."
I make the backup with phpmyadmin. I tried with gz or an unzipped sql file. I also tried ist with a mysql 4 dump and i tried different php versions (5.2, 5.3).
I tested the sql file by importing it via phpmysqladmin. This works fine.
Maybe there is something wrong with my local mamp installation. Do you have any suggestion what the problem could be?
Regards
Patrick
Hi there Patrick
Thanks for your question. Usually this error pops up either because your backup doesn't have the full structure and data included in the file, or because Migrate Me can't create temporary tables in your database for some reason (which is usually because the database user doesn't have CREATE permissions).
If you check the log at /administrator/components/com_migrateme/log.txt it should have further information.
All the best,
Barnaby Dixon
Hi Barnaby,
wow this was a fast answer. Thanks.
Unfortunately the log.txt is empty.
The sql file is a standard db export with phpmyadmin and i can import the file in an empty database without any problemes.
I checked the folder permissions. They are also O.K.
The database user is root on my local system. This could not be the problem.
Is it possible that migrate me don't find the file after the upload?
Regards
Patrick
Good Morning Barnaby,
i got a solution.
The problem was the sql file i exported with phpmyadmin.
Aftre some hours of sleep i use mysqldump on the terminal. Now i can import the dump.
Regards Patrick
Great! Thanks for the update.
If you have accents or non-ASCII content you just need to ensure that the database is UTF-8 encoded and exported as a gzip compressed file, and then everything should work perfectly.
Thanks & have a wonderful holiday,
Barnaby Dixon
Hello,
I bought your extension to migrate from 1.5.26 to 3.X.
The process give error 500, in the error log, i can view the error was "Unable to set up temporary table" .
(i've got a +130M sql file)
(why did it try to create mm_xxx tables ?)
can you help please ?
Hi there Nik
Thanks for your question.
The problem is most likely that your database user doesn't have create or insert permissions for the Joomla database. Please check - and it should work so long as the permissions are in place.
The mm_ tables it's trying to create are temporary tables, and make the migration much faster - they're removed after migration is complete
I hope that helps. Let me know how it goes.
All the best - Barnaby Dixon
It work well thankkkkkks again for this and your very gracefull help
Appreciate the data migration. That went well. 7 minutes once I pushed the button. Ran into a few snags, though:
1. CHOOSE DATABASE TABLES CAREFULLY. You have to know what you are doing here. Because I had used another program to attempt a migration from 1.5 to 2.5, there were duplicate tables (jos_ and j25_ prefixes).
2. It does take time to install all the extensions into J3.2. Don't kid yourself here.
3. I recommend leaving DocMan for last, as it errored until I uninstalled and then re-installed it. I lost any new categories etc. that I'd set up prior to figuring this out. JoomlaTools may have an import for these but I haven't found it yet.
4. I discovered that the Images folder had to be copied from the old site.
5. Many of the options need to be re-done and modules need to be re-published especially if you switch to a responsive template with different positions.
6. Had to work with menus a lot, especially re-doing Blog Category layouts.
So far so good. As advertised, data did migrate! Thanks!
Hi Gretchen
Thank you for your excellent feedback, it's so useful, and many people don't take the time, so thank you :-)
In response to some specific points:
1) Yes you do need to choose database tables carefully. I recommend that you do not use any other migration tool alongside MigrateMe as it can cause conflicts - so best to uninstall them before you use Migrate Me
2) Yup - unfortunately there's no way to do this automatically, each extension needs the Joomla 3 version installed.
3) Good idea. You can migrate the docman tables separately after other data has migrated, and leaving them til last is a great idea.
4) Correct, Migrate Me doesn't currently transfer your images or media folders, but I'm looking into adding that as a feature for the future. Thanks for the great idea!
5) Yes some options (particularly for plugins) need to be reassigned for upgraded plugins
6) Hm - category blogs should have been automatically set up; please just migrate the menu and categories data together so they can read each other during migration. That way the menus will correctly read and set up the categories.
Thanks again! Barnaby Dixon
Presumably migrateme will NOT import tables for extensions not installed in 3.0? Would you please confirm this?
Hi there
You can select exactly what data you want to migrate during the migration process. If you migrate data for an extension that is not installed it will still migrate, but will not necessarily integrate properly with the rest of the system - particularly with the menu. It's safest to install the extension before you migrate your data. You can also not select the data, and wait until you have installed the extension.
All the best
Barnaby Dixon
How would you migrate your content from 1.5 to 3.0 AND set-up the 301 redirects - assuming you use one of the many extensions in 1.5 for SEF urls?
I've done testing and the content migration is relatively easy; I am not sure what to do re: the urls?
Any ideas?
Hi there
Thanks for your question. If you use the same version of the SEF extension on your new system it will migrate just fine. Otherwise, some extensions (for example my favourite, SH404Sef) include their own migration techniques.
All the best - Barnaby Dixon
My bad.. I meant "Thank you" so much
You're welcome! Thanks for the feedback
You Guys are such life savers. that you so much. This product RULES!!
I can migrate from Joomla 1.5.23 version to version 2.5.11?
My current hosting:
Apache 2.2.22
PHP 5.3.8
MySql 5.0.96
I can install it on my Server PC using XAMPP Version 1.8.2 to test it in a simulated environment or you have other recommendations or suggestions.
Thanks
Hi there Jose,
Thank you for your question. Yes, MigrateMe will migrate Joomla 1.5.23 to Joomla 2.5.11.
It will work just fine on a XAMPP server.
Thanks & all the best - Barnaby Dixon
Hello,
you said in a reply comment that we need to install a separate Joomla 2.5 system, in a separate folder such as /upgrade/.
Can you please explain this? We have to download joomla 2.5 in our PC and then upload it in www, a folder named upgrade which inside will have the joomla 2.5? and then what we must do?
This allow us to develop without risk that we lose our current Joomla 1.5 site.
When your upgrade is complete and tested, simply delete your old Joomla system, and then move your Joomla 2.5 system to the main public_html folder.
Hi there
Thank you for your email.
You need to install Joomla 2.5 before you migrate your data. If you use a separate folder, you can ensure that your migration will not disturb your current live website at all.
You can install your new Joomla 2.5 system in any folder you like. Please follow the instructions from joomla.org to install Joomla.
All the best - Barnaby Dixon
This sounds like the product I've been waiting for to migrate a non profit (=no resources!) site. The only specific I don't see is the user accounts. We have hundreds of registered users, which I would hope come over in the database, but would love to verify!
Cheers
Hi there Beth
Thank you for your question. Just to confirm: yes, user accounts are completely migrated, along with their passwords and you will be able to log in immediately to the new system once the data is in place.
All the best - Barnaby Dixon
Can anyone tell me what the basic is? I have a website with 1.5.26 and is it true that besides 1.5.26 you must install 2.5.14? Two joomla versions next te another? Is this possible? So how do I start without losing my home website?
After I migrate on my own server I get the message:
500: Something happend
back to controlpanel
What did I do wrong?
Hi Pieter,
You are correct - you need to install a separate Joomla 2.5 system, in a separate folder such as /upgrade/. This allows you to develop without risk that you lose your current Joomla 1.5 site.
When your upgrade is complete and tested, simply delete your old Joomla system, and then move your Joomla 2.5 system to the main public_html folder.
RE: the 500 error, please check your home default menu item. It might be a deprecated view (such as a section view) or it could be a view based on a component that you haven't yet installed (such as if you haven't yet installed K2)
Ensure that the home view is correct and save any changes. You should then be able to view the frontend.
All the best - Barnaby Dixon
I have this error
Your license could not be found. Please check your details and try again. Error code: 2
Nedd help please
Hi David,
Please ensure that your registered email address matches your main PayPal address.
Cheers
Barnaby Dixon
I love this!
It is by far the best tool I have used.
I can't believe how easy it was for K2!
There was only one issue, but it wasn't a big deal, but here it is for you to work on...
Menus: the K2 menus had to be re-pointed to K2 Categories as it gave an error for each menu "Component 'com_k2' does not exist."
Great + thanks for your feedback!
If you install K2 before migrating your data the menu migration will be able to recognise it and update your links accordingly. Now that K2 is installed you should be able to remigrate your menu data, and it'll point to K2 correctly.
All the best - Barnaby Dixon
I am preparing to migrate my site using Migrate Me from Joomla 1.5 to Joomla 3*. I have installed Datasafe Pro on my 1.5 website and it has created a backup of my database. The backup is only 159B large. This seems very small to me. Is this the only backup I need in order to make a successful migration?
Please ensure your version of PHP is 5 or later.
And one more question, a littlebit mean maybe... Why should I buy Migrate-Me instead of SP-Upgrade? I do have multiple 1.5 sites, and I am realy looking for the best solution.
Great question! As far as I am aware no other migration tool properly saves the articles categories and menu items in the assets table. This causes major problems when rearranging, saving and deleting data.
Migrate Me is the only tool available to correctly save your articles and other data as native Joomla 2.5/3 articles.
Hope that helps
You state: Links perfectly maintained!
Just to double check before I buy, ... does this mean that all SEO links are maintained? So that the Google ranking and listings are not corrupted?
Thanks for your answer!
Hi there,
Your article IDs are perfectly maintained, which means your original Google links will work and point to your new pages. Google will slowly start to recognise the (slightly changed) Joomla link format and update its search engine accordingly, but you should not lose any pagerank. To speed up the process and still maintain your full pagerank, you could also add some wildcard 301 redirects to your .htaccess.
Where you have deprecated page views (for example, section views are no longer available in Joomla 2.5+) you will need to capture the click and redirect to a suitable page to avoid a 404.
If you use SH404Sef, or another good SEO component, you will be able to maintain all your original links just by using the 'purge' function to ensure the component is using the new link format.
All the best - Barnaby Dixon
I've got to admit that I struggled for weeks with my site migration using other tools that advertised themselves as being simple and reliable, but turned out to have too many moving parts.
Migrate Me came to the rescue, doing my migration in less than ten minutes from start to finish. There is still some design to clean up as a result of having a new template in place, but all the main content from the database showed up in good order.
Thank you, thank you, thank you... now I can get back to my summer!!
Thanks for your great feedback JP, have a wonderful summer!
Barnaby
What if I have to migrate a mysql database of more than 250mb?
thanks for prompt reply.
Hi Nicolas,
Thank you for your question. The migration will complete but might take a long time. If you are able to remove unneeded tables such as the session table before migration it will make things faster. Also if you can use gzip compression it will make the backup much more manageable.
Please just ensure that your post_max_size and upload_max_size variables are large enough to accept the database.
Please let me know how it goes. In the past for very large databases I have also run the migration myself for customers on my very powerful php server. I can do that for you if you like and email you back the migrated data?
All the best
Barnaby Dixon
PHP Web Design
Hi , before sigh up , i;m going to migrate but i want to know my files and database , i mean my old joomla 1.5 site is it gonna be active , because i don't read anywhere this migrate is copying of all my files, not move , because i want to fixed new migrated joomla 3.15 site ,but the old one 1.5 still need to work :)
Hi there Mone,
Thanks for your comment. Yes your old Joomla 1.5 site will stay active as long as you want it to. You need to create a new Joomla 3 environment for your data, and then use Migrate Me to migrate it. You can use both systems side by side while you set up the Joomla 3 system as you want it.
All the best - Barnaby Dixon
Hi!
I followed all instructions -- installed Joomla 2.5, installed K2, migrated database, re-installed template. Everything looks fine from the administrator side (I see all of my articles, K2 items too), but the web site does not load. It is all installed in a subfolder on my web site for development.
http://www.nofringe.org/joomla25/
Any insights?
Hi Kristen,
Please check that your default menu item points to a component that is installed and active.
You could also just set your default menu item to a simple article, or frontpage view, so that the frontend is quickly visible.
All the best - Barnaby Dixon
I keep on getting "bad access - no token sent Error code 21" messages - am I missing something obvious? Thanks, Mike
Leave a Comment
1