Who's online
We have 10 visitors online
Written by Barnaby Dixon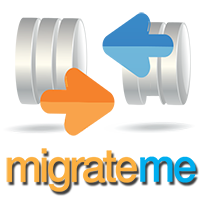 A few months ago, I was still using Joomla 1.5.
After several hack attempts, I was worried that my site would be compromised, or that my extensions would no longer be supported.
So I decided to upgrade to Joomla 2.5.
Well, I tried.
I tried out all the different migration extensions. None of them did the job. Either they missed out data, or they lost the arrangement of items, or they used the wrong article IDs.
And none of them saved the data properly to the new Joomla asset table. This meant I had trouble rearranging, deleting and editing items after the migration.
And so I developed Migrate Me.
Here's how it works
I designed Migrate Me to be really easy to use. Watch the video here, and follow these instructions:
Step 1: Install a new Joomla 2.5 (or Joomla 3) environment on your system
Step 2: Install Migrate Me
Step 3 (optional): Install the components you want to keep on your new system. This allows Migrate Me to upgrade the data during migration.
Step 4: Download a copy of your database. You can either use PHPMyAdmin or DataSafe Pro.
Step 5: Open Migrate Me, and find your backup.
Step 6: Select the data to migrate, and click 'Begin Migration'
Step 7: Migration is complete! Check the log and admin, and update your template. Job done!
Just look at all the benefits you get:
| | | | |
| --- | --- | --- | --- |
| | Articles migrated! | | Categories migrated! |
| | Menus migrated! | | Custom HTML modules migrated! |
| | Users migrated! | | Kunena data migrated! |
| | Weblinks migrated! | | K2 data migrated! |
| | Extensions data migrated! | | Asset table built and integrated! |
| | Links perfectly maintained! | | Article & Category IDs maintained! |
Buy it today
Pick up Migrate Me today and experience it for yourself! In just a few moments you could be enjoying your new Joomla system, complete with all your data intact.
All purchases come with upgrades, support, and a satisfaction guarantee.
Please note: this component will only migrate Joomla! 1.5.
To migrate Joomla! 1.6, 1.7 or 2.5 please use MigrateMe PLUS
---
Screenshots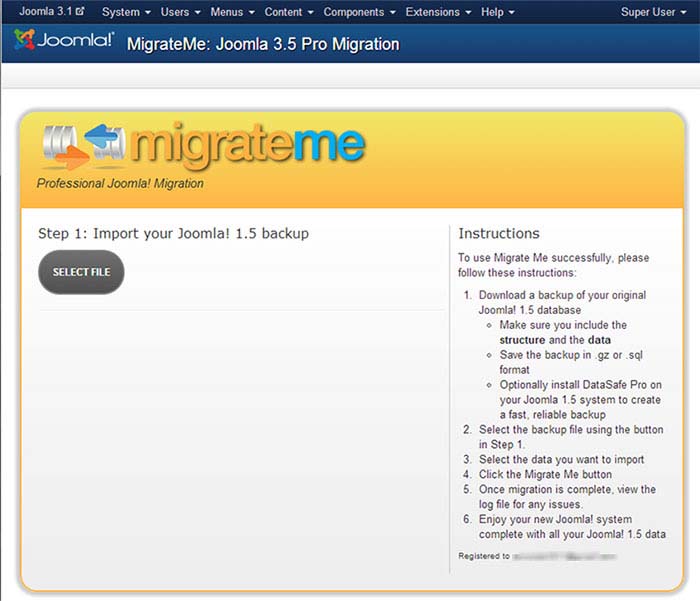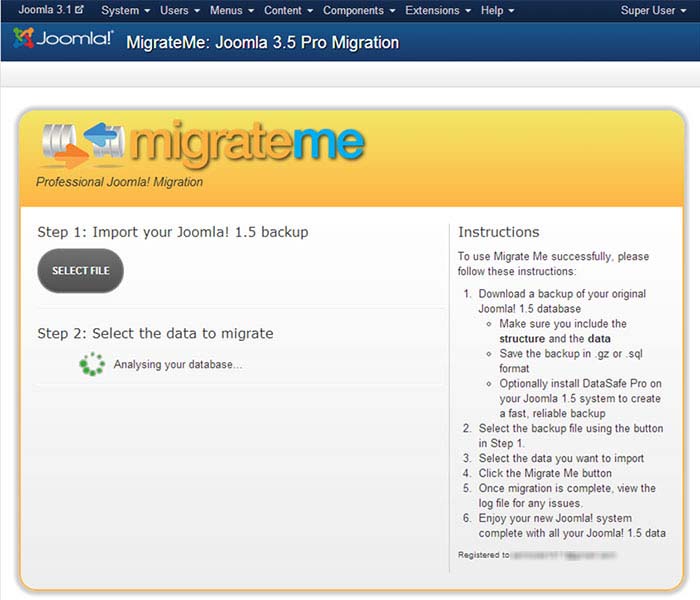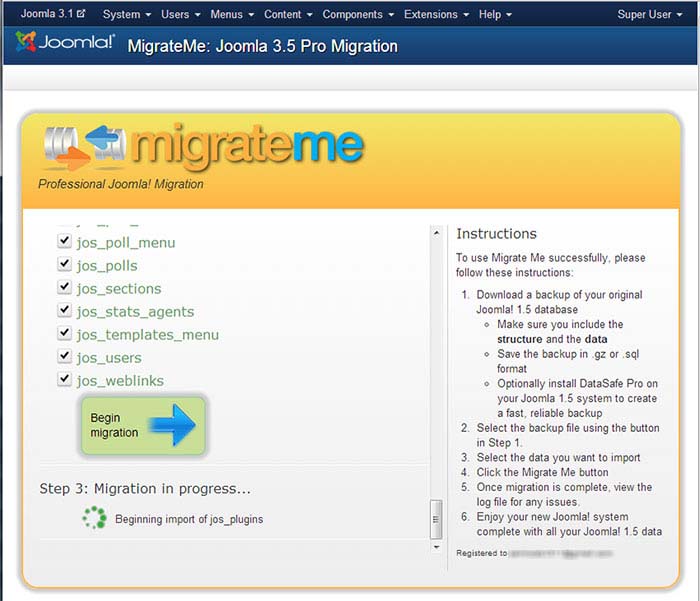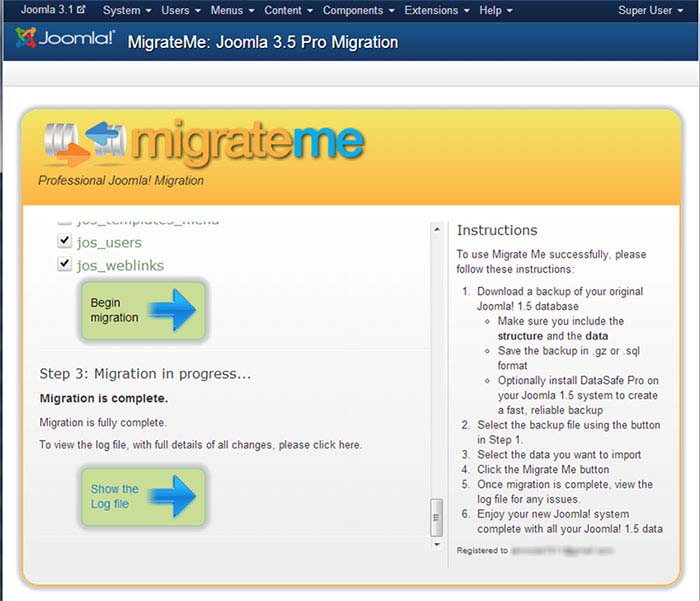 ---
Your comments
There are 84 comments
Appreciate the data migration. That went well. 7 minutes once I pushed the button. Ran into a few snags, though:
1. CHOOSE DATABASE TABLES CAREFULLY. You have to know what you are doing here. Because I had used another program to attempt a migration from 1.5 to 2.5, there were duplicate tables (jos_ and j25_ prefixes).
2. It does take time to install all the extensions into J3.2. Don't kid yourself here.
3. I recommend leaving DocMan for last, as it errored until I uninstalled and then re-installed it. I lost any new categories etc. that I'd set up prior to figuring this out. JoomlaTools may have an import for these but I haven't found it yet.
4. I discovered that the Images folder had to be copied from the old site.
5. Many of the options need to be re-done and modules need to be re-published especially if you switch to a responsive template with different positions.
6. Had to work with menus a lot, especially re-doing Blog Category layouts.
So far so good. As advertised, data did migrate! Thanks!
Hi Gretchen
Thank you for your excellent feedback, it's so useful, and many people don't take the time, so thank you :-)
In response to some specific points:
1) Yes you do need to choose database tables carefully. I recommend that you do not use any other migration tool alongside MigrateMe as it can cause conflicts - so best to uninstall them before you use Migrate Me
2) Yup - unfortunately there's no way to do this automatically, each extension needs the Joomla 3 version installed.
3) Good idea. You can migrate the docman tables separately after other data has migrated, and leaving them til last is a great idea.
4) Correct, Migrate Me doesn't currently transfer your images or media folders, but I'm looking into adding that as a feature for the future. Thanks for the great idea!
5) Yes some options (particularly for plugins) need to be reassigned for upgraded plugins
6) Hm - category blogs should have been automatically set up; please just migrate the menu and categories data together so they can read each other during migration. That way the menus will correctly read and set up the categories.
Thanks again! Barnaby Dixon
Presumably migrateme will NOT import tables for extensions not installed in 3.0? Would you please confirm this?
Hi there
You can select exactly what data you want to migrate during the migration process. If you migrate data for an extension that is not installed it will still migrate, but will not necessarily integrate properly with the rest of the system - particularly with the menu. It's safest to install the extension before you migrate your data. You can also not select the data, and wait until you have installed the extension.
All the best
Barnaby Dixon
How would you migrate your content from 1.5 to 3.0 AND set-up the 301 redirects - assuming you use one of the many extensions in 1.5 for SEF urls?
I've done testing and the content migration is relatively easy; I am not sure what to do re: the urls?
Any ideas?
Hi there
Thanks for your question. If you use the same version of the SEF extension on your new system it will migrate just fine. Otherwise, some extensions (for example my favourite, SH404Sef) include their own migration techniques.
All the best - Barnaby Dixon
My bad.. I meant "Thank you" so much
You're welcome! Thanks for the feedback
You Guys are such life savers. that you so much. This product RULES!!
I can migrate from Joomla 1.5.23 version to version 2.5.11?
My current hosting:
Apache 2.2.22
PHP 5.3.8
MySql 5.0.96
I can install it on my Server PC using XAMPP Version 1.8.2 to test it in a simulated environment or you have other recommendations or suggestions.
Thanks
Hi there Jose,
Thank you for your question. Yes, MigrateMe will migrate Joomla 1.5.23 to Joomla 2.5.11.
It will work just fine on a XAMPP server.
Thanks & all the best - Barnaby Dixon
Hello,
you said in a reply comment that we need to install a separate Joomla 2.5 system, in a separate folder such as /upgrade/.
Can you please explain this? We have to download joomla 2.5 in our PC and then upload it in www, a folder named upgrade which inside will have the joomla 2.5? and then what we must do?
This allow us to develop without risk that we lose our current Joomla 1.5 site.
When your upgrade is complete and tested, simply delete your old Joomla system, and then move your Joomla 2.5 system to the main public_html folder.
Hi there
Thank you for your email.
You need to install Joomla 2.5 before you migrate your data. If you use a separate folder, you can ensure that your migration will not disturb your current live website at all.
You can install your new Joomla 2.5 system in any folder you like. Please follow the instructions from joomla.org to install Joomla.
All the best - Barnaby Dixon
This sounds like the product I've been waiting for to migrate a non profit (=no resources!) site. The only specific I don't see is the user accounts. We have hundreds of registered users, which I would hope come over in the database, but would love to verify!
Cheers
Hi there Beth
Thank you for your question. Just to confirm: yes, user accounts are completely migrated, along with their passwords and you will be able to log in immediately to the new system once the data is in place.
All the best - Barnaby Dixon
Can anyone tell me what the basic is? I have a website with 1.5.26 and is it true that besides 1.5.26 you must install 2.5.14? Two joomla versions next te another? Is this possible? So how do I start without losing my home website?
After I migrate on my own server I get the message:
500: Something happend
back to controlpanel
What did I do wrong?
Hi Pieter,
You are correct - you need to install a separate Joomla 2.5 system, in a separate folder such as /upgrade/. This allows you to develop without risk that you lose your current Joomla 1.5 site.
When your upgrade is complete and tested, simply delete your old Joomla system, and then move your Joomla 2.5 system to the main public_html folder.
RE: the 500 error, please check your home default menu item. It might be a deprecated view (such as a section view) or it could be a view based on a component that you haven't yet installed (such as if you haven't yet installed K2)
Ensure that the home view is correct and save any changes. You should then be able to view the frontend.
All the best - Barnaby Dixon
I have this error
Your license could not be found. Please check your details and try again. Error code: 2
Nedd help please
Hi David,
Please ensure that your registered email address matches your main PayPal address.
Cheers
Barnaby Dixon
I love this!
It is by far the best tool I have used.
I can't believe how easy it was for K2!
There was only one issue, but it wasn't a big deal, but here it is for you to work on...
Menus: the K2 menus had to be re-pointed to K2 Categories as it gave an error for each menu "Component 'com_k2' does not exist."
Great + thanks for your feedback!
If you install K2 before migrating your data the menu migration will be able to recognise it and update your links accordingly. Now that K2 is installed you should be able to remigrate your menu data, and it'll point to K2 correctly.
All the best - Barnaby Dixon
I am preparing to migrate my site using Migrate Me from Joomla 1.5 to Joomla 3*. I have installed Datasafe Pro on my 1.5 website and it has created a backup of my database. The backup is only 159B large. This seems very small to me. Is this the only backup I need in order to make a successful migration?
Please ensure your version of PHP is 5 or later.
And one more question, a littlebit mean maybe... Why should I buy Migrate-Me instead of SP-Upgrade? I do have multiple 1.5 sites, and I am realy looking for the best solution.
Great question! As far as I am aware no other migration tool properly saves the articles categories and menu items in the assets table. This causes major problems when rearranging, saving and deleting data.
Migrate Me is the only tool available to correctly save your articles and other data as native Joomla 2.5/3 articles.
Hope that helps
You state: Links perfectly maintained!
Just to double check before I buy, ... does this mean that all SEO links are maintained? So that the Google ranking and listings are not corrupted?
Thanks for your answer!
Hi there,
Your article IDs are perfectly maintained, which means your original Google links will work and point to your new pages. Google will slowly start to recognise the (slightly changed) Joomla link format and update its search engine accordingly, but you should not lose any pagerank. To speed up the process and still maintain your full pagerank, you could also add some wildcard 301 redirects to your .htaccess.
Where you have deprecated page views (for example, section views are no longer available in Joomla 2.5+) you will need to capture the click and redirect to a suitable page to avoid a 404.
If you use SH404Sef, or another good SEO component, you will be able to maintain all your original links just by using the 'purge' function to ensure the component is using the new link format.
All the best - Barnaby Dixon
I've got to admit that I struggled for weeks with my site migration using other tools that advertised themselves as being simple and reliable, but turned out to have too many moving parts.
Migrate Me came to the rescue, doing my migration in less than ten minutes from start to finish. There is still some design to clean up as a result of having a new template in place, but all the main content from the database showed up in good order.
Thank you, thank you, thank you... now I can get back to my summer!!
Thanks for your great feedback JP, have a wonderful summer!
Barnaby
What if I have to migrate a mysql database of more than 250mb?
thanks for prompt reply.
Hi Nicolas,
Thank you for your question. The migration will complete but might take a long time. If you are able to remove unneeded tables such as the session table before migration it will make things faster. Also if you can use gzip compression it will make the backup much more manageable.
Please just ensure that your post_max_size and upload_max_size variables are large enough to accept the database.
Please let me know how it goes. In the past for very large databases I have also run the migration myself for customers on my very powerful php server. I can do that for you if you like and email you back the migrated data?
All the best
Barnaby Dixon
PHP Web Design
Hi , before sigh up , i;m going to migrate but i want to know my files and database , i mean my old joomla 1.5 site is it gonna be active , because i don't read anywhere this migrate is copying of all my files, not move , because i want to fixed new migrated joomla 3.15 site ,but the old one 1.5 still need to work :)
Hi there Mone,
Thanks for your comment. Yes your old Joomla 1.5 site will stay active as long as you want it to. You need to create a new Joomla 3 environment for your data, and then use Migrate Me to migrate it. You can use both systems side by side while you set up the Joomla 3 system as you want it.
All the best - Barnaby Dixon
Hi!
I followed all instructions -- installed Joomla 2.5, installed K2, migrated database, re-installed template. Everything looks fine from the administrator side (I see all of my articles, K2 items too), but the web site does not load. It is all installed in a subfolder on my web site for development.
http://www.nofringe.org/joomla25/
Any insights?
Hi Kristen,
Please check that your default menu item points to a component that is installed and active.
You could also just set your default menu item to a simple article, or frontpage view, so that the frontend is quickly visible.
All the best - Barnaby Dixon
I keep on getting "bad access - no token sent Error code 21" messages - am I missing something obvious? Thanks, Mike
Hi Mike,
This means that the database upload is larger than your server can accept.
Please set the following settings in your php.ini (or ask your server admins to do this for you):
post_max_size = 32M
max_upload_size = 32M
Just ensure that the limit you set is larger than your database import.
Thanks & all the best, Barnaby Dixon
Stripped out the stats data from j4age and that got the sql file down to under 32Mb. Thanks for the heads-up. All databases migrated. Mike
I keep on getting this massage and i have changes the upload_max_filesize = 500M
and
post_max_size = 550M
and i still get this message
Compatibility check
Safe mode OFF
Available memory 128Mb+
AJAX enabled
Maximum import size: 30Mb
Hi Boris,
Please check that the settings have taken effect. You can also check the local value of the settings in Admin > System > System Information > PHP Information.
You might need to restart the server, or additionally check any settings in your .htaccess for the changes to take effect.
All the best
Barnaby Dixon
Hi Boris,
The variables that are checked are:
- safe_mode (should be 'off')
- memory_limit (should be 128Mb or more)
- post_max_size (should be greater than your database filesize)
- upload_max_filesize (should be greater than your database filesize)
You can see the variable checks in /administrator/components/com_migrateme/views/default/view.html.php
All the best - Barnaby Dixon
i got it changed to 600mb and i checked in the admin system php info and it say that it is 600mb but the program say it is 267mb max. My file is almost 600mb but i have compress it to 69mb. it went through but when analyzing it an error came out and it said this: syntaxerror unexpected token F
error details statue 200
error response
fatal error allowed memory size 26835456 exhasted to to allocate 102956308 in the code line 59 please contact php-web-design.com
I called the window but it is still analyzing so i don't know if i should try again or wait its been over an hour,
Please advice
Hi Boris,
It sounds like there is still not enough memory to process the database migration. Are you able to remove some surplus tables such as the session table and any other temporary tables?
Barnaby
Thanks so much for your support, it worked great.
If you are thinking about getting this extension? stop thinking just get it!! you will not regret it!
I've tried to import the .sql file, but got the message: Unable to upload: please contact the software issuer.
Error code: 1"
What should I do?
Hello Flavia,
Please just ensure that your POST_max_size and the upload_max_size variables are set big enough in your php.ini to accept your database.
You can see the maximum import size in the 'Compatibility check' box.
You need to update the variables, and save your php.ini. On some servers this should take effect immediately, but on others you may need to reload. If your server has support, you could also ask your server admins to make this change for you.
All the best,
Barnaby Dixon
I need to migrate a site from Joomla 1.5.26 to 2.5. I have two questions about your software. I'm assuming that I can put the Joomla 2.5 installation into any public_html directory I choose on the server. Correct? The site uses the rt_infuse_j15 template, which is supposedly a Joomla 2.5 template. However, I don't have the .zip file for the template, only the files installed with the Joomla 1.5.26 site. Is there a straightforward way to proceed and use the same template?
Thanks.
Hi there Don,
Yes you can use any directory you like for your new Joomla 2.5 server; Migrate Me will work just fine with any setup you choose.
Re: the template, yes it is technically possible to migrate your template without the zip file. What you'll need to do is download your template folder using FTP, and ensure all the files mentioned in the template xml file are included. Then, just rezip the folder, and you should be able to install it directly into Joomla.
All the best - Barnaby Dixon
I tried migrating my 1.5 to 2.5 through a video i saw on youtube to try to save my company some money. But now it is not showing up as the website use to be and I dont know how to restore it or fix this. Will this fix the problem?
Hi Casandra,
Unfortunately some of the other migration components do not work, and we have had multiple reports of problems.
Migrate Me does work, and will be able to migrate your website correctly, including updating the asset table and taking care of all technical considerations. You'll just need a fresh Joomla 2.5 install and your database backup to get started.
All the best - Barnaby Dixon
Hi there Barnaby,
How does it connect to the 1.5 database, is there a component that installs on the 1.5 system and exports, or do you simply enter the database details for the existing database and import?
Regards
Steve
Hi Steve,
You need to export your Joomla 1.5 database - you can do this very fast in PHPMyAdmin, or else by using our free DatasafePro extension.
Once you have the database, you install Migrate Me on your new Joomla 3 system, and upload the database. Migrate Me then takes care of all the data and migrates all content to Joomla 2.5/3 compatible.
All the best - Barnaby Dixon
Just migrated. Be sure your 1.5 database tables suffix are labeled jos otherwise it won't work. I had a specific suffix which was not recognized and had to rename them all to make it happen.
Best
Philippe
Hi Philippe,
Thank you for your comment. Actually Migrate Me should work perfectly with all prefixes except for a very few reserved prefixes.
Please just ensure you have the latest version of Migrate Me and it should migrate all tables regardless of the table prefix.
All the best - Barnaby Dixon
Hi,
I have a joomla site (1.5.26) and try to upgrade it to 2.5. With jupgrade I get a mistake and I think it would be the many site I have in my project. I have more than 2.000 content and menu records.
Do you think your software would be make the update?
Thanks for your answer.
Ole M
Hi there Ole,
Thank you for your email. Yes absolutely you can use Migrate Me to make the update.
Please just ensure you do not migrate any JUpgrade data and you will be fine.
All the best
Barnaby Dixon
I'm actually pretty disappointed. Having used other migration tools, (including a free one) with no problems at all, I really did expect a little more from a paid extension. Particularly, because it claims to do so much!
I tried it three times. Yes, it migrates the menus, but the links dont work, and settings are messed up, so you have to go into each menu item manually anyway, (it shows -1 for each menu image, and the radio button for listing the add menu title was selected for all menu items, so the I had to go into every menu item to make those adjustments).
The modules and articles, also, were messed up. Extra spaces and line breaks everywhere, and the text "rnrnrnrnrn" kept showing up in all the modules and articles. Either I would have to go in and remove that from every single article and module, or just give up on the extension.
In the end, I gave up and used a different extension, and didnt have any of these issues. I guess I just wasted my money.
Hi Kathy,
I really appreciate your feedback, thanks so much for taking the time to highlight these issues. We're always trying to improve the software, and fix bugs where they pop up.
The software's been tested on as many Joomla environments as possible, but it sounds like there is a problem with your particular environment.
I'd really like to be able to check out what went wrong in your case if at all possible. Would you be able to either email me a copy of your database so I can examine it and see if something's not going right?
I do apologise for the issues you mentioned. We're all about great customer service and 100% satisfaction, so I'm very happy to send you a full refund, and also resolve these issues so that you can use the software successfully.
I look forward to hearing back from you.
Sincerely,
Barnaby Dixon
You are very gracious. That alone would make me willing to give this extension another try.
I can tell you that I am a web developer, and have done many migrations. This was for a new client, whose hosting insisted that the migration be done asap, due to obvious security issues with 1.5. Because the migration was urgent, I ended up wiping the database and installation, and starting fresh with another extension, so I don't have the database any more.
I can tell you that the 2.5 install passed all the checks, (even the non-critical ones) and is on InMotion hosting, using php 5.3.16, and mysql 5.5.30. I have many clients who use them, and have never had an issue with a migration before.
All modules except menus were simple html modules, (mostly images), but the images were surrounded by multiple instances of text (rn). This occurred in all the modules. The site only used 2 extensions (rsforms and dj image slider), and used JCE as the wysiwyg editor, (don't know if that could be an issue). Nothing out of the ordinary about the 1.5 install at all, and there was no custom code. The 1.5 installation was the latest version. None of the links within the articles, (that pointed to standard menu items) worked, and all returned 404 errors. SEO was not enabled. All menu items after the migration had a -1 on the right side in the space for menu image. In addition, the "add menu title" was selected for all menu items, so the links showed twice for each menu item. All articles had lots of extra line breaks that were not there in the 1.5 version. This same pattern occurred three times, on three different installations, but the "rn" text and line breaks appeared in different places, (they weren't the same in all three installations). Using another extension, I didn't have any of these problems, and was able to successfully complete a migration with no issues.
Hopefully, this helps pinpoint the issues, but email me if you need further clarification.
Hi Kathy,
Thanks again for your comment. I have made some adjustments to the migration process, so the updated version should correctly address the menu, article and module issues you mentioned. I wasn't able to trace problems with links; could you mention a specific URL that didn't work for you so I can try to trace the issue?
I have sent you a refund as promised, but please feel free to try the new version. You can download it direct from the 'download' link in the top menu here.
Thanks & all the best,
Barnaby Dixon
You are very kind. I will definitely download it and try it again.
As to the links - I unfortunately had removed the first installation, (the one that didn't work properly), so I no longer have those links.
I will try to use this again, and will let you know if I run into any other issues.
Once again, it is the excellent customer service that you provide that would make me purchase your extensions in the future. Thank you!
Hi
Can I select individual articles (or if not, then only articles in a specific category) and just migrate those item? In other words, I'd prefer, if possible, not to import all of my articles, just certain ones.
If this is not possible, I guess I can migrate all articles and then delete the ones I don't want to keep.
Thanks
Rowby
Hi there Rowby,
All articles are migrated and upgraded to Joomla 3 in one go, so you can't specify just individual articles for import.
Sorry about that.
All the best,
Barnaby Dixon
Hello, I´m upgrade from Joomla 1.5 to 2.5.11 and now in the Administration there are no icons or menues and I can´t customized the new installation :-(
Best regards and thank you for help your help
Hi Gerd,
I am guessing that you previously used JUpgrade? Unfortunately when used alongside Migrate Me it corrupts data, and will cause issues like this.
Our advice is to not use JUpgrade, but if you have already tried it, ensure you do not import any JUpgrade data or tables during import time.
The best solution now is to access your administrator area if you can, and use your browser to go to administrator/?option=com_migrateme. Then re-import your data, but ensure you do not import the JUpgrade tables.
All the best
Barnaby Dixon
Hi Barnaby,
thank you for your rapid answer!
I have deinstall JUpgrade before I start the Migration. Now I migrate against in a new installation with new database and select only the Joomla tables. But after migration the administration lool like before without icons and menu.
What´s happened?
I am importing my sql DB and it gives me a bad access error and I can't move on.
Hi there Marty,
Thanks for your comment. Please check your max_upload_size and post_max_size configuration settings are larger than your database import size. Most standard settings should be fine for regular databases, but for really large databases, you might need to change them.
You can check the current settings in Admin > System information > PHP Information, and you can change the settings by editing your php.ini file, or by asking your server admins.
Thanks & all the best,
Barnaby Dixon
Hi, there is also no Migrate me Button. I got a mysql backup and a datasafe pro backup. Whatever I select, nothing happens...
Best regards,
Heiko
Hi there Heiko,
Please use a HTML5 enabled browser such as Google Chrome, or Mozilla Firefox, and ensure you have the latest version of the software installed (version 1.3.1).
Thanks & all the best,
Barnaby Dixon
I use Mozilla Firefox and migrate me Version 0.4.5
Best regards,
Heiko
Please upgrade to the latest version of Migrate Me. You can download the latest version using the 'download' button in the menu bar. Thanks!
Barnaby Dixon
After reinstall and new version it works fine! Great tool! Many thanks!
Hi, can i use this software to migrate 1.5 to 2.5?
Hi there,
Yes absolutely. You'll migrate all your article data, menus, categories, and so on, from Joomla 1.5 to 2.5.
All the best - Barnaby Dixon
I have installed MigrateMe in a new Joomla 2.5 and everything looks fine in the backend, but the frontend shows error 404. How do I fix this in a hurry?
Hi there Annette,
Thank you for your comment. My guess is that your 'home' link is pointing to an extension that you haven't yet installed on your Joomla 3 system. The fastest way to fix it so that your new Joomla 3 system works is to go to the Menu Manager, and edit the link marked 'Home'. If you set it to a standard Joomla link (e.g. Featured Articles) it should work just fine.
All the best,
Barnaby Dixon
Will this consider the $secret in the configuration file may be different and update the stored/encypted password in the process?
Also will this work on Joomla1.7 to 2.5 with different $secret values?
Hi Peter,
Passwords are not automatically updated. You will remain logged into your new Joomla system after upgrade, and your original 'Super user' admin login will still work, but the password algorithms have changed, so you'll need to reassign passwords for each user.
All the best - Barnaby Dixon
I am just about to upgrade my site to joomla 3, however not sure if I am better to just import users and users photos videos as I use jomsocial and most of my content is in that extension I dont have many articles would you recommend using an import export tool rather than this type of upgrade.
thanks for your advice.
Helen
Hi Helen,
I should think that JomSocial will have their own migration system if there are any major changes between their component for Joomla 1.5 and 2.5/3.0.
If not though, MigrateMe is able to grab all your old JomSocial data, and it will import very fast so long as there is no difference in the database structure in Joomla 2.5/3.0. In fact, almost any extension should upgrade just fine using MigrateMe.
All the best - Barnaby Dixon
JomSocial is not yet released for Joomla 3.x
Leave a Comment
1