Who's online
We have 69 visitors online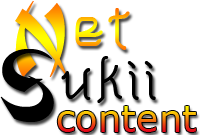 Do you use Joomla? Do you wish you could get loads of great content - from anywhere on the web?
Welcome to NetSukii.
We designed NetSukii to grab web content remotely from literally any internet source.
Want to start your own news channel? Try the power of NetSukii with your favourite online newspaper.
Think it'd be cool to run a reviews site? Point NetSukii at a great reviews site, sit back, and let the content build.
Need to migrate your dynamic website to Joomla? Tell NetSukii where your site is, grab your content, and you're good to go.
From remote website to Joomla article in 3...2...1...
NetSukii is intelligent. Once you tell it the site you want to import, it'll go and spider it, to discover all available pages. Spidering usually takes around 3 seconds per page, or faster if the remote server will handle it.
Once the spidering's complete you can use the inbuilt filter to select the pages you want to import, or if you prefer, just import them individually.
Each remote page is grabbed, complete with images and related downloads, and saved as a complete, native Joomla article.
It just doesn't get easier than that.
More! More!
Ok, it does get easier than that.
Because NetSukii has template detection.
If you don't want to import the entire page, along with the original menus and framework, you don't have to. NetSukii's inbuilt template detection system will allow you to select exactly which content you want to keep, and which you want to throw out.
This way NetSukii will simply lift the content you want to keep, leaving behind any old menus and headers.
Want to find out how it works? Read on.
---
Your friendly web spider
NetSukii is a content spider. Just give it a website, click a button and the spider will automatically find all the pages it can.
Each page only takes around 3 seconds to process. In that time, the NetSukii spider will discover initial information about each page found, such as the content encoding, page title and metatags.
And if you want to import just one particular page, you can also just click the 'Add Url' button to add an individual page.

---
Seconds matter
NetSukii imports each new article in just seconds.
But NetSukii doesn't only grab the content.
It also imports the images, metatags, clips out the content, converts everything to UTF-8 encoding for optimal Joomla integration and saves it as native Joomla articles.
Queue the import engine and NetSukii will work 'hands free', leaving you time for the things that really matter.


---
Get selective
NetSukii has awesome template detection.
Just tell it which content you want to keep, and it'll discard the old menus, headers, footers, styles - anything you want to leave behind from the original site.
You can even select multiple content areas, and it'll meld them together. The inbuilt W3C validation engine will make sure your pages are valid HTML and can integrate correctly with your Joomla framework.
---

So buy it today! Look at everything that's included:
Scan, spider and import any remote website

Set it and forget it - automated spidering available

Import each new page as a native Joomla! article

Automatically set the article title, alias, keywords and description from metatags

Automatic detection and import of remote images and documents

Automatic conversion to UTF-8 encoding for optimal Joomla integration

Support for all charsets, languages and encoding types

Automatic category creation to maintain your original link structure
Select additional article parameters such as author and access level
Select and reject feature to only import specific areas of content
Full control - customise import configuration for each individual URL

Powerful inbuilt HTML clean up,

tidying, repair and validation

Inbuilt W3C Validation engine

Full documentation

Full satisfaction guarantee

Certified for
Highly rated on the Joomla Extensions Directory
"Netsukii is working like a dream for me."
"Saved me from a week (at least) of copy/paste."
"It is perfect! Love it!"
"Cool Extension"
"Works like a charm"
"Saved me tons of time porting an old site into Joomla."
Buy now and experience NetSukii for yourself!
---
Screenshots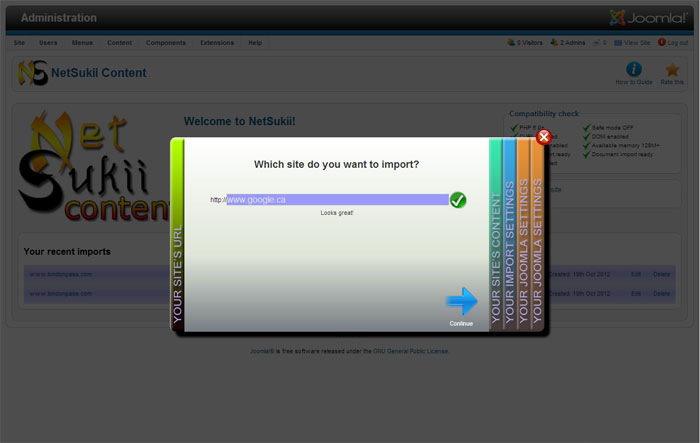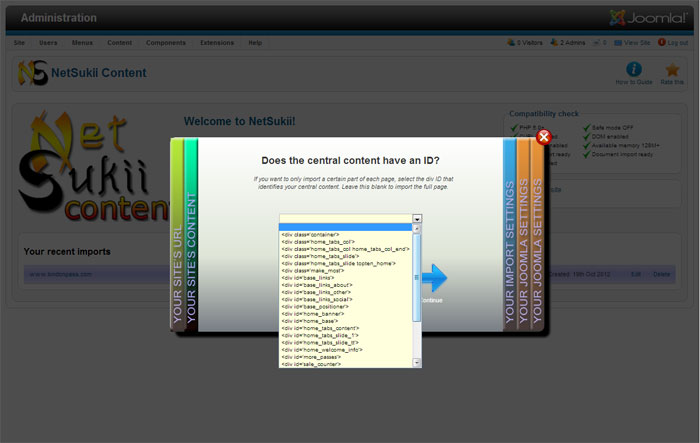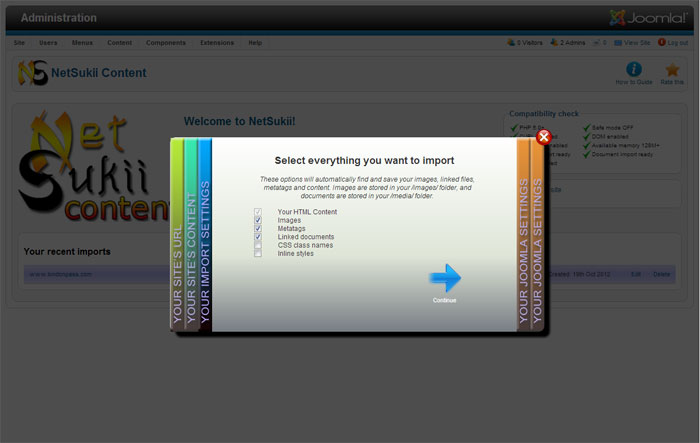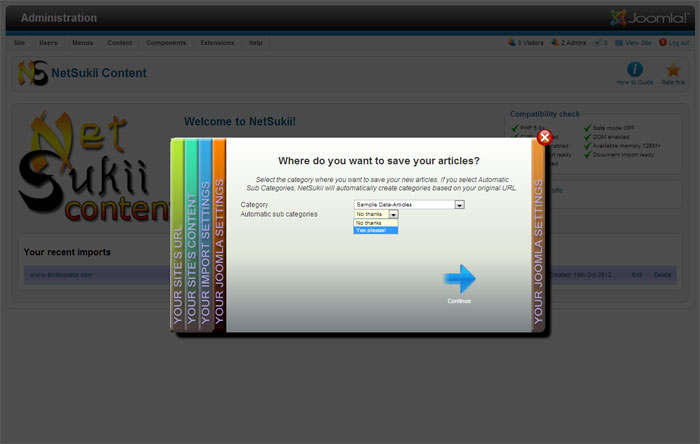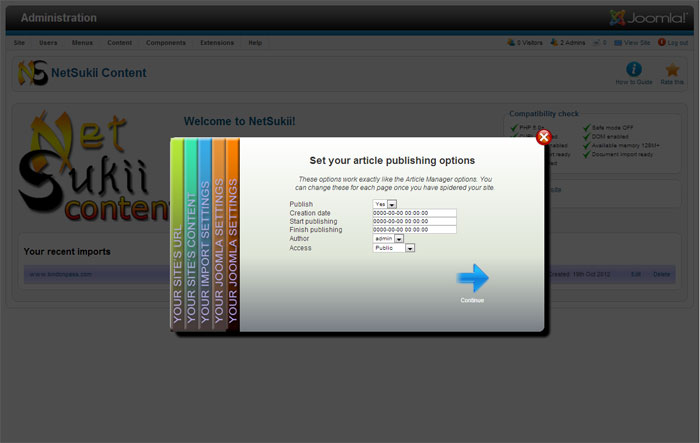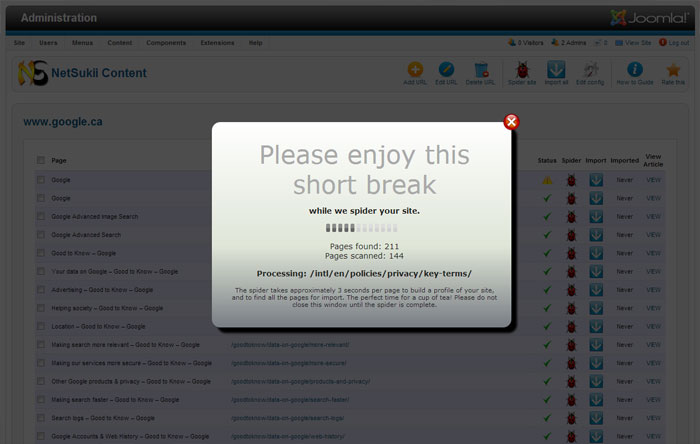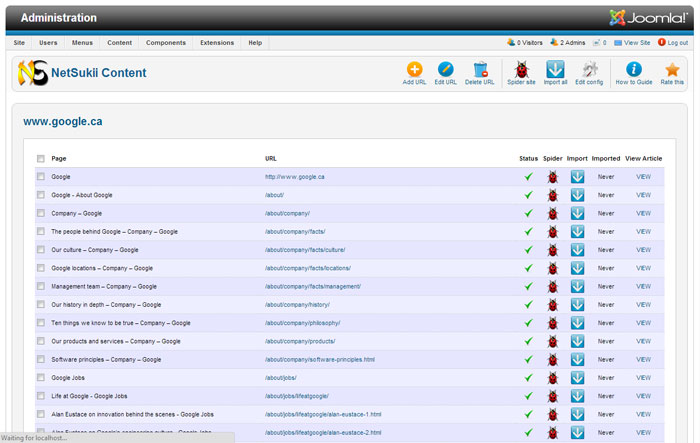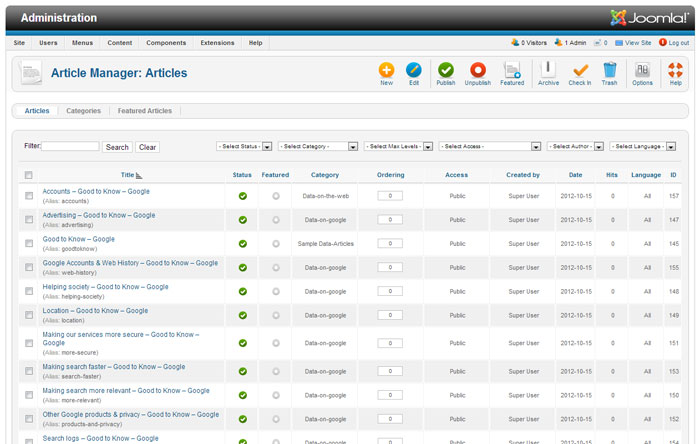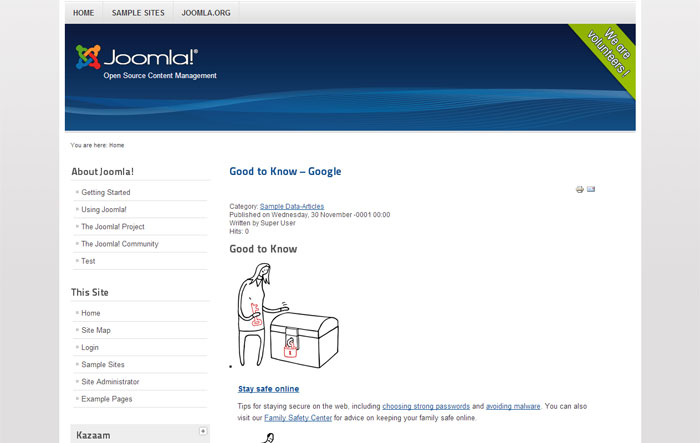 ---
Your comments
There are 71 comments
Hi
Will this component be updated to work with Joomla 4?
Hi there,
Thanks for reaching out! Yes this is planned, but just waiting to have a spare moment :-)
Kind regards
Hi,
Is there an update on this J4 release?
Regards, Carst
Hi,
In your "So buy it today! Look at everything that's included", it stated that this is 'Lifetime updates'.
But in your "Buy it now" banner it is 6 month updates.
Which one is correct?
Thanks :)
Good morning,
Updates are included as long as you have an active subscription :-)
Have a great day!
I have sent a message to you which ive not had any reply to I have checked both my spam and normal emails about your netsukii product for joomla I am very interest in purchasing this product but before I do I would like to know if it is still being updated, if it supports the latest joomla and if it will continue to be updated for the next addition of joomla.
I have noticed you dont offer any demo site to try the product I am wondering if it is possible to try a online demo to see if it works for the websites I would like to grab content from.
Like ive said I am very interested in purchasing the product. I just want to make sure it is still being supported. Thanks again matt.
Hello,
Thanks for your message - sorry for a slow reply. I have emailed separately, but briefly: yes all products are kept up to date. Regrettably I don't have a demo available, but will offer full support and assistance as required.
Have a great evening!
Thats all I ask thank you for getting back too me. I will be purchasing it in the next day or so as it would be perfect for my website. Just need to fix a issue with the download section first. thanks again matt.
Couple of questions, I'm looking at
StageIt
HTML 2 Articles
DataSafe PRO
NetSukii
Curious what support and problems I'll have with Rockettheme 3.x templates and Gantry backend interfaces? I've always preferred RT templates and find Gantry to be simple enough, but it won't do me any good if your PHP technology from NetSukii or HTML 2 Articles isn't compatible. What can you tell me support wise for the latest 3.x and future Joomla Rockettheme templates and Gantry interfacing?
Hi there Brian
Thank you for your message.
You won't have any issues with Gantry / RT and my extensions... lots of my clients use the same and there are no issues reported.
The only thing to consider with StageIt is that Gantry runs its own internal cache, so when deploying and syncing the staged environment, you need to clear the Gantry cache in Templates > [Your Template] > Clear cache.
All my extensions are future proofed and currently work with the Joomla 4 beta as well as all current versions of Joomla from 2.5 onwards - and full support is provided if you need it.
I hope that helps?
All the best,
Barnaby Dixon
Hello Barnaby,
Thanks for building such an awesome tool! Hands down the best importing tool for joomla. Migrations are a flash!
Nice work! Mike
Hi Mike
Thanks - Glad you like it and thanks for the feedback!!
Barnaby
Hi I have a pre sale questions,
1. Is it compatible with Joomla 3?
2. Can we schedule it to automatically scan specific website daily?
3. Is it compatible with other cck joomla component such as seblod so it can import specific field and write it to specific field in joomla table?
Thanks!
Hi Andy,
1 - Yes all extensions are Joomla 3 compatible :-)
2 - No, the scan and imports are manually triggered
3 - No, the import creates Joomla articles and can only write to the usual fields (title / introtext / fulltext / metas) sorry about that
All the best, Barnaby
Do you think that this component could import products description from Amazon catalogue?
Hi there,
Yes it could get products and descriptions. What is your intended use though - are you looking to import the descriptions to an ecommerce solution, or just to Joomla articles? Also just remember that although it should work well, Amazon has literally millions of pages so it will be very easy to overload NetSukii if you aren't careful. If you do buy, please send me a message through the Contact Form with some details about pages you'd like to import and I'll send you some profile settings to help you get started.
All the best, Barnaby
I want to collect news items from sites that contain a specific topic (key words) and post them on my site with a link back to the source article. Is this possible with NetSukii?
Hi Ed,
Thank you for your message.
This is sort-of-possible with NetSukii, but it would be a complex way of doing things. You would need to enter NetSukii every time, rescan the remote site for new pages, then select each one for import.
You might be better off with a simple RSS feed on your remote website, which adds a new RSS entry for each new article. Then on your Joomla system incorporate an RSS feeder to check for new articles and import them.
I hope that helps!
All the best, Barnaby Dixon
Hello,
NetSukii looks awesome, but I have a presale question:
It would be possible to import records from an online catalog, and then export for a component like Sobi or in a database?
Thanks
Hi there,
NetSukii imports content for use in the Joomla Article Manager - it creates 1 article for each unique page it finds. You can export the created articles from the database if you like, but there's not a direct integration with Sobi or other third party extensions.
All the best, Barnaby Dixon
I need to import an old drupal site to Joomla. could I use this tool? or you suggest other tool to do this work?
Hi Mike
Thank you for getting in touch. Yes it should work in terms of importing the content and articles from Drupal.
If you'd like to send me a url to look at I could suggest some optimal settings for the site.
All the best, Barnaby Dixon
Hi Barnaby,
I wish I'd seen your components before we wasted money on getting an "expert" to upgrade our old website. It looks like it would have been quicker and much less expensive to do it ourselves!
Just a question: our "expert" didn't import our old joomla 1.x articles, and now we don't have access to the old database. Can Netsukii import from internet "archives"
Hi Julie,
Thank you for your question.
I'm afraid that NetSukii will struggle to find and index the internet archives, since the links won't work as they would on a normal site.
The best way to migrate would be to do whatever it takes to get a hold of the original Joomla 1.x database, and then use Migrate Me (also available from this site) to upgrade to Joomla 3. Your web host might have a copy of the database in their backups - it's worth a try!
I hope that helps! All the best, Barnaby Dixon
Hi There,
just a presale question... thought it would be useful to have it visible for other users, so I am posting it here in the comments.
I'd need Netsukii to repost a very large number of articles from several personal blogs to a big portal, but I need for each article to insert automatically a rel="canonical" link pointing to the original article to give credit to the author and avoid duplicate content penalties from google.
Is Netsukii able to do this automatically?
Thank you
Hi there Nic,
Thank you for your question. I'm afraid NetSukii isn't able to do this, it simply will import your original content 'as-is' without adding anything to it. The way to do it would be if I created a custom version of NetSukii for you, that saves the original page url as the article note. Then after import, you could do a simple insert for each article, using a MySql command, to add a link to the original page, using the article's note.
All the best, Barnaby Dixon
Hi,
I want this feature too. Maybe a custom field to a linkback url and credit to the author.
Can this be done?
Thanks.
I just bought your product and nothing works. for instance, i try to grab the content from a webpage at http://www.wsvn.com/story/28576370/vanilla-ice-donates-new-pool-to-paralyzed-firefighter and all i get is:
"Your site is not available - it returned a header code of 0"
what am i doing wrong?
Hi Lee,
Thank you for getting in touch.
A header code of 0 means the remote site is not available - it's down, or can't be accessed by the server.
Things to check are:
- do you have a firewall that could block the server from communicating with the remote site?
- Is the config set up correctly, for example, is the NetSukii engine looking at wsvn.com rather than www.wsvn.com ?
If neither of those tricks helps, please send me a login and I'll check what's happening for you.
Thanks & all the best,
Barnaby Dixon
Hi!
It´s possible use NEtsukii with K2 extension?
Regards
Hi Matheus,
Thank you for getting in touch.
NetSukii works by default with standard Joomla articles. To use it with K2, you'd need to first import to Joomla, and then import your articles to K2 with the inbuilt 'import articles' feature in K2.
All the best, Barnaby Dixon
Hi Barnaby,
we have documentation stored within Atlassian Confluence v.5.4.3 running on internal servers on HTTPS. Our goal is to mirror the content on public Joomla site.
So we have some structure on Confluence and slightly different structure on Joomla site. We have mapping between those.
Is this synchronisation achievable with NetSukii?
Can NetSukii access html + pictures and other article attachments managed by Atlassian Confluence and create articles based on the content?
Can I import article by article manually selecting target destination?
Can be already imported articles updated by NetSukii?
Let me add one detail. To access the content you have to log in (username + password) - entry field before import is just fine (we can use LDAP or local users).
Is demo available to get a feeling from the tool?
Hi there,
Thank you for your email.
If you have the files stored as HTML files on your server, I would recommend HTML 2 Articles, since it might be faster and easier to use.
NetSukii would need to be installed on a Joomla system that had access to your internal server, so you would need to set your firewall rules accordingly.
So long as the content is HTML based, and can be read by a browser, it can also be read by NetSukii.
You can import pages one by one as individual articles, or use a bulk import.
Previously imported articles will be re-imported as a new article. For best results, you'd have to delete any old articles first.
Unfortunately I had to delete the demo because it was abused by other internet users, but for that reason I offer a full money back guarantee with this product.
All the best, Barnaby Dixon
Is it possible to use ist for german content?
Yes absolutely, it will correctly understand the content and convert it to Joomla articles, and will correctly manage all accents and charsets.
All the best - Barnaby Dixon
I just wanted to drop by and say thank you Barnaby for all your help with my Netsukii purchase and taking the time out of your day to help me with my own site and migrating data over. Netsukii is incredibly intuitive, the site I am migrating content over from is a troublesome site that is very restrictive and is somewhat of a mess and hard to get content to come over. So Barnaby jumped in and helped me move some content, he even modified Netsukii a tad to accommodate the special things that were going on with my old site where the content was coming from. Long story short the hosting on my old site is very restrictive and proprietary, and Barnaby did some work arounds and now I have have a method of getting my content over to our new Joomla site just the way we want it. If you purchase Netsukii, it will work, with out a doubt, it will work, Barnaby will make sure of that!
Customer service from Barnaby is incredible, just keep in mind if you are in the states, he is 8 hrs ahead of us here on the west coast, so he may be sleeping while you are looking for answers! Be patient, he gets back to your inquiries immediately as he is able, in other words, if he is not sleeping, he's working!
Thank you Barnaby for the excellent product, this was one of the best investments I have made for our new site, I'd do it again in a heart beat.
Hi John,
Thank you for your very kind words!
Have a wonderful day!
Barnaby Dixon
Can you import a list of URLs in Net Sukii?
Also, can you schedule Net Sukii to perform automatic updates to articles if you are accessing data from other dynamic websites?
Hi Scott
Thank you for your question.
NetSukii works as a spider, so it discovers pages automatically. And although you can add new URLs one at a time, unfortunately you can't import a list of URLs in bulk directly. However, you could potentially set up a new remote site profile, and then import your URLs to the database using PHPMyAdmin.
Once an article is imported, you can then go back to the profile and re-import it, to reflect any changes but this cannot be done automatically, since it's not possible for NetSukii to know when a remote article has been changed. However, once you have your profile set up, you could simply just 'Import All' on a periodic basis, to ensure that any changes are reflected on your Joomla system.
All the best, Barnaby Dixon
I like this feature but my goal is to collect from youtube so which product do I buy
I wish you had some demo up
You will need AutoTube to create articles automatically from YouTube.
I had to remove the demo because it got abused, sorry about that.
All the best - Barnaby Dixon
Hello, it seems to be great but is there a support forum, wiki, our somewhere else I could see all the details features?
For ex. I would like to grab content from an other site where the title as an id like mycustomtitleID and the content mycustomcontentID. All the rest is no needed.
Iss NetSukii can do this ?
Hi there
Thanks for your question. If you read this product page, you'll see it has a full list of the features available with NetSukii. And yes, you can define which ID(s) to include in the content import :-)
All the best - Barnaby Dixon
Sorry for this rating, but so far the extension doesn't work at all. Half the pages I go to give a 404 error, the ones I can make a project from spider only 1 page. I have tried every conceivable configuration with no luck. Please help!
Hi there Kevin
Thanks for your email. Most likely either: your server is refusing outgoing connections, or else: the remote server is refusing automated connections.
Could you set me up with an admin login and I'll try and work it out? Also please let me know a few of the sites you're trying to import and I'll check them remotely.
Thanks & all the best
Thanks for the reply. It's able to grab 1 page and I tested it on a site where it grabbed more than 1, just not a site I care about. So I don't think it is on my side.
The site I really want is
http://www.whitehouse.gov/briefing-room/speeches-and-remarks.
I am trying to download speeches. When I do it at this level it just times out. If i go a level down
http://www.whitehouse.gov/briefing-room/Speeches-and-Remarks/2011/03
I just get 1 page. The actual speeches are in a different directory http://www.whitehouse.gov/the-press-office/2011/03/28/remarks-president-address-nation-libya and that may be the problem. But any higher directory to start the spider and it times out.
Your help is truly appreciated.
Thank you for the information.
This is quite a tricky one, as they use rather complex URL rewriting. But it's very much possible to do.
Firstly, please add the main URL as your profile: www.whitehouse.gov
Then, before you run the spider at all, click 'Add URL'.
Enter the page you actually want to spider: briefing-room/speeches-and-remarks/
Make sure you add the trailing / since it's in essence a 'directory' not a 'page'.
Then, save the new URL, and spider just that one URL, by clicking the small ladybug icon in the spider column. This will spider all links in that one page, and nothing else.
Then, use the filter to select only the links that have 'the-press-office' as part of their URL. Then "Select All" and click "Import All".
Job done :-)
I hope that helps. Sorry it's somewhat complex. An important part of NetSukii functionality is that it will only spider and import URLs lower than the main URL - so if your site is www.mysite.com/category1/ it can't then spider and import from www.mysite.com/category2/ which is why you couldn't spider any pages.
Hope that makes sense! Good luck & all the best - Barnaby Dixon
Unbelievably wonderful experience with this product, and with the developer. NetSuki just works, easily and perfectly. Thanks again, Barnaby.
Can you do this?
My client has Joomla 1.0.15 site and want to migrate into Joomla 2.5.
I have already set up Joomla 2.5.
The issue is content pages with pictures and links.
There are several categories needed to import articles from Joomla 1.0.15 site.
Can Net Sukii solve the issue?
Thanks in advance for your reply
Hi there,
NetSukii can certainly import your content with images but it will be easier to simply migrate firstly to Joomla 1.5 and then to 2.5 using Migrate Me, which will help maintain your current categories, links and menus, and should be an easier upgrade route.
All the best Barnaby Dixon
netsukii is amazing. I'm working on a portal page. this page parse news via rss. but not all of our members have rss implemented, the older ones even run static websites.
so i would like netsukii to parse special urls via cronjob and check if there are any modifications since the last run. and i need a backlink on the bottom of the parsed content.
so you collect ideas, maybe yout are interessted in this one.
How can I spider a website automatically and import the contents/Articals automatically without logging in every time.
I am talking about the, "* Set it and forget it - automated spidering available" that you talked about.
Your help is appreciated.
Thanks.
Hi Moe,
Please just click the 'Spider' button in the main toolbar. Joomla will log out after x minutes depending on your server config, but the spider will continue, and you will be able to see the results as they happen.
All the best - Barnaby Dixon
I would like to create a site where the front end would be like this> www.ocioso.com.br, where I did not need to create articles but only index the web's best articles, links and options to enjoy and send Facebook, Twitter and Google + ...
Is there any way to get this with some of yours components ?
Hi,
Thanks for your question.
NetSukii can grab articles and web content remotely. You'll still need to set up the stylesheets and template so that the content displays as per this remote site.
All the best, Barnaby Dixon
I have version 2.1. Could you tell me what has been changed in version 2.1.2?
Thanks
Hi Scott,
We just made a few small general bug fixes. If you see a big upgrade number (e.g. 2.1.2 to 3.0.0) or a moderate upgrade number (e.g. 2.1.2 to 2.2.0) it's worth upgrading as these could be major bug or security fixes, or functionality changes, but otherwise so long as your system is working well you don't need to upgrade for the smaller fixes.
All the best - Barnaby Dixon
Help! I'm using NetSukii and I'm having trouble with it. It doesn't seem to handle https: sites. If I don't specifiy https: in the "Which site do you want to import?" screen and the site is set up to redirect to to https then NetSukii errors out.
Also, will NetSukii fail to follow links if there is a "no robots" directive in robots.txt? I can't seem to get it to go past the home page of the site I want to spider.
Thanks,
Scott
Hi Scott,
Thanks - I'll make sure we can add the https:// as well as the http:// and release it in a new version.
NetSukii doesn't pay any attention to the robots.txt file, but let me know the URL you're trying to spider (you can email me direct at support at php-web-design.com) and I'll try to find out if there's any issues with the spider or the remote URL.
All the best, Barnaby Dixon
Hi Scott,
This feature is now available - please download the latest version from the 'Your Downloads' link at php-web-design.com
Thanks & all the best, Barnaby Dixon
hey, so what about my old links, are they preserved? Thanks
Hi there Donny,
Thank you for your question. Yes, your links are not changed at all during import. You can then use a component such as SH404Sef to ensure that Joomla converts your old links to the new Joomla article references in a beautified form (e.g. yourlink.html). Each imported article uses your original page name as the new Joomla alias, so that old links can be maintained if required.
All the best - Barnaby Dixon
Just wanted to leave positive feedback. I worked out that this would save me about 4 weeks of work so I took the plunge, and it was totally worth it. Pretty rare that a product delivers so well on its promise. Thanks, John.
What a great idea. I used netsukii to scan my three websites and convert them into one single Joomla website. It was very good. The old websites were very big, more than 1000 pages in total and it was all done in almost no time at all. I basically just copied my old stylesheets into the new Joomla stylesheets to preserve the layouts and then just had to build the menus, I used the automatic categories feature so I didn't have to do much else. A+ from me. Ben
Your product seem very promising and I have tried your demo and really like the concept :)
Just had to say this was brilliant. I don't usually leave any reviews, but this was well worth the money. This transferred all my old pages in about 30 minutes tops. Thanks!
Hi mate,
Interested in your product. Can you please confirm: so as the product suggest can i import all the content from any website just by providing URL?
Hi there,
Yes - for example, you just type bbc.co.uk and it'll be able to spider the full site, and optionally import all the pages it finds (you can import all pages, or individual pages). If you want to import just a subdirectory, enter, for example, bbc.co.uk/technology
All the best - Barnaby Dixon
Thank you for NetSukii, it has made importing my client's site a breeze. I just wish I had found a tool like this years ago. Great job!
hi mate, i have to say this was fabulous. I didn't know what to expect, but I imported a 100+ page website in about 20 minutes from start to finish, including spidering. great idea for a component! by the way, I tried spidering and importing google, haha, stopped it after 5000 pages, but it works!
Leave a Comment
1