Who's online
We have 8 visitors online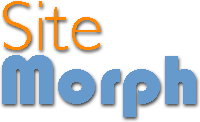 Sometimes, you might want to switch from Joomla to Wordpress.
And now it's easy!
You can migrate your categories and articles from Joomla to Wordpress in literally just seconds.
And that's not all!
Using SiteMorph, you can even migrate Joomla systems as old as Joomla 1.5 to Wordpress.
Currently available ABSOLUTELY FREE for the next few months -- it's just released so let me know how you find it!
Here's how it works
SiteMorph makes it easy to migrate Joomla to Wordpress. Here's how to do it:
Step 1: Download and install SiteMorph on your Joomla system (version 1.5 onwards)
Step 2: Take a note of your migration key, and select what to migrate - usually you'd migrate everything
Step 3: Run the migration
Step 4: When the migration is complete, download the Wordpress plugin it gives you, and install it in your new Wordpress environment
Step 5: In your Wordpress Admin go to Tools > SiteMorph Migration, and enter your Migration Key
Step 6: Click to complete the migration, and your data will be synced
What is included?
Migrate Joomla categories to Wordpress Categories


Migrate Joomla articles to Wordpress Posts or Pages [you decide]

COMING SOON: Migrate Joomla Users to Wordpress

COMING SOON: Migrate Joomla Menus to Wordpress

COMING SOON: Migrate K2 Content to Wordpress

COMING SOON: Migrate Virtuemart to WooCommerce
Please note: This software is *very new* and quite possibly has bugs. So if you hit any issues (at all) please feel free to comment below.
Important note #2: This software is currently released completely FREE while additional features are added.

SYSTEM REQUIREMENTS:
Joomla 1.5+


Wordpress 4.x

PHP 5.4+

A decent server if possible
FREE Edition
Migrate Joomla to Wordpress
Migrate Categories
Migate Articles



FREE DOWNLOAD

---
Your comments