Who's online
We have 72 visitors online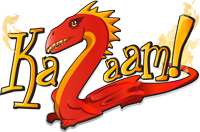 Save 5 minutes every time you or your users create an article or a category, by automatically creating a menu item!
Kazaam! is an automatic menu manager. Just plug it in, turn it on and it'll start working for you. Never spend your time creating a menu item again!
Certified for

Brand new and fully updated!
Kazaam! is now Joomla 3.4 compatible, and has been fully updated to be faster, more efficient and more fun than ever before!
Do you want multiple automatic menus?
Check out the brand new Kazaam! Pro Edition! It's ultra powerful, and adds a whole new level of control to your menu creation.
Here's what you get with Kazaam! Pro:
Create as many automated menus as you like!
Get ultra fine control of your categories and articles
Automatically update all your Kazaam! menus whenever you update a category or article
Works like magic!
This is a plugin that creates a menu, and automatically maintains it. You can see the menu in your Joomla menu manager, and use it exactly like any other menu. It is a tree menu, and it maintains your category and article tree structure.

You can select which categories you want to include, and whether you want to also automatically create menu items for articles.
It's simple. It's efficient.
Your categories will be used as category blog menu items, and your articles will be used as single article menu items.

Your new menu items will also take on your category or article parameters, such as whether they are published, are available to registered users, and so forth.

Changes to your categories or articles will be instantly reflected in your Kazaam! menu.
Get it today
For a very limited time, the full PRO option is available at a reduced price for previous Kazaam! users. Please try it out today, and get the special price!
Please note: I recommend that ALL users update either to the Free or the PRO option of Kazaam!
---
Screenshots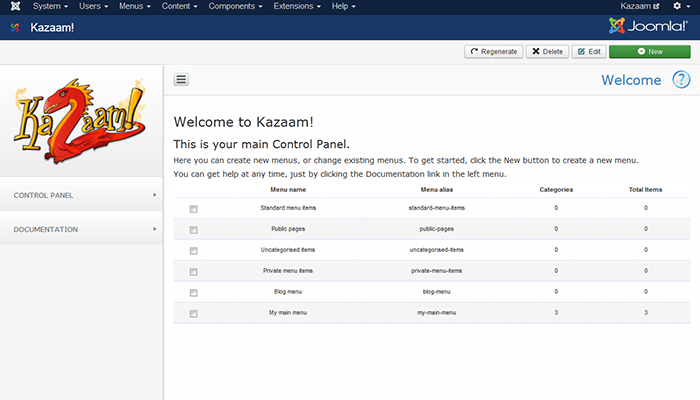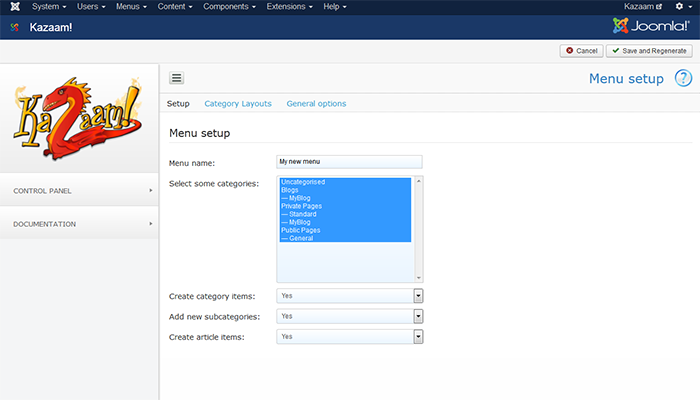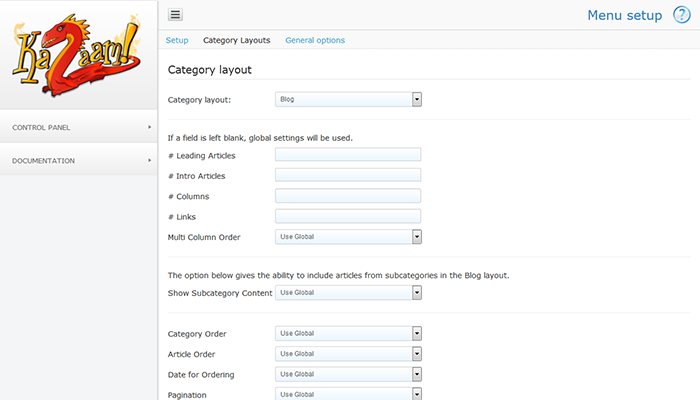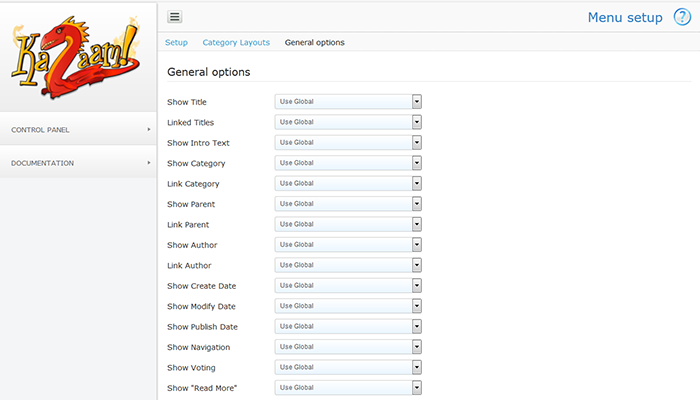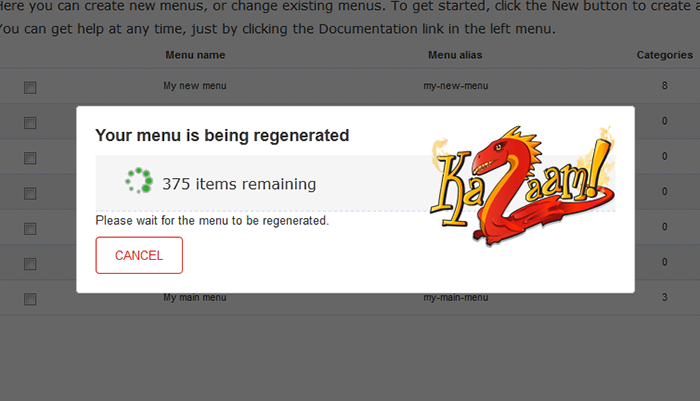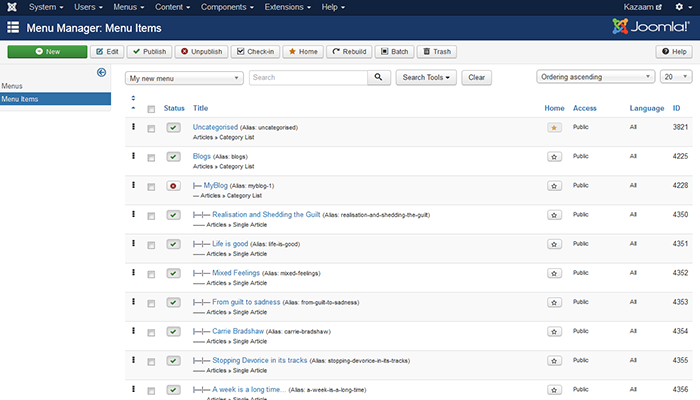 ---
Your comments
1-100 of 140 Comments
Just finished prototyping a news site and I cant imagine doing a project like this without kazaam. i haven't seen where do do this, but i use template styles and page classes as part of my building process. Does kazaam inherit these, or is there a place where i can set them? it's my third major build with kazaam, and will be the most complex (so far).
Hi David, Kazaam creates menus, which are then added to pages via the Module Manager. Kazaam doesn't set or change any classes, so just set the class on the module used to display the Kazaam menu and you can then set CSS in your template's CSS files.
Regards, Barnaby
Hi again,
Just FYI... I have emailed you in response to an email you sent, but after several days it keeps bouncing due to an MX issue (it says SERVFAIL). In the hopes you see this - please email again with an alternative email address and I can resend my email. Regards, Barnaby
Still love Kazaam! Please ignore my previous comment immediately below. The problem went away. Thx.
Love Kazaam! It saves a lot of work. Question: Does Kazaam! (Free and Pro) work with Joomla 3.9.2. Every since Joomla auto updated to 3.9.2, Kazaam! free and pro have beem throwing off error codes every time I save Kazaam!. I sent the error codes on your contact form. Please advise. Thank you.
I cannot get it to work. I made numerous menus for my joomla categories but as soon as I view the joomla menus the menu has been created but there are no menu items. Am I missing something ?
Does Kazaam! work with Joomla's Weblinks component?
Hi Pinto,
Kazaam! works with the standard Joomla menu manager, so it creates a standard Joomla menu, with category and article menu items.
I hope that helps! Barnaby Dixon
Is the free version still available?
At "https://www.php-web-design.com/component/com_downloads/dl,4/" appears an error, after submitting the valid email-address:
"You do not have any available downloads. Please check your email address"
Thomas
Hi Thomas,
I'm sorry, my system wasn't recognising your email. Please try again and it should work now
All the best, Barnaby Dixon
Does Kazaam! work together with Form2Content?
Thank you for your message.
Kazaam will work with the Joomla core and K2 only.
All the best - Barnaby
Main menue item keep changing
thank you for your plug in we installed the free versions on our we sites.
we have issue with menue orders which is keeps changing all the time , or every time we put new article the order of main menue keeps changing .
I want to buy Your component. It works on joomla 3.6.2 K2 and 2.7.1?
Hello,
Kazaam works for Joomla, but will not recognise K2 articles.
Yes, it does work on Joomla 3.6.2.
All the best, Barnaby Dixon
Please help me make the purchase decision!
How will work your component if when saving material you select category for which the menu item wasn't earlier created?
Is it possible to call a script of your component from other script for rebuild the menu?
Hello,
If the category doesn't exist in the menu, the new article item will be added to the root of the Kazaam menu, so it will be towards the bottom under all the other categories.
I'm sorry, there is currently no way to call the kazaam plugin with a cronjob, or from a different script.
I hope that helps
Hi,
nice Solution, but it doesnt Sort the Menüs by Title, even if i choose it. What do i wrong?
Hello Heiko,
Thank you for your question.
I am not sure what you mean... there is not an option to sort by Title?
The menus are automatically created based on your categories and articles. They are sorted according to your category / article sort order.
All the best, Barnaby Dixon
I have a Category named Test.
Article Options are: http://i.imgur.com/E4r8FjB.jpg
In the Category its http://i.imgur.com/hmNoHnd.jpg . 4 Articles.
Kazaam is set to http://i.imgur.com/v2A7WcJ.jpg and http://i.imgur.com/UXjA96K.jpg
And it gives me http://i.imgur.com/DwBVgtq.jpg
Its A B D C. Not A B C D.
Hi Barnaby, I love this extension and widely recommend it to all. I would consider buying the pro version but I don't know if the functionality I require exists.
I want to have automatically generated single article menu items when someone makes a new menu item. I don't want it to be category blog because I have created a category blog override. I would like some of the single articles to have my single article override, and others to have a different one. The same goes for categories.
Does Kazaam do that? If so you solve a major Joomla! problem that people often use K2 to solve, and I can write an awesome article about that.
Hello Eoin,
Thank you for getting in touch. I regret I don't think Kazaam can do what you're asking... it's good with creating standard menu items when a category or article is created or changed, but it's not good at doing overrides. This would add a real layer of complexity to the software.
All the best, Barnaby Dixon
Hi -
I just purchase the Pro edition and have installed it on my dev site (I never install anything on production until I prove it works in dev!)
The component is now there, but it does not list my previously existing Kazaam menu in the Control Panel.
how do I get my original menu to show up there?
Thanks!
P.S. Have you given any though to not automatically adding articles that are scheduled to be publish in a future date? (see my earlier comment dated June 15, 2016).
Hi there June,
Your older Kazaam! menu is not available in the Kazaam! component - because the new component is offers much more complex functionality.
You should find that your old Kazaam! menu is still available in the Menu Manager. You can recreate it if you like in the Kazaam! component, or else build new menus.
All the best, Barnaby Dixon
Hi,
I'm using version 1.0.4 on Joomla 3.5.1 and it works really well! Just one thing.... Articles that have a FUTURE publish date get added to the menu right away - so, if the user clicks on that Item in the menu, they get a 404 page.
Is there a way to not add items that have "publish_up" dates in the future?
I realize that would mean a manual rebuild of the menu after the article publishes, but that is better than the alternative.....
Still a great product, though! :)
Hi June,
I'm afraid this isn't quite possible - since there's not a 'trigger' that could be used to then rebuild the menu. The article publish up and down happens when a certain time is reached, but it doesn't trigger any further actions, and the action can't be accessed. So the easiest way is to generate the menu as normal (which should create an unpublished menu item) and then to publish the menu item when needed.
All the best, Barnaby Dixon
Would it be possible to do a regen with a CRON job? So - if I set my article to publish at say 6am and then run a cron at 6:05 to regenerate the menu? Would something like that work?
Yes you could potentially do that, although Kazaam is designed to work with the Joomla admin UI rather than with a cron job. You would need to open /plugins/system/kazaam/kazaam.php and adjust the script so that it can work with your cron.
All the best, Barnaby Dixon
Hello!
I see that I can include articles in the menu.
Can I Limit the number of articles showed in the menu so that I can show only the last 5 article inserted of the total 200 articles (example) of the category?
thanks
Erik
Hi Erik,
The way to do this would be with a custom coded menu module that's designed to restrict the menu items to just 200.
All the best, Barnaby Dixon
Hi, a little question for you.
I'm trying the demo version of Kazaam and following the Documentation, but I can see only the Kazaam plugin and not the module. It is normal? The module is only in the full versione?
Thanks
Erik
Hello,
The free version of Kazaam has a plugin only. The paid version has a component as well, which gives extra functionality.
All the best, Barnaby Dixon
There was talk previously of ordering categories/articles. Is there a way to automatically sort, say, alphabetically? Or by popularity? That would be helpful....
Hi there, I just downloaded the free version of Kazaam (1.0.4 - people here talk about 1.6.4 but that's not what downloads - free version is different?) to try out before buying.
Looks great, but in Joomla v3.5 it runs this error:
Warning: json_decode() expects parameter 1 to be string, array given in /home/xxxxxxxxx/public_html/plugins/system/kazaam/kazaam.php on line 683
Any ideas on what's causing this?
Thank you, John
Hi there John
Thank you for letting me know - that issue has been sorted now for Joomla 3.5. The latest version of Kazaam is now 1.0.5 (version 1.6.4 was an old fork that sadly didn't go anywhere)
All the best, Barnaby Dixon
Hi John and Barnaby,
We are also getting the same error message:
Warning: json_decode() expects parameter 1 to be string, array given in E:\wamp\www\xxxxxxx\plugins\system\kazaam\kazaam.php on line 683
and are running 1.0.5
We are trying on Joomla! 3.5.0 and have tried on both a wamp and live with the same results. This is a shame because the plugin is working and adding our menu items correctly. The client just doesn't want to see any error messages.
Hi Barnaby,
I recently upgraded to the latest version of Joomla (3.5) and had been using Kazaam version 1.6.4.
I'd like to give your new free version a try before making a decision on purchasing.
Do I need to uninstall the old version before installing the new version or can it just be installed over top of the old version?
Thanks!
Hello,
If you were using an old version of Kazaam, yes it might be best to uninstall and then reinstall. This will not affect any of your existing menus, and you'll just need to configure Kazaam after installation.
All the best, Barnaby Dixon
I have not used the pro version yet but the free version works great!
One thing I would like to do is with the categories in the menu which are currently links to category pages, have these as just as menu headings. So that the only links are the articles themselves.
Does the pro version do this?
Hi there David
The Pro version is the same as the basic version of Kazaam, but you can add more menus, and have more control over what appears in each menu.
The categories create menu links to categories... unfortunately with my current commitments I don't have time to rewrite the functionality to make the categories placeholders. Sorry about that!
Hopefully it's still useful for you
All the best, Barnaby Dixon
This would be exactly what I am looking for if this functionality for menu headings was added.
Hello Barnaby, I am wondering if your extension would work with Flexicontent CKK? I see it works with K2 as do a few others similar in nature but I haven't found anything to work with Flexicontent just yet - but I did just start looking! The menu I need to create will not actually be published its just to make nice urls for all the pages. I purchased your HTML2ARTICLES extension and it is awesome so I'll gladly purchase more from you that suit my needs.
Hi there,
Thank you for your question. I'm afraid Kazaam doesn't work with Flexicontent CKK, sorry about that!
All the best, Barnaby Dixon
Great plugin, so I bought the Pro Edition... but my menu has several 'single article' items pointed to articles allocated to 'uncategorized'.
I have to ad 'uncategorised' as a category in Kazaam's list to include these. But then, if I update any items in 'uncategorised', they get added to the menu as well.
If I regenerate the menu from scratch, these all get set up as menu items under a category menu item for uncategorised - I don't want to have a drop-down submenu titled 'uncategorised' for 'Home' and other uncategorised single-article menu items.
In short: how can I set up Kazaam not to mess with root-level 'single article' menu items?
Hi Ventilator (great name!)
In brief, you can't have a menu that has both categories and articles, and single articles that aren't nested in a category.
The only way to do what you want is with two separate menus. One having categories and articles nested, and the other with no categories, and articles only, pulled from the uncategorised category
I hope that helps
All the best, Barnaby Dixon
Hi,
I Installed the Pro version today. I have created 7 menu's form different categories. After moving some articles in the categories, the menu's did not alter. After rebuilding the menu's in Kazaam, the Menu Assignment is messed up. Rebuilding the menus' does not help. When opening en saving some menu items I get a error. Using Joomla 3.4.5
regards,
Jules
Hi Jules,
Thank you for getting in touch, and I'm sorry you hit some sort of problem here.
After moving articles, menus should instantly change. Do you know if your Joomla cache is turned on - perhaps the system hadn't 'seen' the change in the article manager?
What sort of errors do you get when opening the menu items?
If you could send me a login and tell me a specific menu item that's not working I'll check what's happening for you.
Thanks & all the best, Barnaby Dixon
hello Barnaby,
I hope this is the correct way to answer to your comment. It took some time, but I still have strange problems with Kazaam. Sometimes more items are generated, sometimes less, sometimes even subs. How can I give you private login credentials to take a look ?
Kind Regards,
Jules
Hi Jules,
Please reply to this email - the address is support AT php-web-design.com .
Thanks & all the best, Barnaby Dixon
Little Question, does the pro version has an option to list the menu expanded? so that we don't have to click on the little + sign and directly see the categories + articles ?
Hi Frank,
Thank you for your question. The generated menu is the same as any other menu in the Menu Manager, so to display it expanded, you set up your menu module, and change the setting to ensure the menu is expanded.
This is the same for the PRO and the Free Edition.
I hope that is what you meant? Please let me know if I can help further. All the best, Barnaby Dixon
Worth every penny - thank you!
Just a minor note, in case anyone else has the same problem: saving/regenerating a (new) menu triggered a mod_security2 rule (950120), warning of "possible remote file inclusion". Once excluded, the component works very well.
Thank you!
I didn't know about that issue. There are no files included by the menu regeneration, so I'm not sure what it's doing there - it's a standard Joomla AJAX request. But thank you for the solution! I hope others find it useful too.
Have a great day & all the best, Barnaby Dixon
Waiting for the joomla-3.4 version in suspense. Big fan as it worked very nicely for an earlier version.
I've been working on the new version for several weeks... it's almost ready!
The new version will be commercial (but very cheap!), and will have some fantastic new features, including multiple menus, advanced AJAX menu generation, advanced category and article layout control... pretty much everything you've ever wanted.
I am hoping to release it officially next week, but please let me know if you like a trial version for free over the weekend!
All the best, Barnaby Dixon
The full Joomla 3.4 update is released today - FREE UPGRADE to all registered Kazaam! users, or a massive discount on the PRO Edition.
Enjoy!
Barnaby Dixon
Sorry, the plugin does not work anymore since Joomla 3.4
It's really bad, I use it on several websites and clean up them all now manually.
That is not funny.
It was of the greatest extensions I ever saw, but now it is no longer useful. Really hope the author will fix the bugs.
Hi Thomas,
Thanks for getting in touch. I have good news... I am redeveloping Kazaam for Joomla 3.4. It should be available in a couple of weeks.
The new version will have much better features, including ability to make multiple menus, and will give better control over how the menu items work.
All the best, Barnaby Dixon
i used kazaam before, everything was fine
but now with joomla 3.4.3 nothing is fine
a menue called kazaam is created
but not a single menue-item
i cleared cache, tried different categories ...
any help available
Hi Bern,
I am developing a brand new version of Kazaam for Joomla 3.4. It will be ready in a few weeks.
All the best, Barnaby Dixon
Hi,
i have some problem with the latest version of joomla ( 3.4.. )
Administrator side, is all ok.
User side, with admin or publisher privilege, if i modify an article, kazaam recreate the latest menù item added.
I have tried cleaning and disabling cache.
I don't know if can help out but, downloading and installing the plugin, in the plugin manager i see Kazaam version 1.6.4 2nd October 2012. is it the latest??
Thanks for getting in touch.
I haven't updated Kazaam for a long time I'm afraid as I just haven't had time. I will have to test it with Joomla 3.4 and see what is happening.
All the best, Barnaby Dixon
I have this working fine on a joomla 2.5
- i am trying to get it to work on a joomla 3.4.3
- it wont create a menu from categories. any help?
Hi Kevin - it might be worth turning off your Joomla cache if you have one enabled. Hope that helps! Barnaby Dixon
I have tried it with cache on and off, it doesent build a menu on save. Have you tried Kazaam on a Joomla 3.4.3?
Hi Kevin,
Thank you for your comments - just to let you know I am developing a new version of Kazaam which should be ready soon and compatible with Joomla 3.4.
All the best, Barnaby Dixon
I would give you an excellence if it where unnecesary to link the mene item to a category. that is a problem because it is making the url larger and that s not always good for SEO
thanks
Hello,
Thank you for your comment.
This extension is intended to create new menu items for categories and articles. If you would like to propose a method to link to a category without specifying which category is linked, please advise?
Also please note that SEO is not adversely affected by long urls - it is more affected by your page content.
hi. This plugin is excellent (and free!)
thx
but there is an issue; every time I save the same article, automatically is generated a new menu item...
How can I solve it?
Please ensure your cache is off, and that the article has a unique alias.
But .. you know Gary Cookbook ? it uses joomla categories, but in the database field " extensions " the name is com_garyscookbook - not com_content .
So I can not select it in your categorie- field .
They were very nice, if you could change this in your next release.
I'm sorry, this extension only works with standard Joomla content, it doesn't work with Gary Cookbook
It's a great extension. It has solved my problem. It does what is says.
But,
1. I didn't see any documentation available for this extension.
What is Included Category means ???
2. Another problem is..
For any article created, the article title is displayed two times. i.e., displays page-heading even though in article options it is disabled.
Documentation is included - try hovering your mouse over each option to see what it does.
Included category means: if the category is included, every time you create an article in that category, it will create a new menu item.
You can adjust the article title appearing two times in Article Manager > Options
This is just what is needed, great work, uploaded, configured and works like a charm (J3.#
Question - How can I get more than 1 instance of this working on the same site?
Hi Dale,
Great! Just create a new module and link it to the Kazaam menu...
Yea sure but that will give me the same menu. I want 6 Kazaam menus, all different, for example. I have 3 categories, so my home page menu is Home plus the 3 categories. Now every time I select an Item from withing a category I want just that category menu in the side VMenu postion. So i need to have 4 Kazaam Menus Created.
OK I see. Technically you'd need 6 different plugins to do this, but obviously be aware that each one would add to the 'save' time associated with a new category.
I don't officially support Kazaam! any more, and offer it just as Open Source freeware - but the way to do this is edit the plugin, edit the .xml and .php files and rename plg_kazaam to plg_kazaam1 wherever it exists. Then also rename the filenames to _kazaam1 whereever they're called kazaam. Then save the zip and install it, and it should work...
Many thanks for the reply. A bit to much work involved for me to be honest.
However, the one time use of this plugin is fantastic and saves much time adding Articles automatically to the Menu System.
Many thanks
Attempted to download it.... just sits there on the download page, nothing happens.
Please try again. The downloads are working.
Thanks
Hi, It looks like a really helpful extension. It would be great for a site I am working on except I need to be able to filter so I can auto create a menu for one group and then an create an entire separate menu for group 2 based on the category would be great. I am thinking if you create a special module type that allowed you to filter based on all categories selected for auto generation it would be really helpful.
Thanks,
Tom
It sounds promising for what I am looking for.
I am using the latest Joomla 3.3.1 and can't find any Kazaam Menu after enabling and saving the plugin...
any suggestion
thanks
I will of course up my rating if the Plugin works in 3.3.1
I use this plugin for showing pictures with easy gallery. when a new article is made with the coreect categorie it will show in the menu.
After one of the teachers opens this page and they upload pictures to the directory where they want top add new pictures.. they do a new saving of the page.. Then this page will show up again in de menu. So ewvery time they save a page it will show up more in the menu.
Can this be solved?
This plugin does most of what I need, but there is one critical thing missing...
If I create an article in one of the published categories for Kazaam then the menu item is created - so far so good!
The problem is, if I then reassign the article to a category which is not part of the Kazaam menus then the menu item is not removed.
What I am trying to do is have the Kazaam generated menus for the current articles on a site, but when they are no longer relevant I move them to an 'archive' category which does not generate a new menu item for each article.
Is there a way to achieve what I'm trying to do?
I tried removing the extension and now all menus a broken ... How to fix ?
Hi there JF,
Removing the extension will not break your menus. Kazaam is 'static' that is, it acts once to create the 'Kazaam' menu, and from then on, it only runs if you update or create articles or categories.
If your menus are broken, it will be due to something else. Perhaps you removed an SEO component at the same time?
Cada vez que modifico una categoria o articulo aparece esta advertencia,
plugins/system/kazaam/kazaam.php on line 415
alguna ayuda?
Gracias!
Does this work with EasyBlog?
So far so good, but i use jcomments for comments in the articles. and now, nobody cant write any comments, because i cant choose in the settings of the jcomments plugin the categorie i used for kazaam.
Any chance to fix this problem, or do i make the mistake?
i fixed it by myself ;) works perfect!
Thank you, It is exactly what I was looking for.
It works exactly as it is shown. Top notch application.
It is now possible to select which categories it should generate the menu from this is great. But it would be even greater to have an option where it automatically adds all the categories.
So you select in the plugin:
Option 1: Choose which categories
or
Option 2: All categories
So when you create a categorie you no longer have to add it through the kazaam plugin because it already does it then.
Hi!
After installation, manager menu:
str_repeat() [function.str-repeat]: Second argument has to be greater than or equal to 0 on line 142 & 153
what to do?
To the point, I use Joomla 2.5.14
Any chance you add Seblod CCK support in a future release?
The inofficial(?) Version 2.0.11beta from gruz shows into the right direction.
http://gruz.org.ua/uk/extensions/kazaam-automatic-menu/2_0_11_beta.html
But there are some problems:
* category order is not respected but menus are in reverse order (I have a little patch for this problem)
* under unknown circumstances the menues integrate the first category though it is disabled - I'm searching/debugging for the fix right now
* one feature is missing: for a project I would need to define a different templatestyle for use with one of my generated menus - I will try to make a suitable patch
* within extensions.joomla.org it is said, that the actual version of this fine plugin is "2.0.10 (last update on Jul 24, 2013)", but you are sent to this site, where you can download only v1.6.4!???
I'm willing to contribute to this nice plugin, if you could host it on joomlaforge...
Thanks so far and greetz,
Andy
I'd be interested in the patch that makes Kazaam! respect the category order. Is it available somewhere?
Hi
I'm not sure where Feature Requests go on this site, but I am going to add it here.
When a new menu is created for an article and it is viewed, the article has a dashed line at the top showing (either the article category or the menu item name) not sure which - If I then access the menu and resave it, this goes away. I used to have this same issue with a popup plugin I had and it was corrected by adding an &itemid=435 to the Link field.
Is it possible to remove this problem in a future release - I can send some screen prints to show what I mean, if you want to email me directly?
Rob
Leave a Comment
1