Who's online
We have 9 visitors online
Import HTML pages as Joomla articles in seconds!
Written by Barnaby Dixon

Have you built a Joomla site - and now want to import content to it, but don't want to spend hours and hours on each page?
You can create Joomla articles almost instantly from any HTML file using HTML 2 Articles.
It's Fast
Each article takes an average of 20 seconds to process - including import of your images, W3C validation, conversion to UTF-8 encoding (if needed, for optimal integration) and more.

You can even queue hundreds of HTML files at a time for processing, and just leave it running. Each file is automatically processed and integrated with your Joomla install.

What is included?
Near instant import of HTML files to your Joomla! installation

Powerful HTML clean up & tag stripping options

Inbuilt W3C Validation engine

HTML tidying, repair and validation on the fly

Automatic import and integration of your images and documents

Support for all charsets and encoding types

Automatic conversion to UTF-8 encoding for optimal Joomla integration

Full documentation

Automated process logging

Queue 100s of HTML files at a time for processing

Automatically create your article title, alias, keywords and description

Select your full article parameters such as category, author, access level and so forth

Maintain your links with Update Links (BETA - Joomla 1.6+ only)
Certified for 

Rated the #1 import system for Joomla
HTML 2 Articles is used on hundreds of Joomla systems, and we have received some fantastic praise, such as:
"the speed at which articles import is unbelieveable"
"A real timesaver"
"the most useful extension I have ever used"
"the crown jewel of joomla extensions"
"HTML 2 Articles was worth every penny and has saved me hours."
"Crazy Crazy Awesome Component Well Done"
"make the investment in HTML 2 Articles; I give this TWO thumbs up!" 
Buy now and experience HTML 2 Articles yourself!

£149
CHRISTMAS SALE PRICE: £99.00
IMPORTANT: After purchase, please click the "Return to Merchant"
button in PayPal to register for updates and to access your download.
---
Screenshots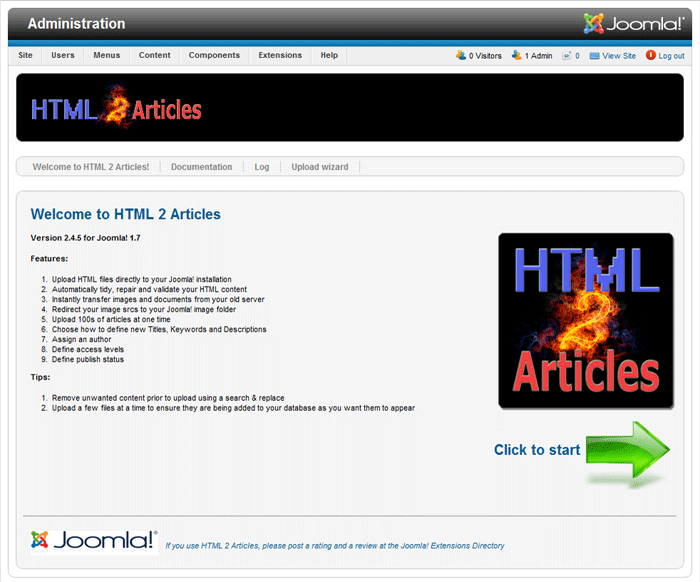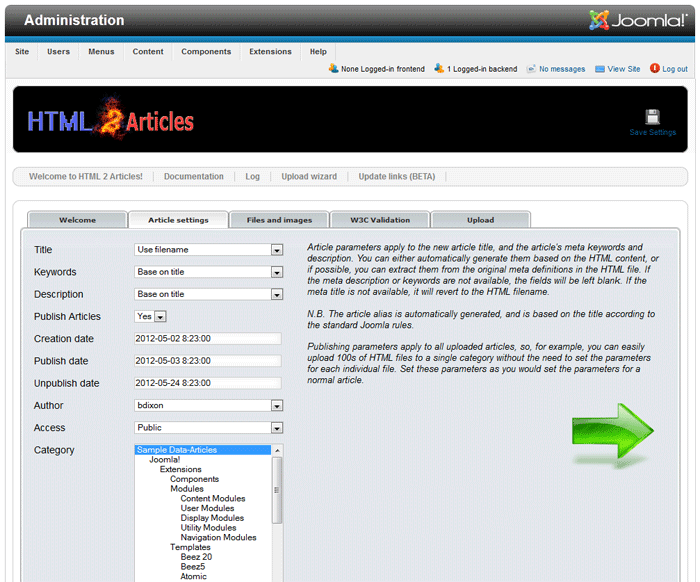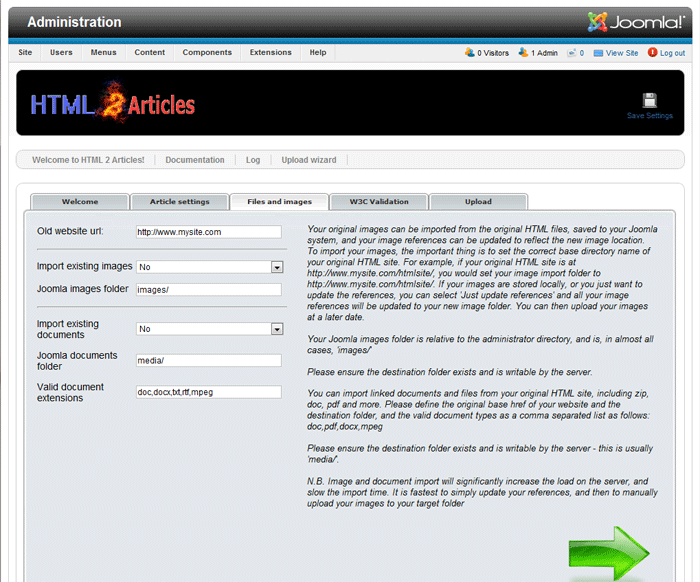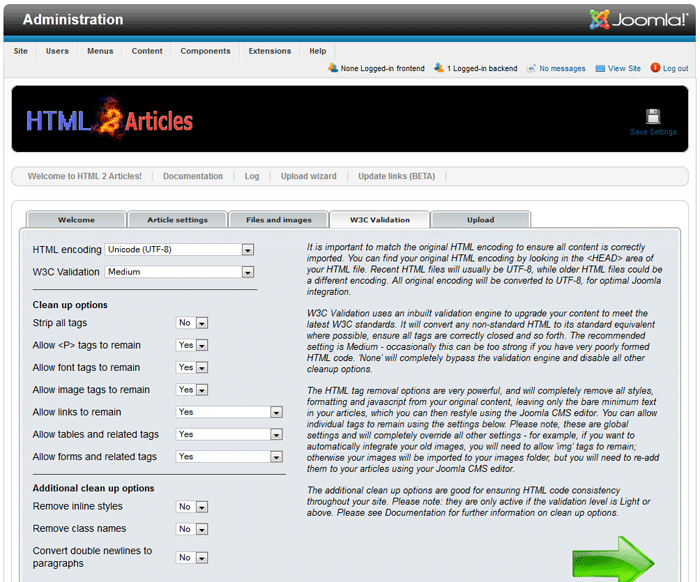 ---
Your comments
1-100 of 105 Comments
I need to migrate my php website in joomla site because the one men fix for me the php website and never finish is possible to migrate the php website with the HTML 2 Articles?
Thank you for your answer,
George
Hi there
Thanks for your email. If your website is dynamic (i.e. it uses PHP and takes pages from a database) then you'll probably need NetSukii, also available from this website. NetSukii can scan and import pages from any system.
All the best, Barnaby Dixon
Hello, just want to ask if this site http://treac.com.au/, all of those articles and other stuff can be migrated to joomla with this component? Just inquiring, looking forward to buy this component.. Thanks!
Hi there Jared
Thanks for your email. Yes absolutely - if you have the original HTML files you can just feed them into Joomla using HTML 2 Articles. If you don't have the original HTML files available you'll need NetSukii also available from this site.
All the best - Barnaby Dixon
Hi there
If i create the pages in Microsoft word save as mhtml then when importing to Joomla 3.2 will it preserve all the word styling etc. thanks
Hi there Nick,
Thank you for your question. The basic answer is yes, the styles can usually be maintained and saved into your new Joomla articles. But if you'd like to send over an example page I'd be happy to attempt an import to check that it works as expected with your pages.
All the best, Barnaby Dixon
And what about giving this option in the next version?
What about what option...?
Hello, i want to ask you if it is possible to set a different publish date date to each article, i mean ...i want to upload a serial articles but i want the first to publish on 25-11-13, the second on 26-11-13, the third 27-11-13 an so...is it possible?
Hi there Javier
Thank you for your question. Yes you can change the publish date in the wizard, and then import your articles, and then repeat. Very easy :-)
All the best - Barnaby Dixon
Well...i know i can change it in the wizard but i want to know if the plugin can be set up to automatically set for example the date 25-11-13 to the first article imported, the 26-11-13 to the second article imported, the 27-11-13 to the third an so....i want the plugin can make it automatically for a great bulk of them...
thanks...
Hi - no it won't be done automatically, you'll need to change the article creation date in the wizard each time you want it to change.
Hello There!
I rather have now a question. When I copy and paste HTML codes of articles, graphs, charts and formulas/equations are lost. Usually equations in Word becomes images. If I create HTML articles with Nvu, which preserves everything, can I import these HTML articles to Joomla and preserve images and equations/formulas?
I would love to have this problem solved!
If it were so, I would purchase your software!
Regards,
Albert
Hi Albert,
Thank you for your great question. Anything in your HTML can and will be imported. So the key is to check how the data is presented in the source code. If it's heavily reliant on javascript it's not going to work with Joomla without heavy modification, but if it's simple HTML5 it should work. If you can send me a sample page for analysis I should be able to double check for you.
All the best
Barnaby Dixon
Dear Barnaby,
My client has bought your product and it works like a charm.
Just one problem/question. The former html-files contain two different id's, one for the images and one for the content. Unfortunately these are not contained together in one id.
Is there a way to grap both id's when transforming the files to articles?
Thank you in advance for your reply.
Kind regards,
Marjan Nordholt
Hi there Marjan
Yes, actually you can enter multiple areas in the following format:
div||id||myid,div||id||myotherid,p||class||myclass
The format is: tag||attribute||value. You can therefore select as many areas as you like, just separate the entries with a comma ( , ).
I hope that helps. Please let me know if you need any more information, or if I can help further in any way.
All the best, Barnaby Dixon
Hi,
I was just wondering how the software handles images. By that I mean with regard to the directory structure.
Are they separated into their respective article folders? Can the folders be given meaningful names?
Thanks.
Hi Huw,
Images are automatically added using their original names, and uploaded into the /images/ folder in your Joomla system.
They could potentially be uploaded into separate folders for each article, but then you could end up with a huge amount of image duplication.
All the best - Barnaby Dixon
Hi,
A number of different images already have the same name - but are in different folders.
e.g.
car1.jpg car2.jpg (in Ford)
car1.jpg car2.jpg (in Mazda)
What happens in this case?
In this case, since the images have identical names, they'll be overwritten. I would suggest revising the names prior to import. Alternatively you could use a secondary plugin or module to manage the image distribution. The basic idea would be to upload all images to an individual folder then use a plugin to retrieve the images.
Hello!
We have a web site that is a proprietary CMS and we want to transition to Joomla
http://www.labucketbrigade.org/
Would you product work for that?
Thanks!
Kristen
Hi there Kristen,
Yes absolutely. NetSukii will spider your site, and import all the pages you want to keep, along with images and so forth.
All pages will be saved as native Joomla articles in the Article Manager. You can then use them as usual in your site.
All the best - Barnaby Dixon
Excellent product. Worked flawlessly with Joomla 3.1. Your mod to strip php tags for me worked like a charm. Thank you for such excellent support Barnaby.
Jan
Hello,
If my articles have the same alias,it will be a problem?
Hi there Kat,
Thank you for your question. If your articles have the same alias, they'll be treated just as Joomla would treat them, so they'll have a number added. So if you have three pages called 'page.html' they'll become page, page-1, page-2 in the Article Manager alias.
All the best - Barnaby Dixon
Hi i would like to migrate the articles in my joomla 1.5 site to my new one joomla 2.5 site.
I haven't umderstand if this extensions works in the administrator system of my joomla 1.5 site or if it is neccessery to have html files.
Hi there Vaso,
I recommend using NetSukii, which you can download at http://www.php-web-design.com/Joomla-Components/netsukii-the-ultimate-content-spider-for-joomla.html.
You can then remotely scan your old Joomla website, and import all pages very quickly and efficiently using the inbuilt spider and import tool.
All the best,
Barnaby Dixon
Hi.
I understand the product is meant for migrating from existing joomla site/website to another joomla site. But I am currently building my site in local host. Is there any product for uploading html files (articles) to local host in developing joomla 3.0 site?? This will save lot of time in copying and pasting the content.
Thanks
Hi there,
Thank you for your question. HTML 2 Articles is perfect for importing HTML files, and it will work just fine on a localhost.
You just have to select HTML files for import (you can select many at once) and then each file will be imported and converted to an article in about 20 seconds, and where possible, will also import images, related documents and so forth to your Joomla 3.0 install.
All the best, Barnaby Dixon
Any plans for Joomla 3.0 NATIVE version?
Hi there Joseph,
We updated HTML 2 Articles a few months ago, and Joomla 3.0 is now natively supported.
All the best,
Barnaby Dixon
Hi. Bought the product this morning and tried to install via the Joomla 2.5
extension manager. After the zip file uploads, i get the following error
message "Warning: Failed to move file!". Would be most grateful for some
guidance!
Hi there,
Thanks for buying! The error you got is almost always to do with file permissions - the server isn't letting you install the component where it needs to go.
There are two things I'd suggest. Firstly just check that your /administrator/components/ folder has the correct permissions (should be 0755). Secondly, if it still doesn't work, check that the $tmp_path in your configuration.php file points to the correct tmp directory (and that the directory exists and has 0755 permissions).
If that doesn't work please set me up with temporary admin access and I'll see if I can work out the problem.
Thanks & all the best
Barnaby Dixon
PHP Web Design
Ok, fixed the problem. It was a permissions issue. Needed to set permissions for the tmp and various other folders to 777.
Hi,
Is there any documentation on exactly how this works. I am curious if the html file to be imported requires work before importing. What I am wondering is can the extension pull content from specific divs with ids, name the article based on the H1 etc.. If I saved a web page from a live site as a static html page does the file require things like the navigation etc.. to be stripped out?
Cheers
Hi there James,
Yes - full documentation is included with the product.
Most HTML files won't need any work before importing. You can simply select the DIV container that holds the content you want to import, and all unwanted content will be stripped away. For example, if your page content is in a div called you'd just set 'content' as the DIV id you want to keep, and then you can add all new menus and so forth in the Joomla menu manager as usual, keeping just the content to be saved as Joomla articles.
The article is named based on the original page's title tag.
All the best
Barnaby Dixon
Hi, I already bought Html2Articles for versions 1.5 and 2.5 pretty awesome component. Long been waiting for this component, finally I found this.
I would like to know how to purchase the Html2Articles for version 3.x.
Thank you.
Hi Nad,
Thank you for your feedback! The upgrade to HTML 2 Articles for Joomla 3.0 is free - I will email you the downloads link separately.
All the best, Barnaby Dixon
I am totally confused. I need to transfer data from my old Joomla site 1.5, which does not have a copy on the hard drive to a new site in Joomla 2.5. I followed the wizard but there is not reference to the old site only to my comp, what should I do?
Hi Pavel,
HTML 2 Articles takes existing HTML pages and allows you to upload them into Joomla, where they are converted into Joomla articles.
If you do not have the HTML pages already stored on your computer, you will need to save them using an HTML content grabber.
Alternatively, you may find that NetSukii is a better option, since it automatically spiders and imports remote pages.
All the best,
Barnaby Dixon
PHP Web Design
Hello,
Maybe (I have the impression) my question is partly answered. I have to transfer 1000+ Mambo (version 4x 2005) articles into Joomla 2.5 and I am seriously considering buying this product. Is it working for this Mambo nightmare? Thanks for your time and best regards.
Hi there Lunarts,
It's going to be tough to get a static HTML version of each page that you want to import in this case. I'd recommend you use NetSukii, which is a content spider.
All the best,
Barnaby Dixon
PHP Web Design
Thanks for this incredible product. i think it is realy gooc and it helps our company realy much. is it ok that i translate this to danish i will send the giles to you if it's ok with you
*
Thanks for this incredible product. i think it is realy good and it helps our company realy much. is it ok that i translate this to danish i will send the files to you if it's ok with you
Hello,
the software is really great. I have just one issue saving the settings. For some reason even if I save many times (for example I want to change the categories), it takes up to 20 minutes to the changes to take effect. I cleared site cache, browser cache, with no luck. Could you please help me to find a solution?
Thank you,
Matteo
Hi there Matteo,
Thank you for your feedback. You need to actually disable your cache while you work with HTML 2 Articles - this is to ensure the settings save correctly, so you can see the new pages as they are created, and for the inbuilt security checks to function correctly. You can do this through Global Configuration > System > Cache settings.
All the best - Barnaby
I want to export in 1.5 and then import into 2.5 site? Is that possible?
Thanks
Hi Rusty,
Yes this is possible. You would need to save all your Joomla 1.5 pages - you can use an HTML content grabber for this - and then upload all the files in your Joomla 2.5 environment.
All the best - Barnaby
Is Dutch language supported?
We currently have English and German versions of the component. In terms of importing content,all languages,character sets and accents are supported and are converted to UTF-8 where necessary for optimal Joomla integration.
All the best
Barnaby Dixon
All my articles are on a CD with a master HTML file for each, and the images in a directory: so bendigo2000.html and a directory bendigo2000_files with the images in it. If I click on the .html file all opens in a browser and works. What URL do I use to upload the images - looks like it should be: file:///H:/bendigo2000_files but log says it can't find that. Have tried a few other obvious ones with no avail. Any ideas?
David
Hi David,
If the file:// lookup isn't woking, I would suggest that you use the option 'Just update references' and then upload the images manually via FTP.
All the best - Barnaby
I have bought all your 4 products but i need documentation to help with installation. Thanks
Robert
Hi there Robert,
Thank you for your purchases. Installation instructions are as below:
Download the product version that relates to the version of Joomla you are using.
If the downloaded zip file ends with UNZIP_FIRST.zip, please unzip the contents prior to upload.
In your Joomla administrator panel, go to Extensions>Install...
Locate the zip file packages, and install them all one by one.
If you need additional information, please email me and I can walk you through the full process.
All the best,
Barnaby
Hi,
I need to migrate a collection of articles from a mambo site to Joomla 2.5. My main concern is for articles with images, especially multiple images. Do you think your product would meet my needs?
Hi Carlos,
Yes absolutely; the component finds all your old images and imports them to your new Joomla installation.
All the best - Barnaby
I have no clue how to download this product now that the "Return to Merchant" paypal button just gave me a timed out page. Wish this site had a forum and a backend where you could access your download. Hope to hear for you soon bro, I am excited about using this product.
Thanks,
Shawn
Hi there - my apologies - unfortunately PayPal doesn't always correctly redirect you to the downloads page after purchase. I have emailed you with download instructions. All the best, Barnaby
will this product import a blogspot blog?
Hi there,
Sure - you'll need to just save the pages as HTML to your local computer, and upload them to Joomla using HTML 2 Articles.
All the best - Barnaby
Hi there,
I have a bilingual site managed through Macromedia Contribute which is in two languages. Both languages are on the same page in columns but I would like to create articles in the two languages - 1 column goes to article in language A and other column goes to article in language B. Is this possible? The site is at cnag.org.uk
Hi there,
I'm not sure exactly how you have your site set up - but in theory this should be possible with HTML 2 Articles. The component creates new articles from HTML pages, which can then be used in any way you like within your Joomla site.
All the best
Barnaby
Dear Barnaby,
I was wondering if technically it is possible to use your software to import contents from other websites to my website,
at first I should convert webpages to my local html folder, witha program such as offline explorer and then use your soft to convert them to joomla contents.
so 2 questions:
1-can this software be used online, or only work offline?
2-can I use a demo version before purchasing it to see if it support my purpose?
Hi there,
Yes what you suggest is techically possible. The component was designed to take existing HTML pages that were created as a static website and upload them, but HTML files from any source will import correctly.
To your other questions: 1) The software runs on your Joomla administration area. The HTML files need to be stored on your local computer to upload correctly.
2) There is not a demo version available but I do offer a full 100% satisfaction guarantee, so if the component doesn't work for you, or you decide it's not good for you I will send you a full refund - and I also offer full support for 6 months after purchase as needed.
All the best,
Barnaby
hello babak,
did the software work for you generating new content articles?
Mike
Hi Barnaby,
Please know that we had made the payment and received the email of confirmation with download link. But the link does not work.
I do not believe that we got a login credential email as well. Please resend us the download link.
Please know that I have tried using contact me section to reach you for the same and never got any reply.
The payment was made by [email protected]
Thanks
Hi there,
Thank you for your email. I have responded two times via email - I will send you another email now, but if you don't receive it within 30 minutes please call me for assistance on +44 0207 617 7152.
Thank you and all the best,
Barnaby
Hello,
Does this extension allow you to choose multiple import folders to category/sections - if not is it possible to request this functionality?
Hi there Chris,
Yes the extension allows you to select a specific category as the article destination when you upload HTML files; you can change the selected section & category as often as you like.
All the best - Barnaby
Yes absolutely - firstly you need to import to Joomla, and then click the "Import Joomla Content" button in K2.
hi, I've just installed this, I am straight away getting HTTP Error: 500, (it's a fresh install of Joomla, no other articles yet.
thanks
Kate
Hi there Kate,
Thank you for your download. The HTTP 500 error is related to a server setting - please ensure the permissions for the files in /administrator/components/com_html2articles/ are '644', and your /administrator/components/ directory is '755'.
Thanks and all the best,
Barnaby
Just had to come back and say how fantastic this product is, as soon as I got my server permissions sorted it worked like a dream. Thanks so much Barnaby you're a wiz.
great extension i am going to use this one of these days......good work ....keep it up
I used this product to transfer some 1000 pages from a HTML website, and it saved me many many hours. Barnaby was very supportive and came up with a new version that included all features from my wishlist. So my rating of this product and its creator is just one word: perfect.
I have a website with about 3000 pages (using PHP to include the same header/foother on every page).
Is it possible to import the whole website into Joomla without changing the URLs?
Then the relative links should still work and all links from other pages don't have to change. This is very important for us.
What does the extension needs? Can I give the URL to the old domain and then it imports all pages? I don't want to upload 3000 files...
Hi there,
Yes, you will need to upload each web page into Joomla. A Joomla article is substantially different from a static HTML page - each url will look something like index.php?option=com_content&catid=1&ItemId=15. You can use SEO components to translate that, for example, to 'mypage.html' using each article's alias as the root for the page name. Using this system I have succesfully migrated sites with 1000s of pages, but it is important to note that certain page names do not translate well into Joomla aliases, for example, all spaces are removed, and all letters are translated to lower case.
I suggest that you use 403 redirects to ensure you capture all your original site's page rank, and use a search and replace function after upload to change all your relative links to correct Joomla links, which you can then beautify using an SEO component. HTML 2 Articles gives you a list of all original URLs and new Joomla URLs in the log for just this purpose.
All the best,
Barnaby Dixon
Hello,
I've a question before buying.
Does this Component support non-Latin letters?
Best regards,
Alexi
Hi there - yes it supports all charsets and encoding types, including all non-latin charsets.
All the best - Barnaby Dixon
Hi Barnaby (or everyone used HTML2Articles...),
what about html links that point to other html imported pages ? Are they converted to the new article's address ?
Thanks 4 answer.
Ettore.
There is currently no way to automatically update links from the original html page link to the new article link in Joomla, since the way pages are linked in Joomla, using article id numbers, is so different to the way they are linked in HTML, using page names.
The one solution I can recommend is my component Search & Replace for Joomla, which can update links across your Joomla based website. It works just like any standard search and replace tool, right across all your content.
I hope that helps. All the best,
Barnaby Dixon
Hi Barnaby,
your solutions with search & replace is a valid one.
I'll like to have a log with the list of old e new urls to search & replace them.
Bye :-)
i don't understant, who to work this component?... thanks
i can upload a html with various post?
Hi Daniel,
Thank you for your question. The component will take any full HTML page, upload it, fix any problems, and convert it to work with Joomla. You can upload an HTML page with any type of content.
All the best,
Barnaby
I have been using the component on Joomla 1.5 and it is stupendous. I had 300 articles I wanted to upload as test data using an old HTML site and it's absolutely blisteringly fast, and I was able to get the images imported too using the image importer settings, so thank you so much. I now want to try the system out on my dev Joomla 1.7 site, and I think this will be my tool of choice for populating sites in the future. Great work, and a recommended download from me.
Ok I just have a couple of questions:
- does this component have documentation with it?
- does this component work with Joomla 1.7?
Thank you again,
Jack
according to the joomla extension list it states it's compatible with versions 1.5 1.6 and 1.7.
Dominic
Hi Jack,
Thank you for your comments. Yes - there is documentation under the 'Help' icon at the top RHS. I am actually revising the component this weekend to integrate a much fuller user guide, which will offer detailed information on all the tweaks and potential available with the component, and I will send out the update as soon as it is tested and available.
As of earlier this week, the component is now certified to work with Joomla 1.7, as well as 1.5 and 1.6.
All the best,
Barnaby Dixon
This is proving to be a big time-saver for me. But one feature I am missing is the ability to set dates for the imported articles. I am importing archived articles from an old site and don't want them to bump my newer content. Is there a way I can set the created dates for the articles that I import? (As opposed to doing that one by one afterward?)
Hi Joe,
Thank you for your feedback - I will create that functionality and build it into an update by Friday this week.
All the best,
Barnaby
Wow! Now that is support! I'm gonna hold off my importing 'till then. Thanks, man!
Really this is a must-have plugin especially on Joomla 1.6. As far as I can tell, it's the only way on 1.6 to do mass content.
Hi again Joe,
Upgrade 1.1.0 is now available with full publish/creation/archive date functionality, as well as language translations for German, French and Swedish.
All the best!
Barnaby
Hi; does it automatically create sections and categories from the article data to upload?
Is there a demo video to see hos this works?
Thanks
Hi there Terence,
You are able to select the section and category from the control panel prior to upload, and then bulk upload as many articles as you like into that specific category.
There is not a demo video - but that's a great idea and I'll look into building one
All the best,
Barnaby
Awesome, absolutely incredible... v1.6 worked right out of the box as it said it would - A true gem. 1st attempt loaded 309 articles mirrored off original site within seconds (I'd be lying if I said it took more than 1 minute or 59 seconds) and was completely effortless. Thank You Barnaby
Thank you so much for such an amazing component! It has been a long time that people have needed a simple solution like this! You're support and quickness to fix issues being reported are amazing.
I'm currently working on a 500,000+ HTML to Joomla migration, and it is going to be extremely painful as the category structure is insane. Not only that, but the original files are in XML. This component is the closest thing I have been able to find to help speed up the process even remotely. I thank you and look forward to the growth of this component!
Thank you for your wonderful feedback!
Leave a Comment
1